SUBLIME SANTORINI
The Santorini landscape is something everyone should see once,
says Venetia van Kuffeler, and can be made all the more special
with a stay at Andronis Concept Wellness Resort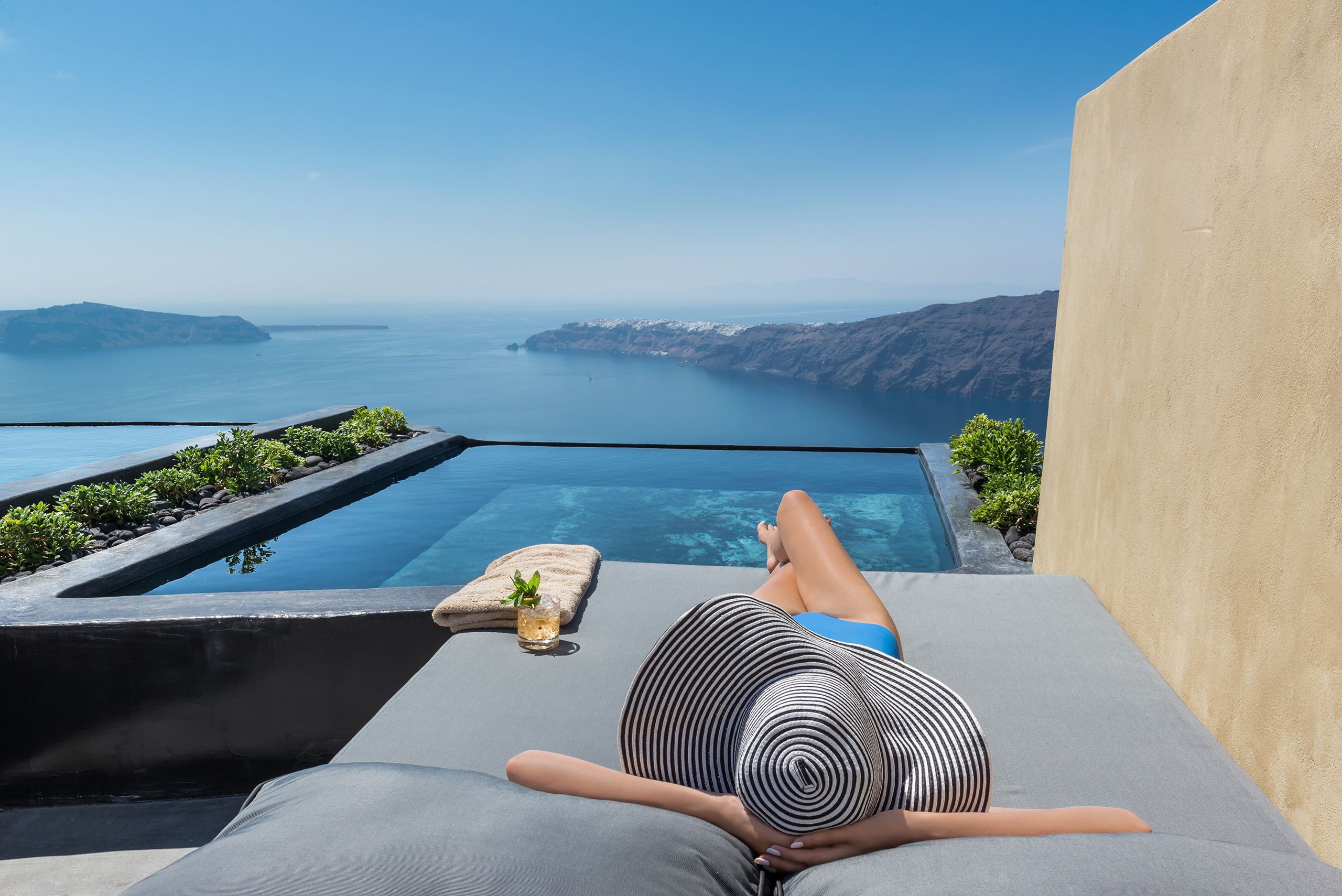 Santorini's hills were coated in humid cloud as we came into land, but the island's spectacular beauty was revealed as the cloud dissipated. Essentially the remains of an enormous volcanic eruption that destroyed the formerly single island, Santorini's full glory can be seen overlooking the mostly submerged geological caldera. People travel from all over the globe to experience some of the most beautiful sunsets in the world in Santorini, and incredible views that can thrill and astonish in equal measure.
This unique landscape contributes to Santorini's reputation as a poseurs' paradise. The island's hills are steep, with whitewashed villages perched across the cliffside, dotted with distinctive domed churches, cool boutique hotels and bright blue pools. Villages are connected by the island's dusty hiking paths, frequented by lycra clad hikers on the hunt for that perfect selfie against the azure blue. Some of these walks are not for the fainthearted – especially in the strong heat of the day and we occasionally ran into the odd weary walker with smashed up knees.
We were staying in the centre of the island, at Andronis Concept, one of Andronis's distinctive collection of properties on Santorini. Distinctive by its smooth, curved, concrete walls that mimic the island's landscape, guests are enveloped by its soothing atmosphere, tranquil gardens and out of this world views. Most of the pool suites and villas are built to capture the sunset over the caldera. Each features elegant, minimalist interiors that fuse simple Santorinian style with bright, contemporary touches. But our relaxing room transformed as we slid open the doors on to our private terrace to find our own infinity pool, with jaw-dropping views of the vast Aegean panorama.
But what really makes Andronis Concept as lovely as it is, is the team of staff. Requests are granted at the touch of a what's app button. Whether it's the sleep concierge (pillow menu), a room service order, a restaurant reservation or organising a car transfer to a nearby village, the team were incredible – so friendly, helpful and nothing was too much trouble. One employee is keen to tell us how the owner has built a village for the 500-plus Andronis staff, with its own restaurant, shop and gym. Most employees travel down from Athens in April for the start of the season and return in early November for winter. And the team returns to the island year-after-year.
Days began with a dip in the pool, a yoga lesson on the roof, or a hike to a nearby village. Lazy hours were spent by the main pool, and when we were ready to venture outside the hotel grounds each evening, the property offers complimentary transfers to and from the picturesque Oia, which made eating out really straightforward. People flock to Oia to admire its unique architecture, blue domes, cave houses and, of course, the sunset.
Aside from these unforgettable landscapes, views and sunsets, the highlights of our trip were centred around food. Whether it was lunchtime tuna tartare and Greek salad next to the pool or a rather more extravagant lobster with homemade ravioli for dinner at the hotel's Throubi restaurant, the food was exceptional. With the philosophy of a holistic resort based on health and wellness, high end gastronomy meets well-balanced nutrition at Andronis Concept, and we were impressed.
The extraordinary quality and abundance of restaurants is where Santorini stands out from the other Greek islands. Our meals included a glorious lunch of tzatziki and ceviche next to the sea in Amoudi Bay. (Although the footpath down from Oia is uneven and bumpy, there are donkeys on hand to carry you back up.) We enjoyed fine dining at its absolute best at the majestic Lycabettus found down some steep steps and on top of a rocky outcrop hundreds of feet above the sea. And a spectacular sunset at the bohemian Pacman. This houses a cool crowd, and we enjoyed sundowners while enjoying their sunset yoga ritual to live music surrounded by fire torches in front of the seascape. Dinner of sushi, sashimi and a spectacular wagyu sharing steak was a knockout. Reservations at these latter two restaurants can be hard to come by in high season, but as each is based at one of Andronis's sister properties, the concierge team have preferential access.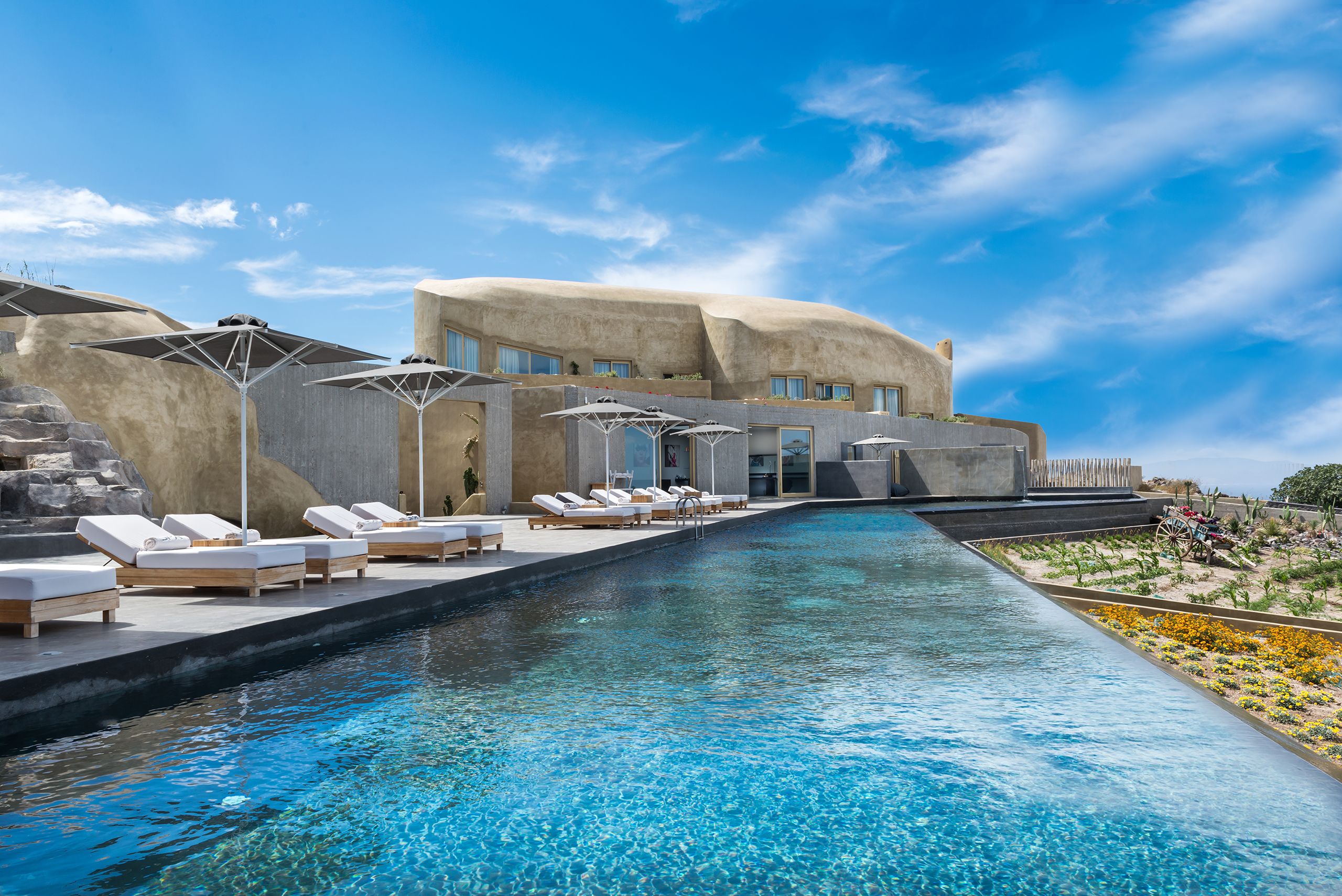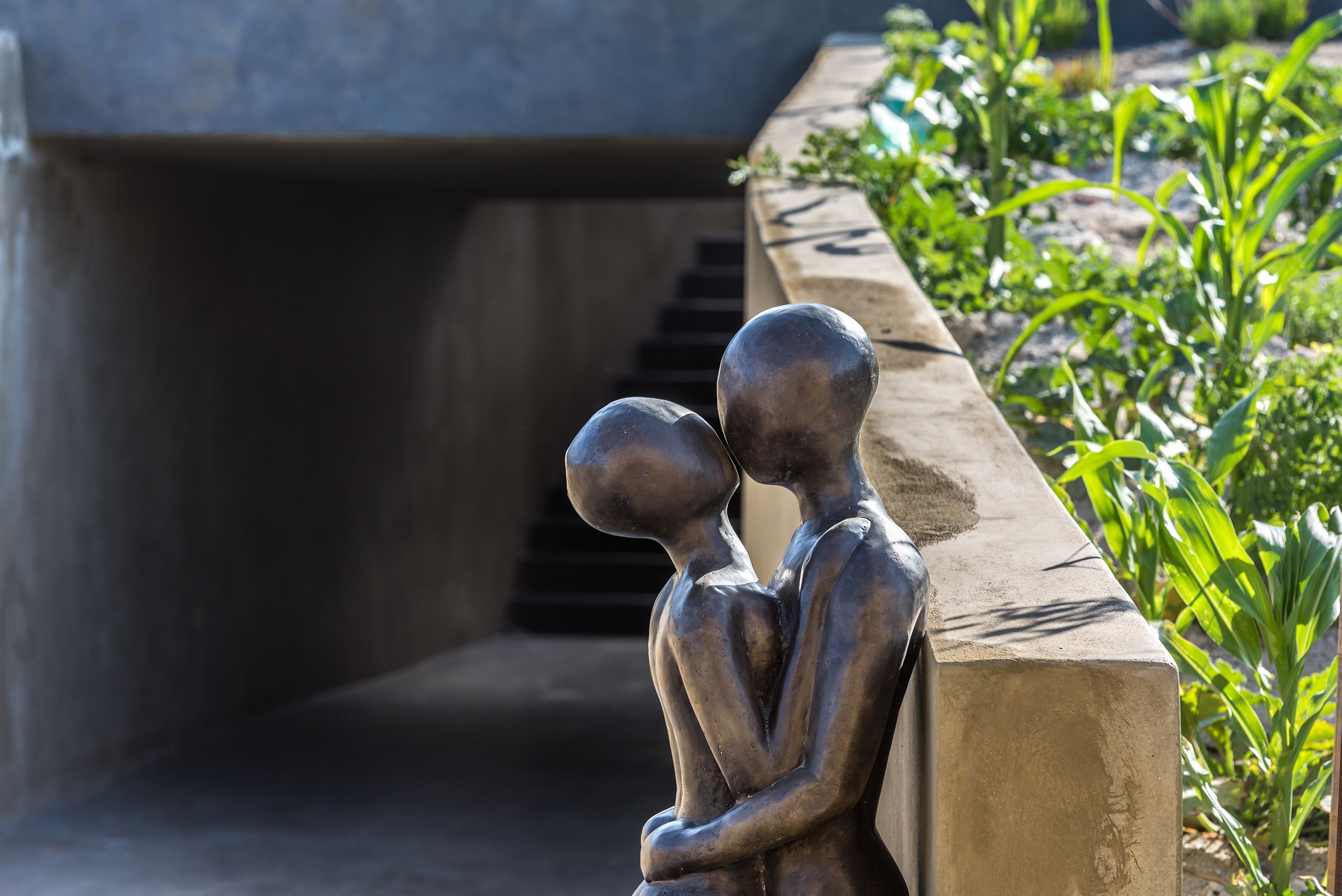 Most restaurants also have extensive lists of local wines from the island. Santorini's geological circumstances mean its unique soil, stirred by the island's strong winds and dry summers, has produced an impressively large number of grape varieties, and Assyrtiko was our favourite.
Andronis Concept is just one in an immaculate collection of unique five-star hotels, fine dining and wellness retreats in Santorini. There is plenty more to come from the group. Andronis Arcadia will soon reveal 65 Natura Suites each with a private infinity pool overlooking the mesmerising Aegean and the famous Santorini sunset — ideal for contemporary design lovers and families searching for space. One of the island's only ultra-luxury hotels welcoming the whole family, Andronis Arcadia will launch of a new state-of-the-art kids' club that includes: yoga, spa treatments, cooking lessons, tennis, hiking trails and photo safaris for the young. And further still, the Andronis Gastronomy Festival 2023 is taking place again this summer, welcoming world-leading, acclaimed Michelin-chefs for a series of pop-up dinners across the Andronis restaurants.