IHG DIPLOMAT OF THE YEAR AWARDS 2023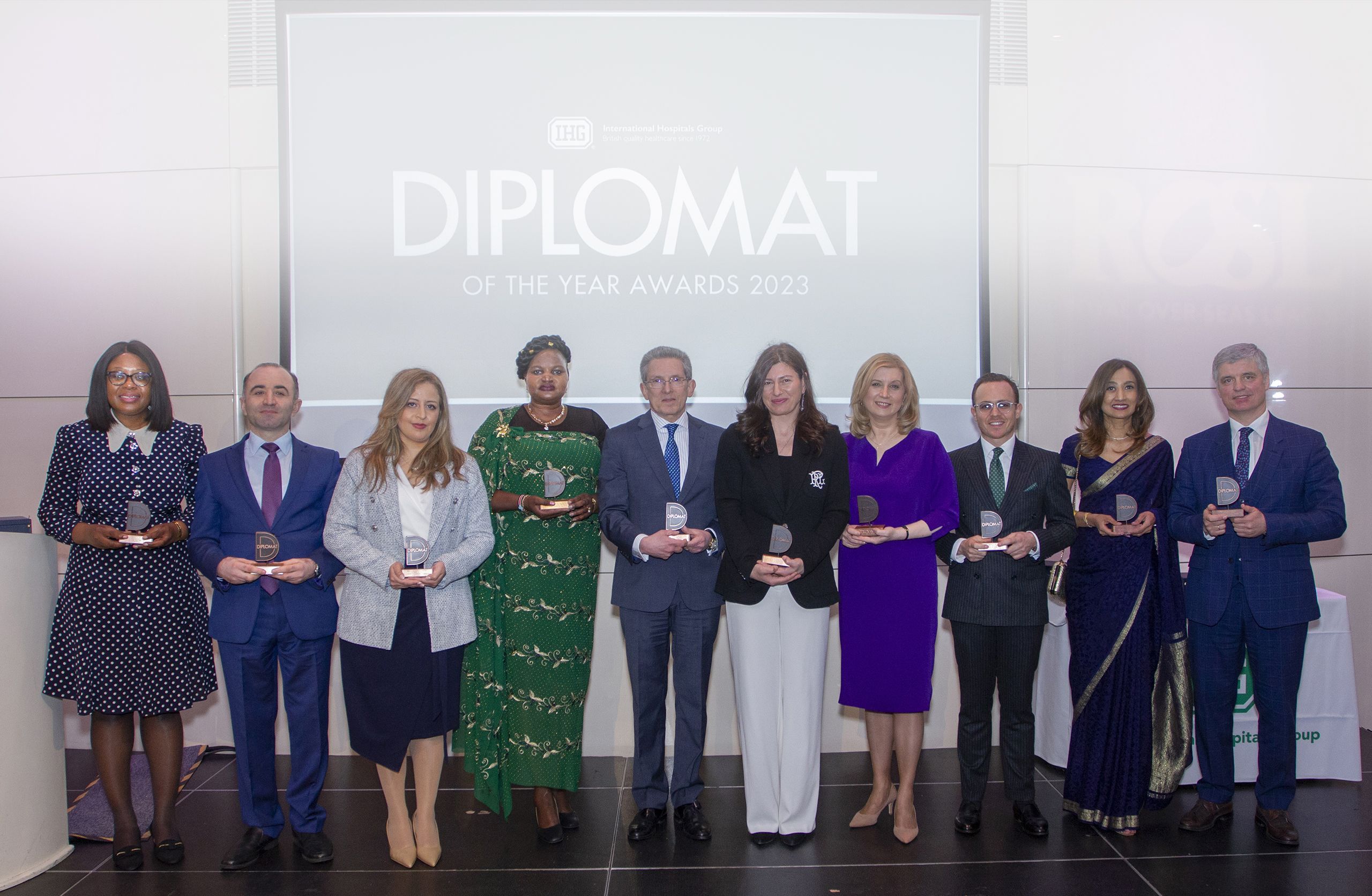 Ambassadors and High Commissioners from over 60 countries (and diplomats from over 80 countries) attended the DIPLOMAT magazine 2023 annual Awards Ceremony at the Royal Over-Seas League (ROSL) in St James's on Monday 24 April. DIPLOMAT presented 10 awards to some of the most influential diplomats based in the UK. The 150-plus guests were treated to a reception and canapés prepared by ROSL's chefs.
In its thirteenth year, the awards ceremony recognises the outstanding work and achievements of London's diplomatic community who are trying to better their nations' well-being. DIPLOMAT magazine identified 10 categories that recognise different levels of diplomacy, and winners were nominated by their peers. The evening welcomed the massed ranks of London's diplomatic corps, at what has become a key date in the capital's diplomatic calendar. BBC Diplomatic Correspondent James Landale was the Master of Ceremonies, who performed with immense slickness and wit.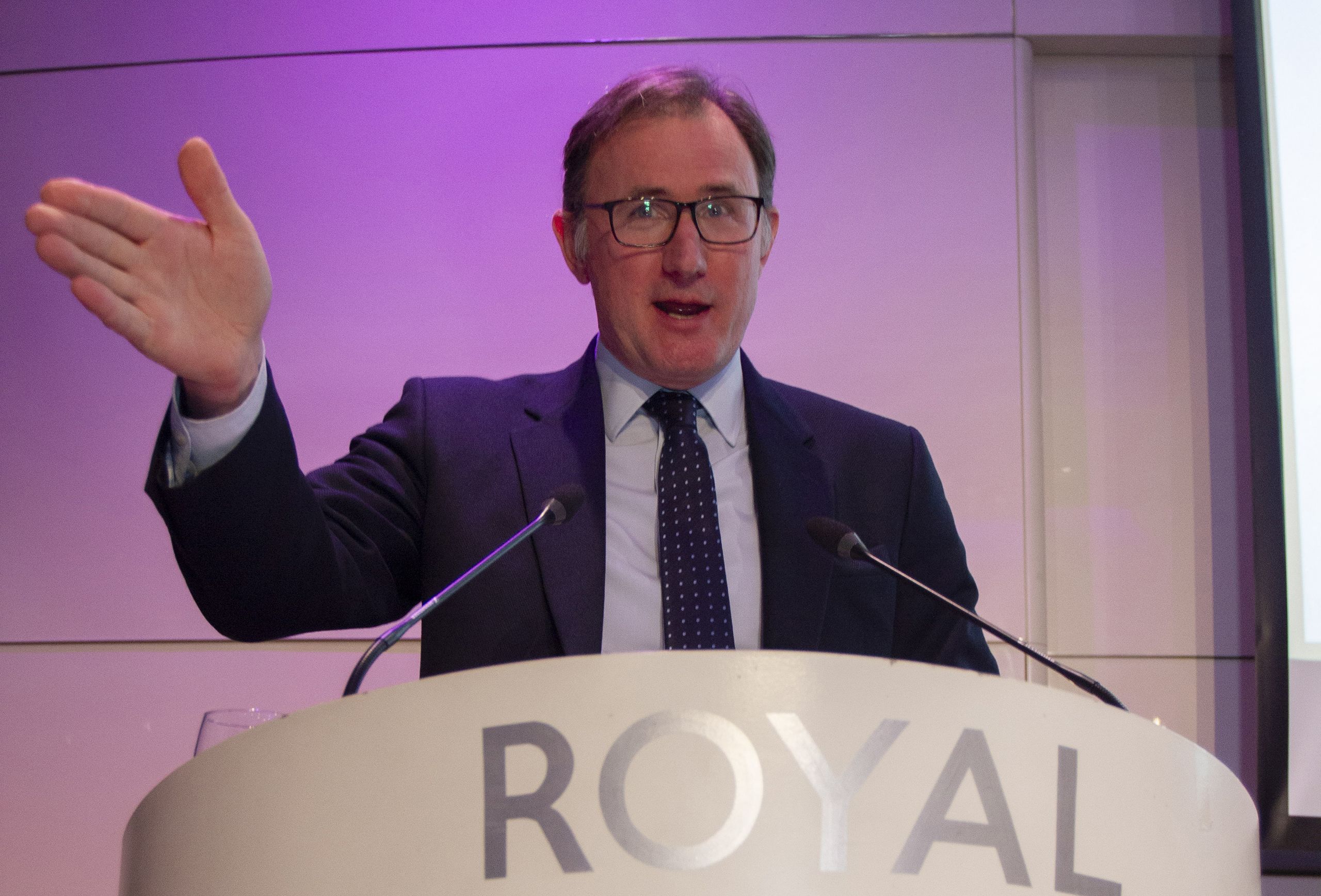 Lead sponsor for the second year was International Hospitals Group (IHG), a fourth generation, private family business founded in the UK. With over 50 years in the business, IHG has become a truly international company, successfully completing over 480 healthcare projects in 55 countries. The world's largest outsourcing and technology services specialist for governments and diplomatic missions VFS Global also sponsored the evening, which is the trusted partner of 67 client governments operating in 145 countries. Other sponsors included long-time supporter of the Diplomat Awards International Diplomatic Supplies who provided the champagne and wine, and the venue for the evening, the ROSL. Launched in 1910, ROSL is dedicated to championing international friendship and understanding throughout the Commonwealth and beyond. Royal warrant holders' Cleave & Co. produced the unique awards for the winners.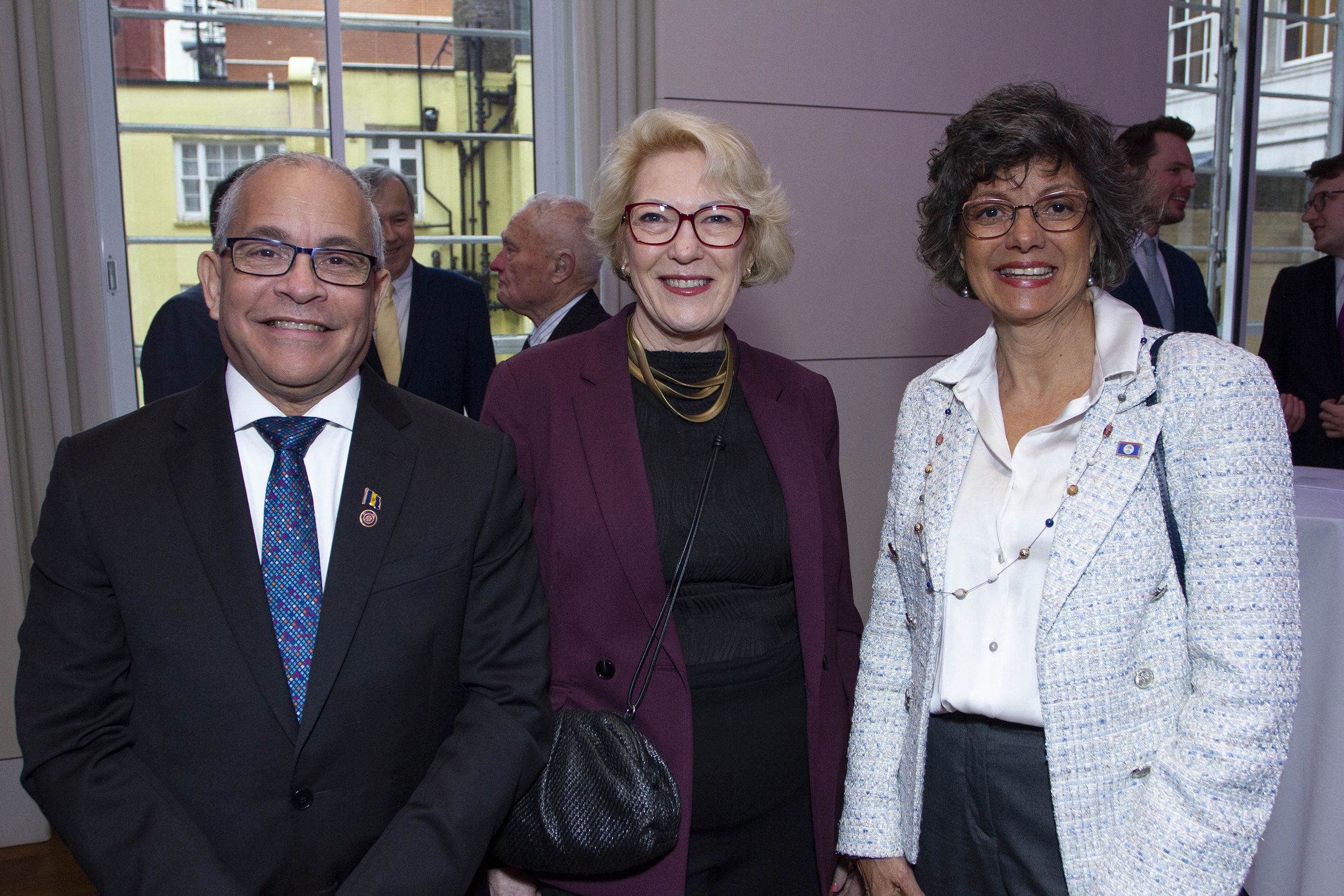 High Commissioner for Barbados Milton Innis, High Commissioner for Namibia Linda Scott and High Commissioner for Belize Therese Rath
High Commissioner for Barbados Milton Innis, High Commissioner for Namibia Linda Scott and High Commissioner for Belize Therese Rath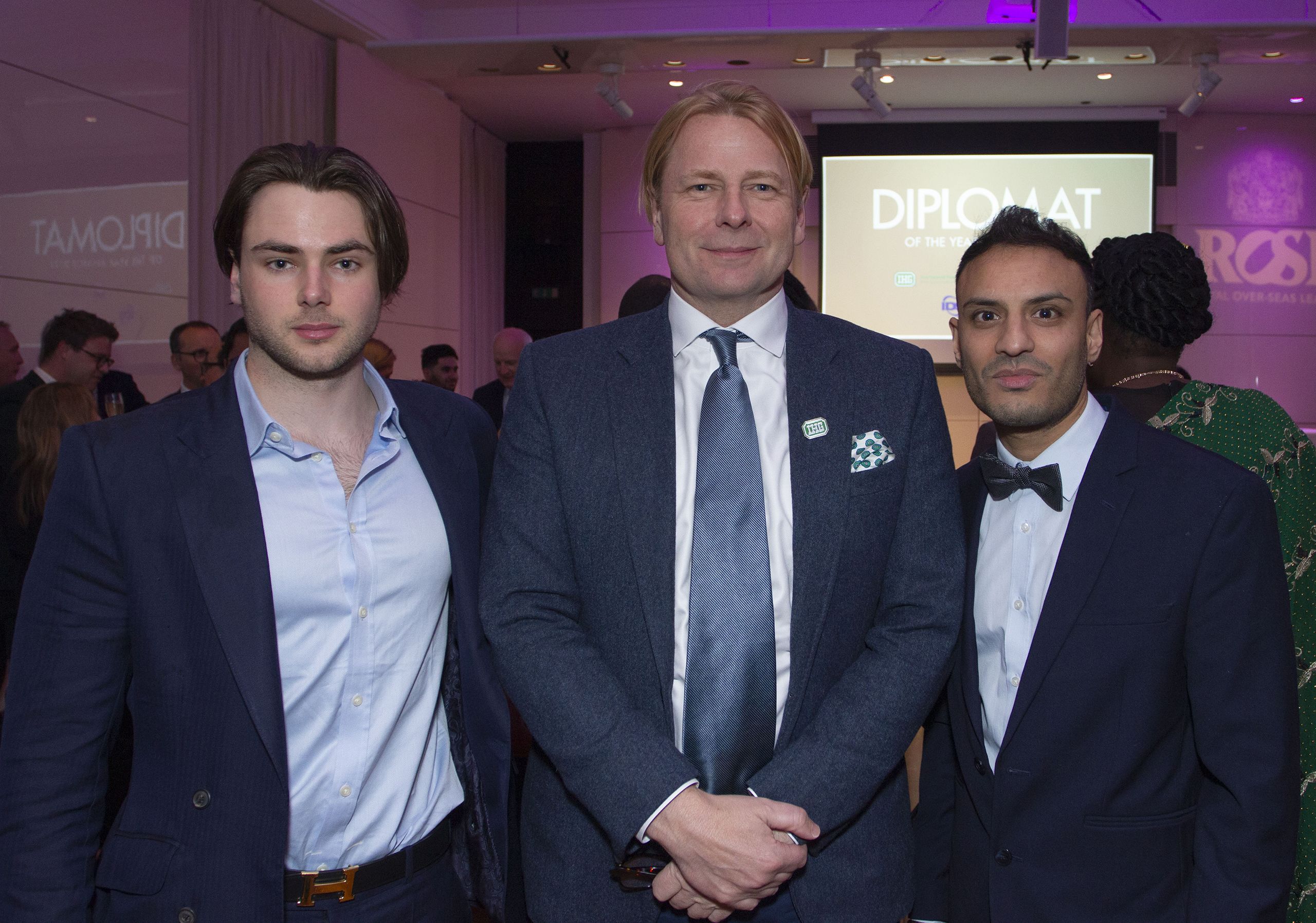 Latimer King (IHG), IHG CEO Chester King and Kash Siddiqi (Football for Peace)
Latimer King (IHG), IHG CEO Chester King and Kash Siddiqi (Football for Peace)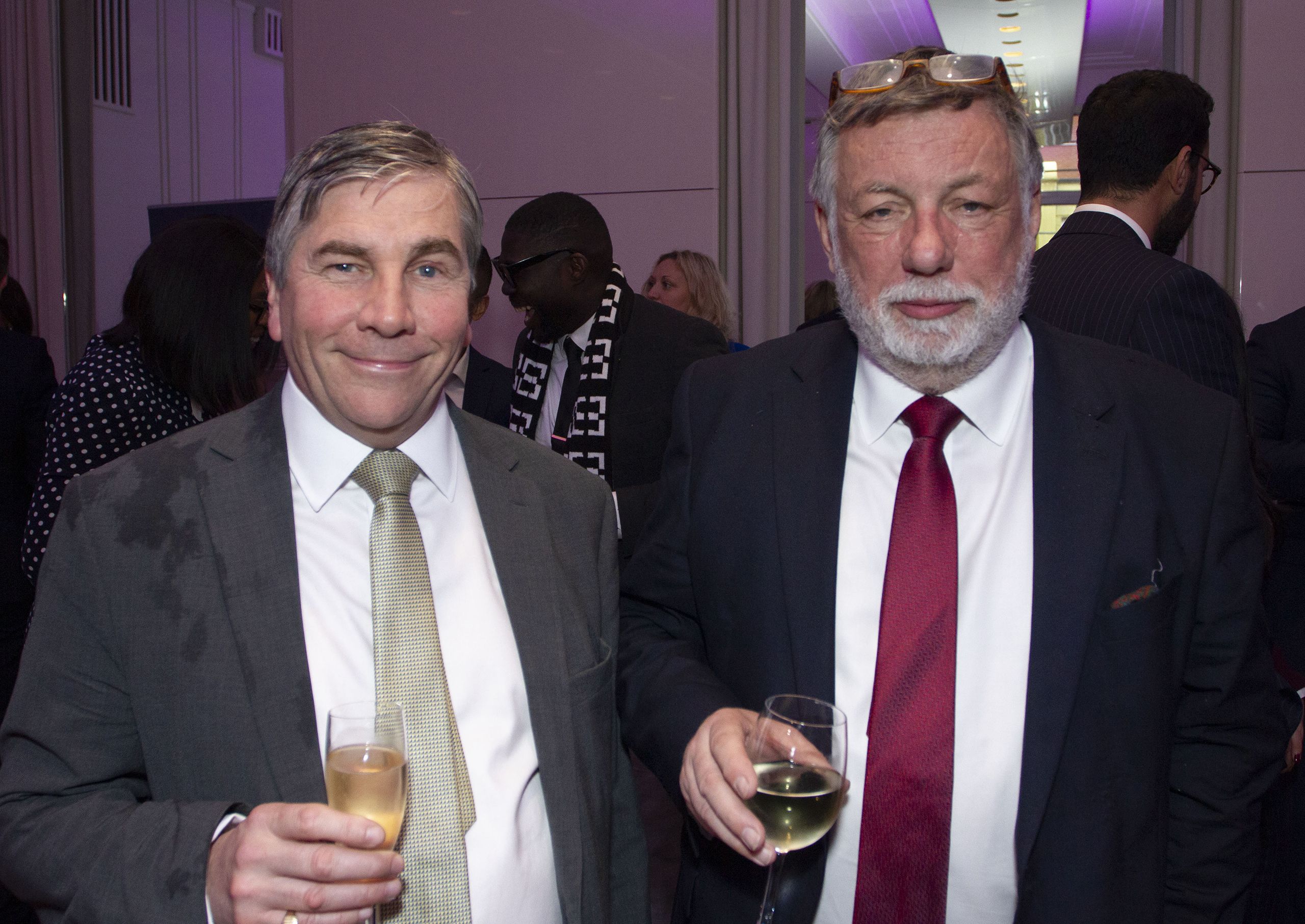 Stephen Connolly and Peter Scott (Cleave & Co)
Stephen Connolly and Peter Scott (Cleave & Co)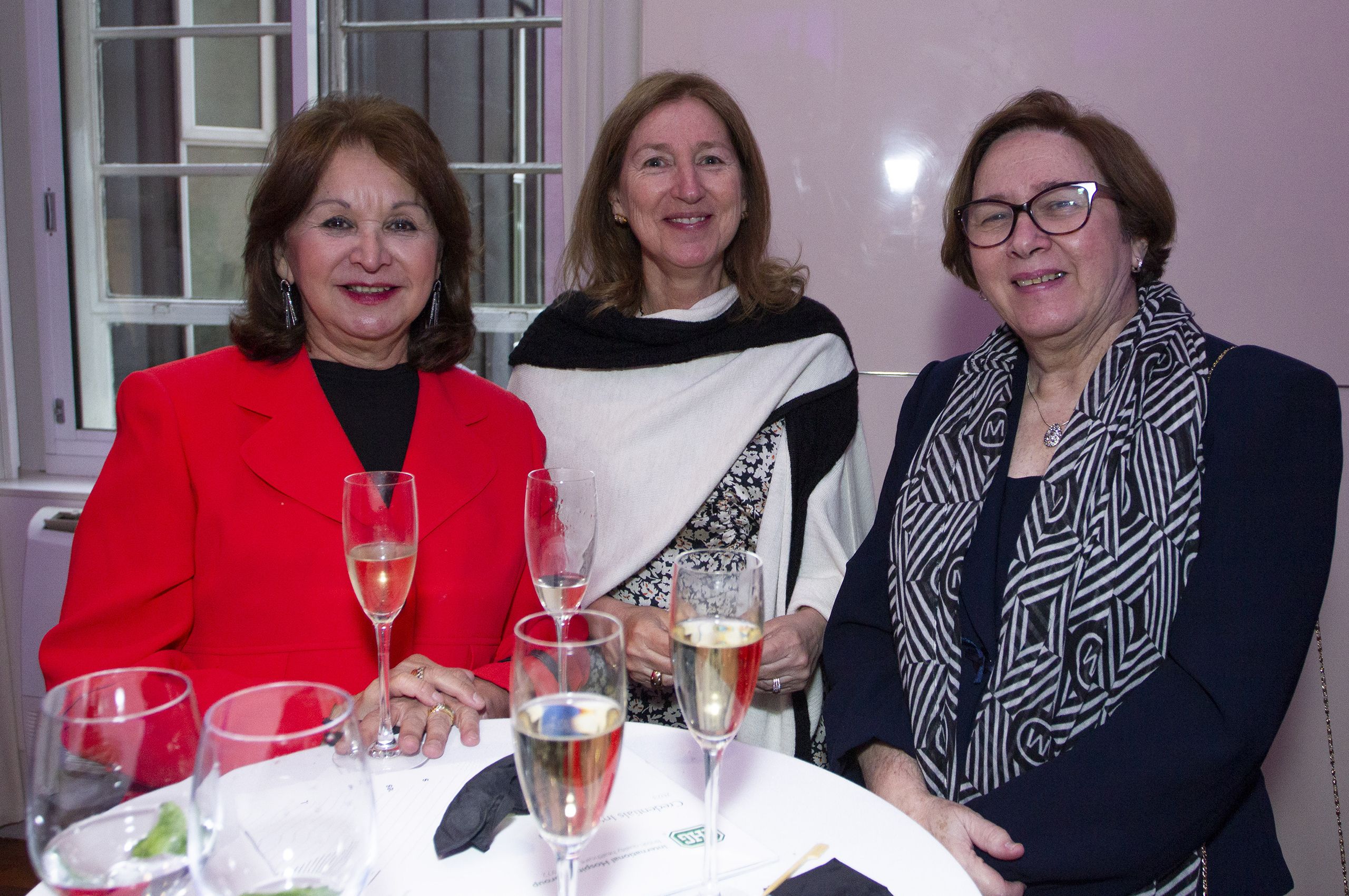 Mrs Mirian Nassser-Romero (Honduras), Mrs Désirée Prinzessin von Preussen (Peru) and Ambassador of Cuba Mrs Bárbara Elena Montalvo Alvarez
Mrs Mirian Nassser-Romero (Honduras), Mrs Désirée Prinzessin von Preussen (Peru) and Ambassador of Cuba Mrs Bárbara Elena Montalvo Alvarez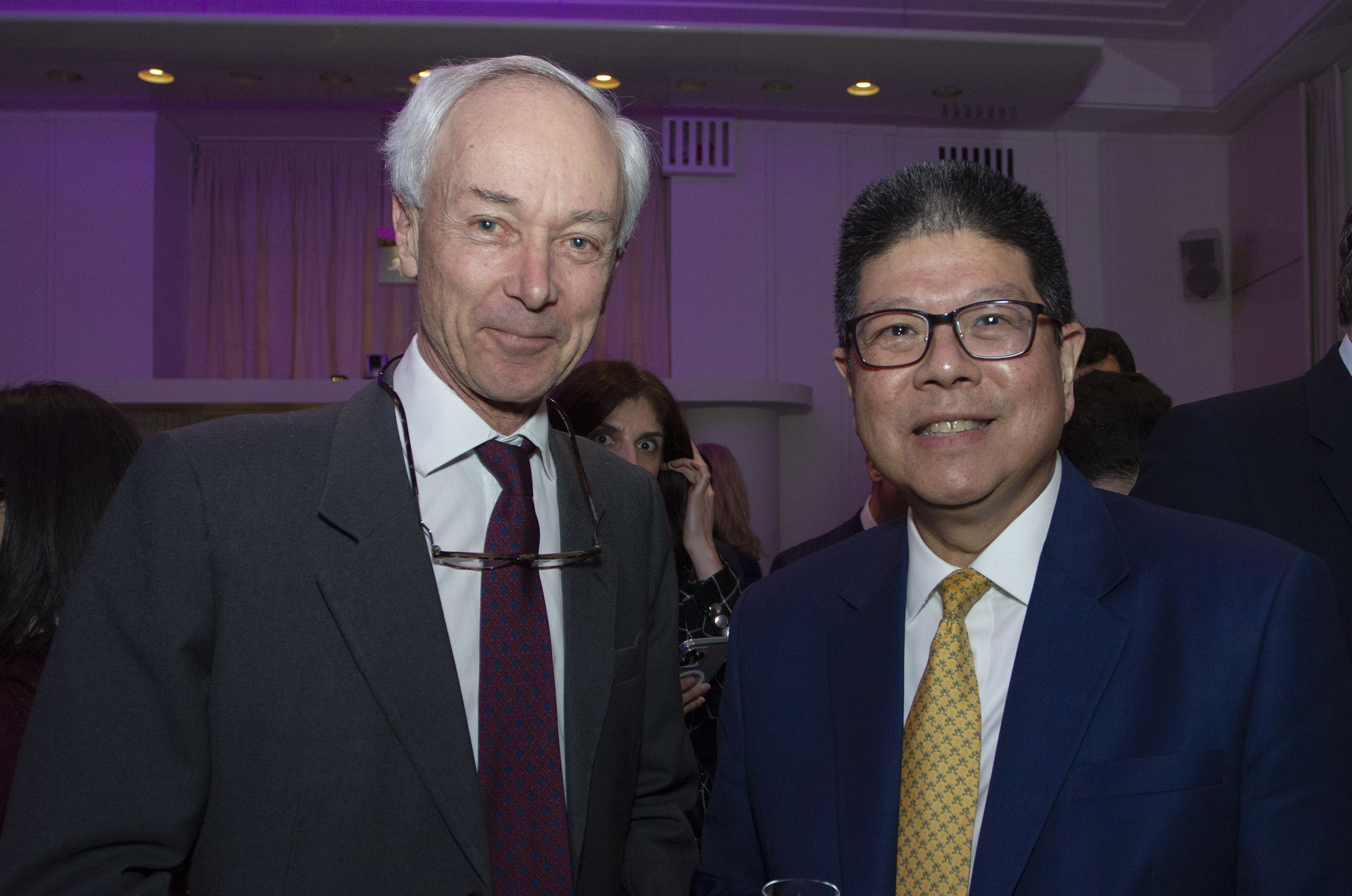 Christopher Goodwin (Ambassador Partnership) and Ambassador of Thailand Thani Thongphakdi
Christopher Goodwin (Ambassador Partnership) and Ambassador of Thailand Thani Thongphakdi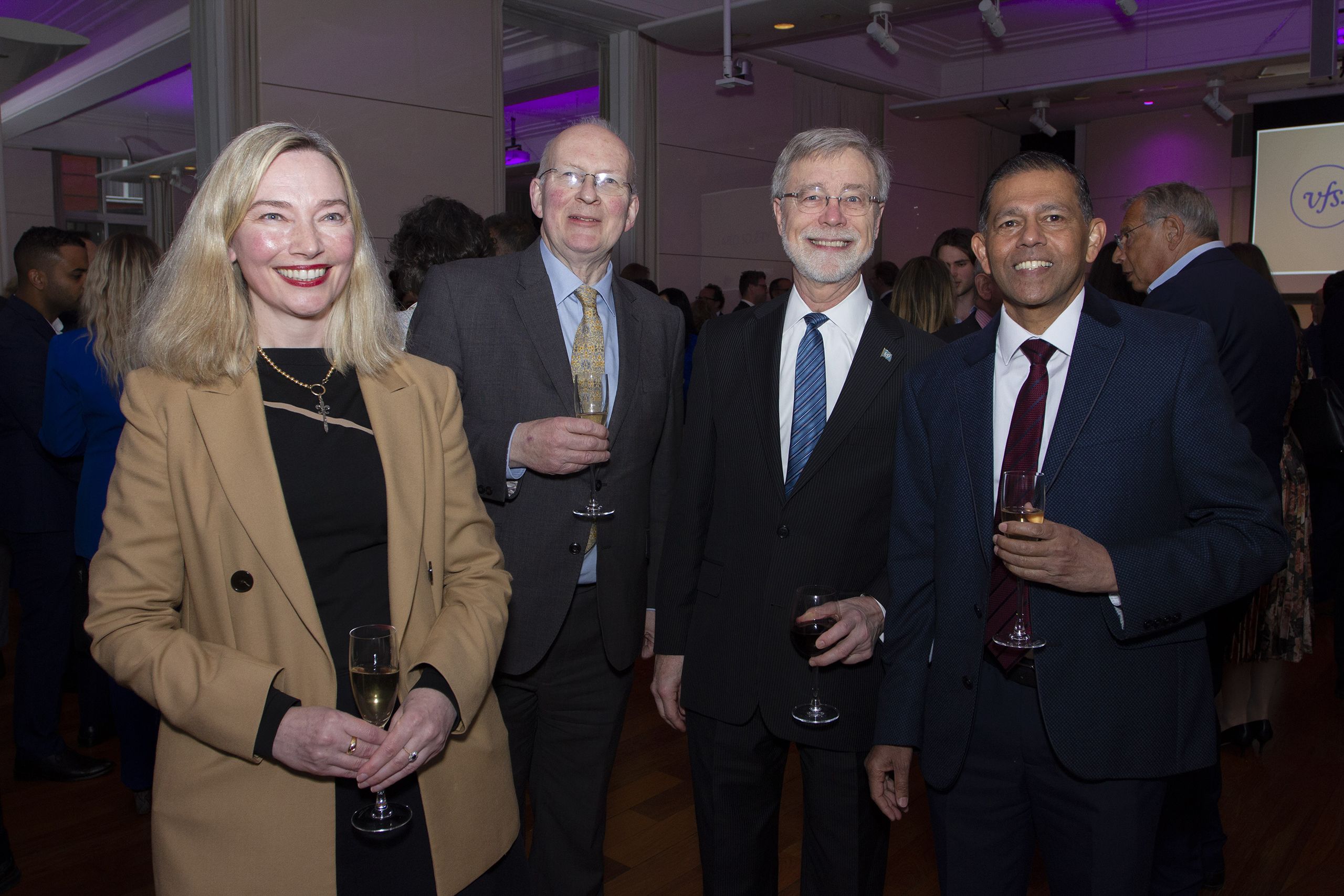 Director General of ROSL Dr Annette Prandzioch, Marshal of the Diplomatic Corps Alistair Harrison CMG CVO, Dr Michael Leary (Christian Embassy)and High Commissioner for Mauritius Girish Nunkoo
Director General of ROSL Dr Annette Prandzioch, Marshal of the Diplomatic Corps Alistair Harrison CMG CVO, Dr Michael Leary (Christian Embassy)and High Commissioner for Mauritius Girish Nunkoo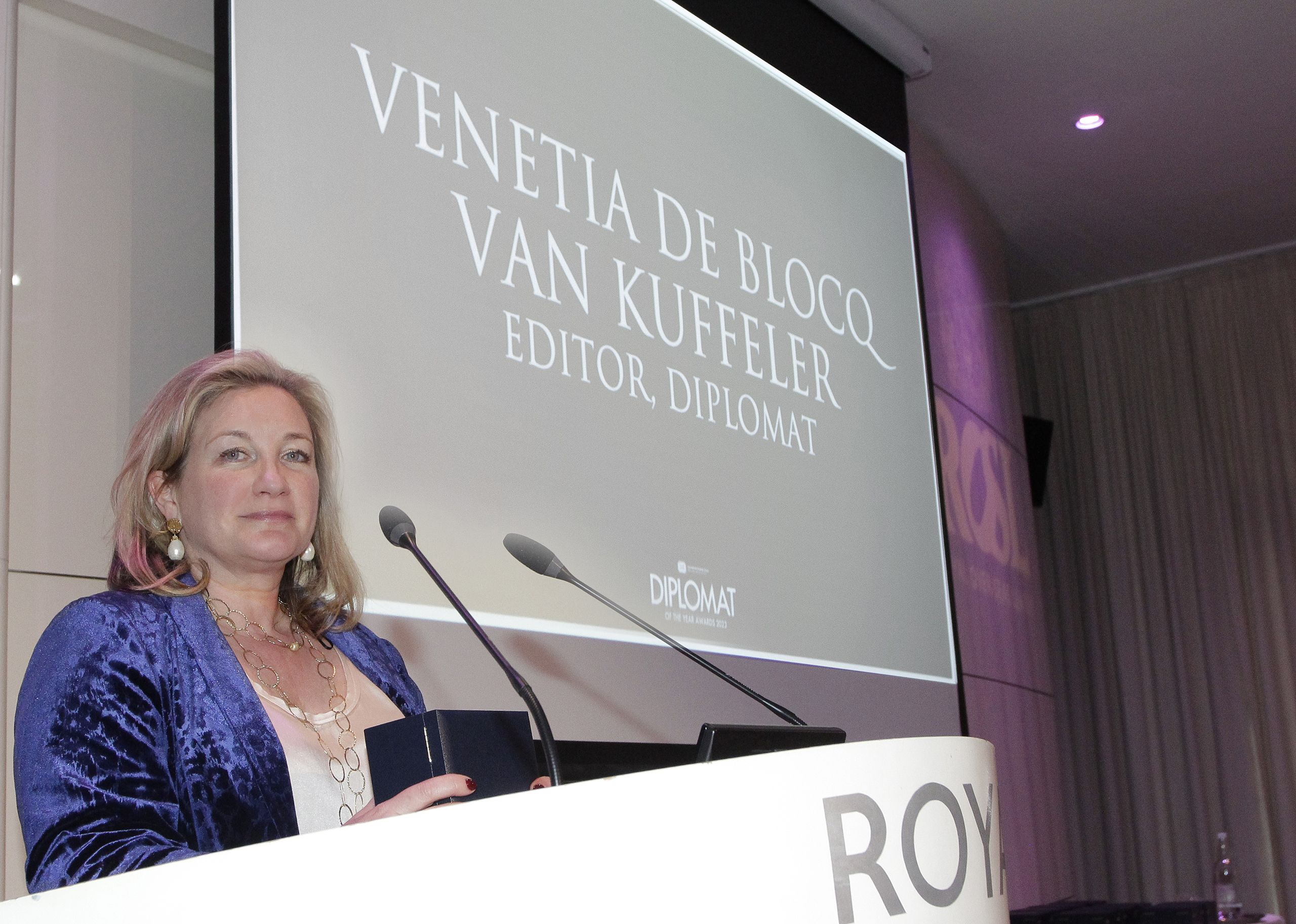 Editor of Diplomat magazine, Venetia van Kuffeler
Editor of Diplomat magazine, Venetia van Kuffeler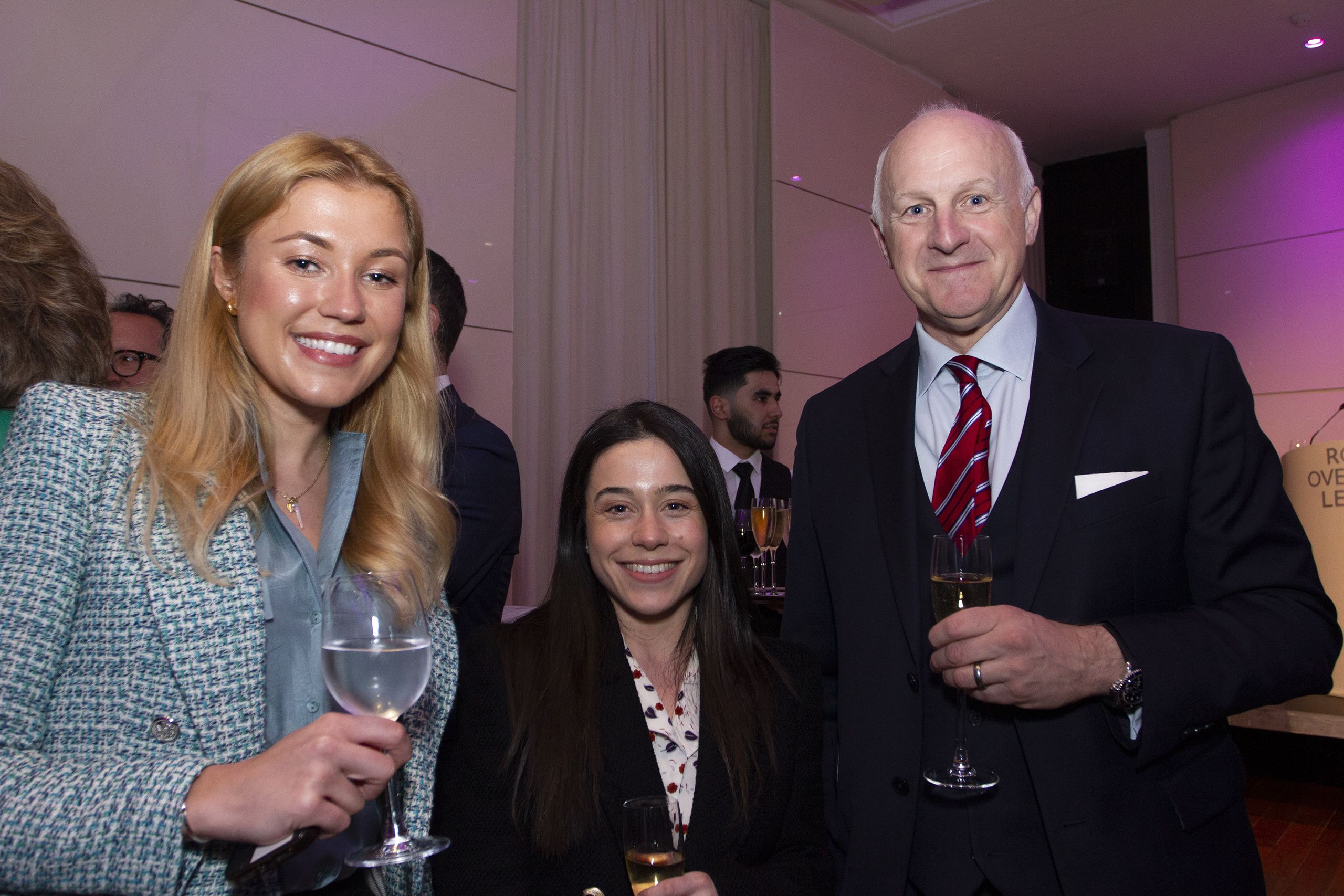 Gabriela Kucharska, Sara Carriles and Tom Lee (Cleave & Co)
Gabriela Kucharska, Sara Carriles and Tom Lee (Cleave & Co)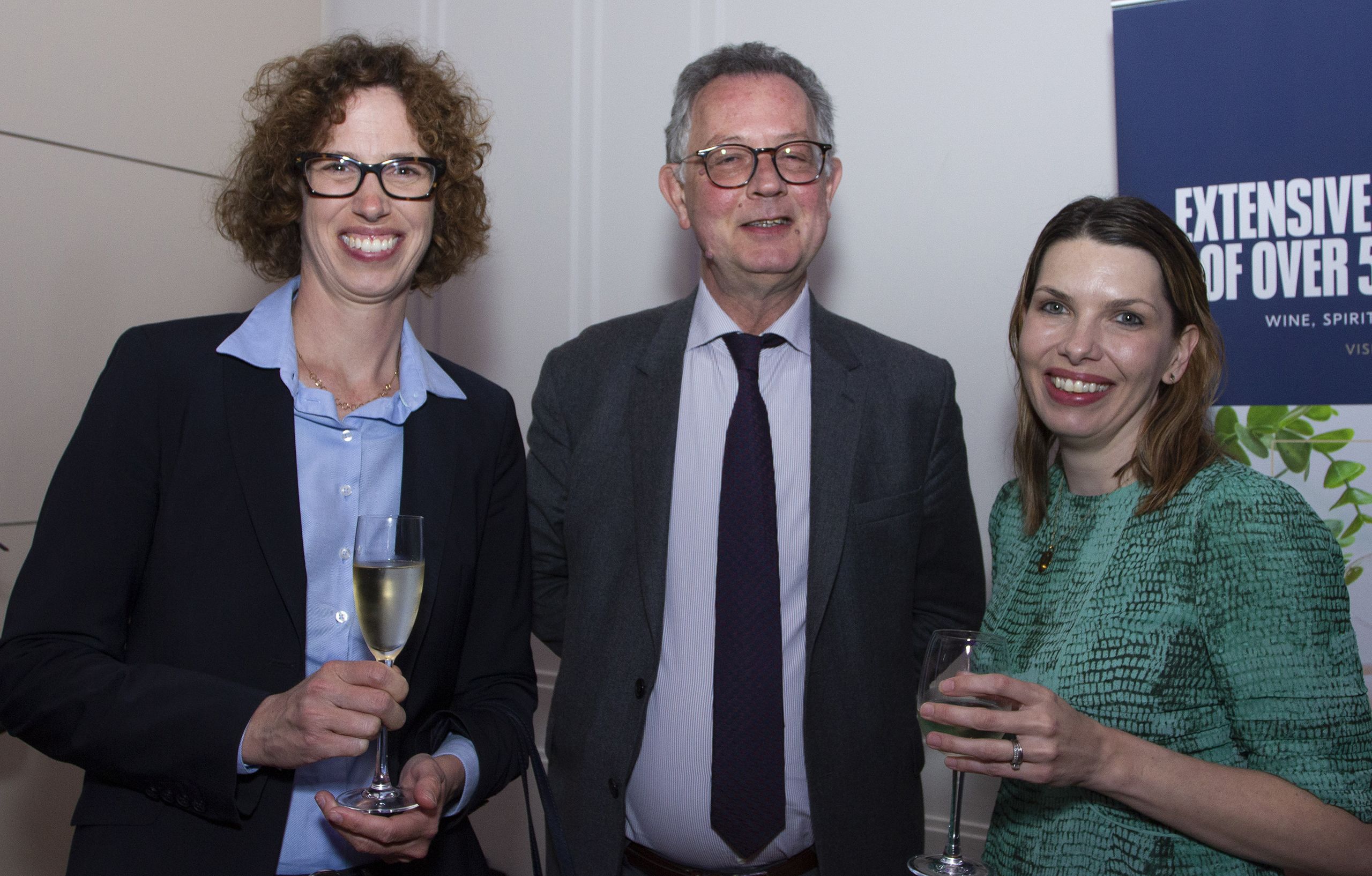 Deputy Head of Mission Chantal Moser (Switzerland), Deputy Head of Mission Gerrit Van Rossum (France) and FCDO Head of Protocol and Vice-Marshal of the Diplomatic Corps Victoria Busby
Deputy Head of Mission Chantal Moser (Switzerland), Deputy Head of Mission Gerrit Van Rossum (France) and FCDO Head of Protocol and Vice-Marshal of the Diplomatic Corps Victoria Busby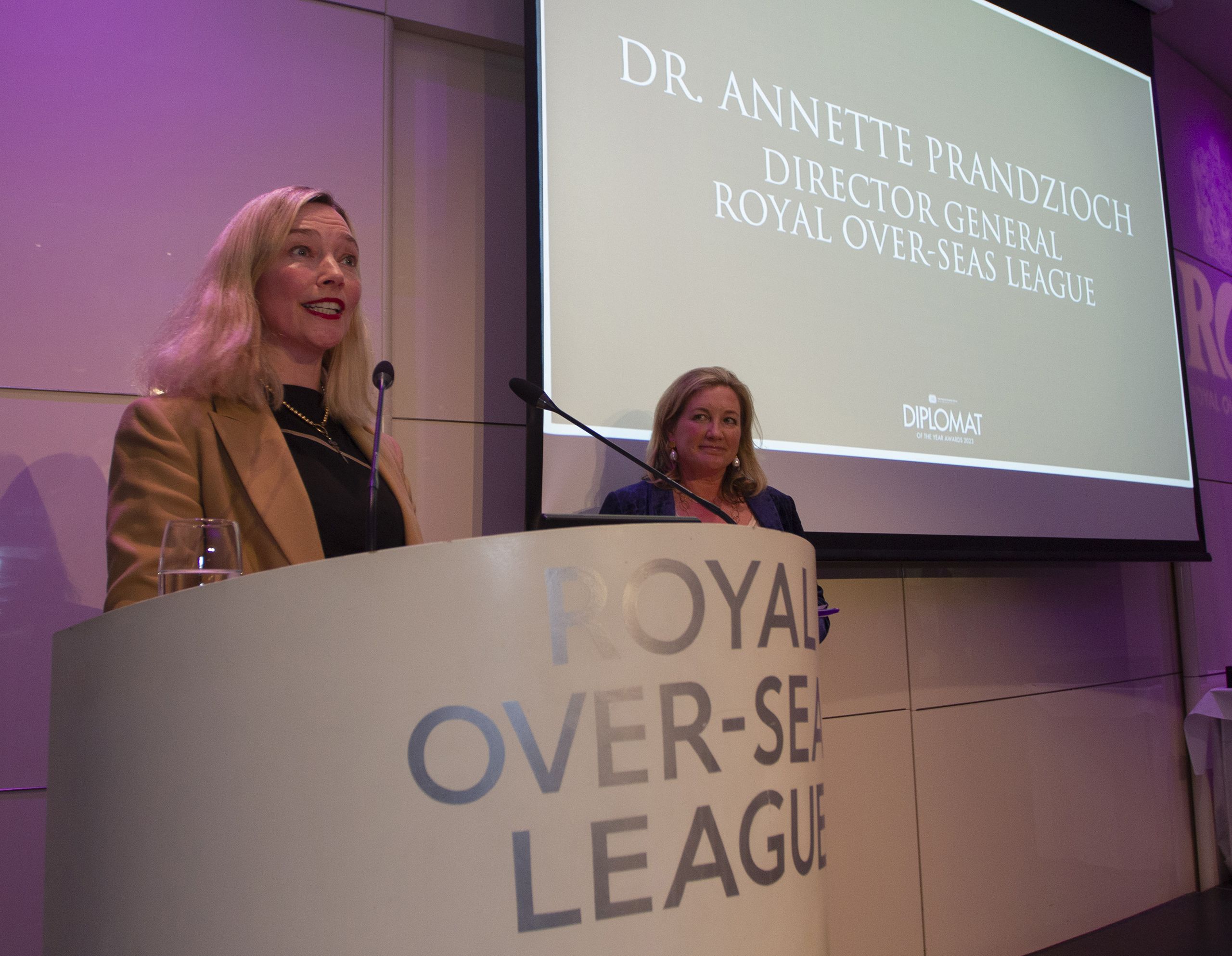 Director General of ROSL Dr Annette Prandzioch
Director General of ROSL Dr Annette Prandzioch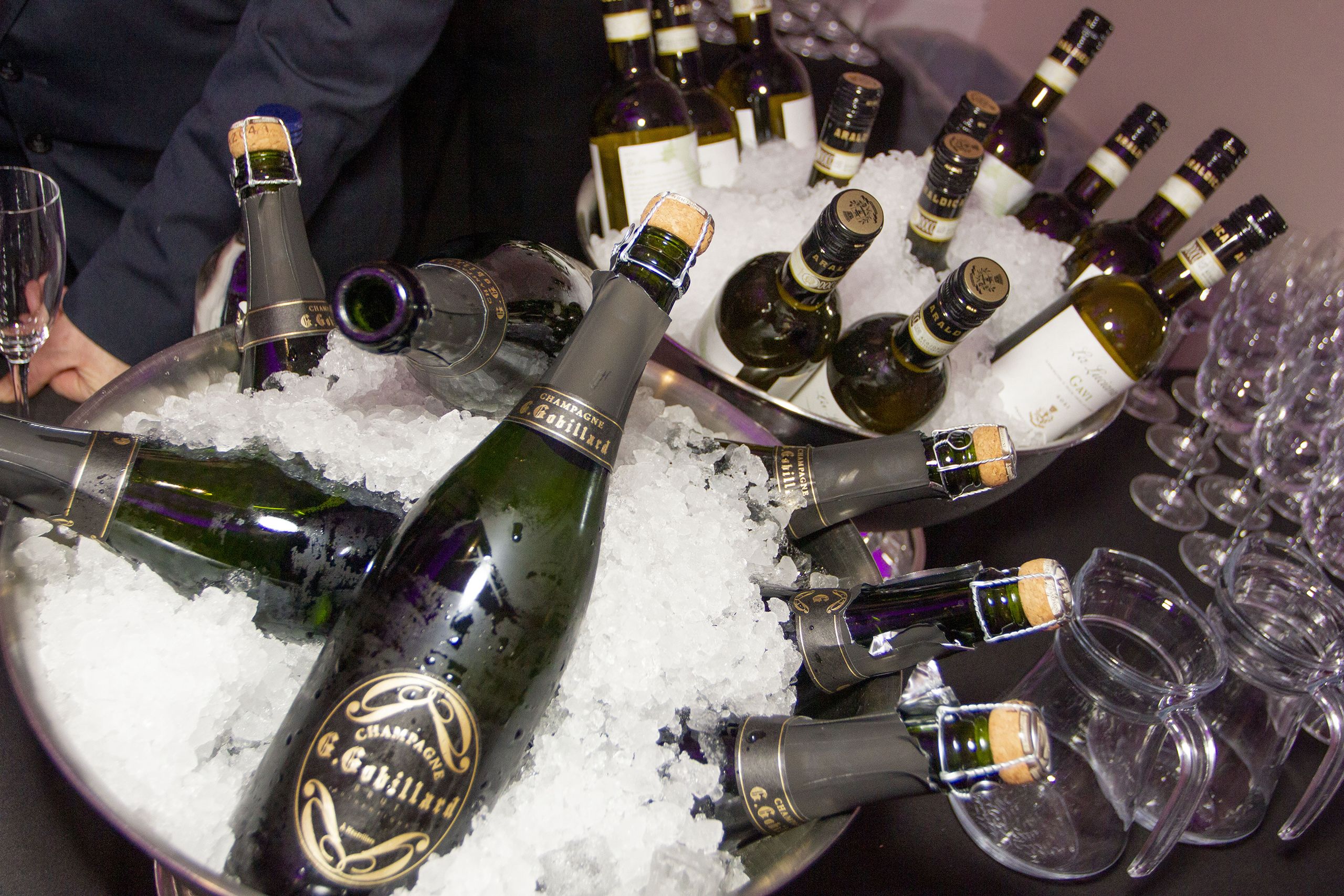 Champagne and wine provided by International Diplomatic Supplies
Champagne and wine provided by International Diplomatic Supplies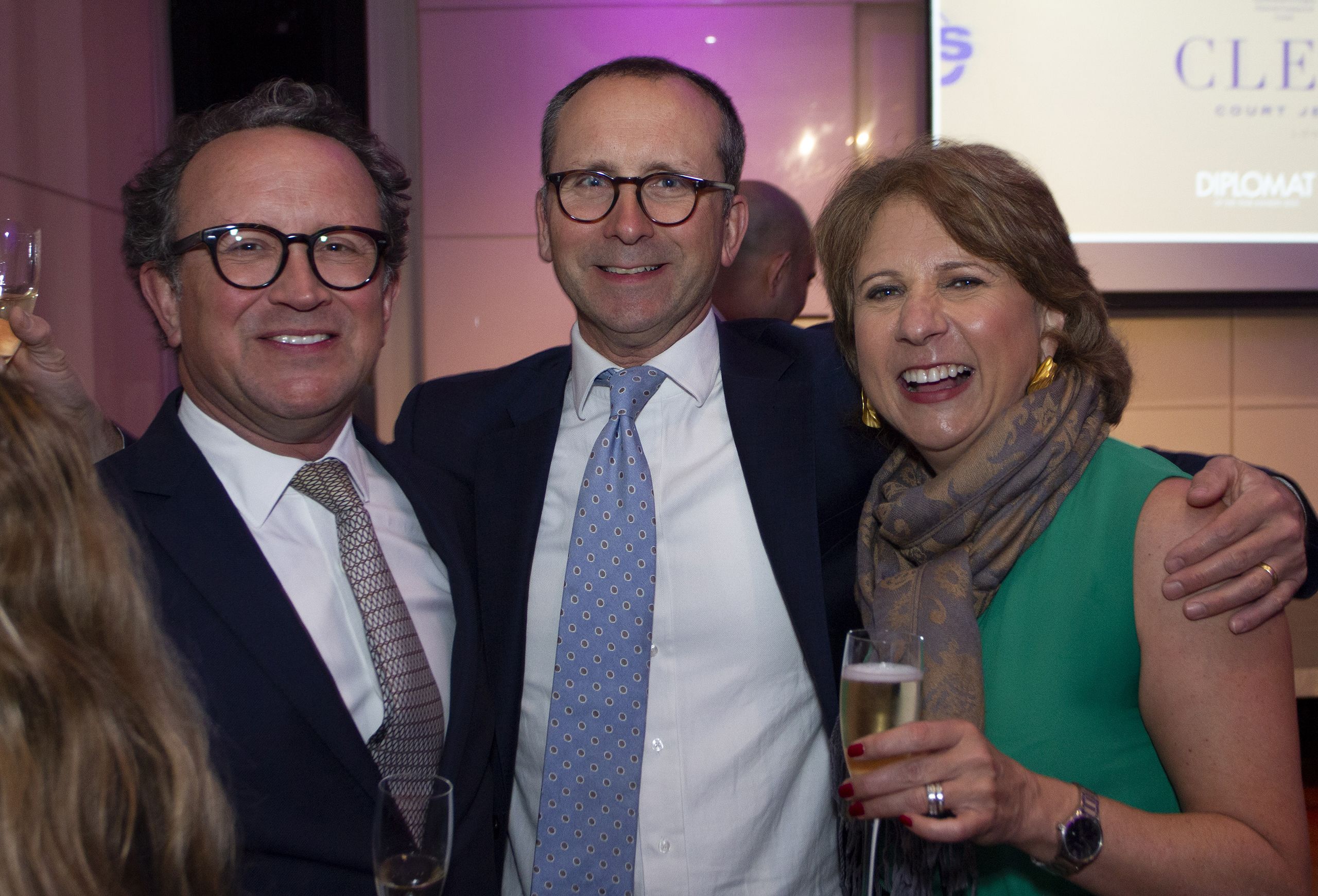 Gervase Milbourn (Diplomat magazine), Hugh Milbourn (BBC News) and BBC News presenter Jo Coburn
Gervase Milbourn (Diplomat magazine), Hugh Milbourn (BBC News) and BBC News presenter Jo Coburn
Item 1 of 12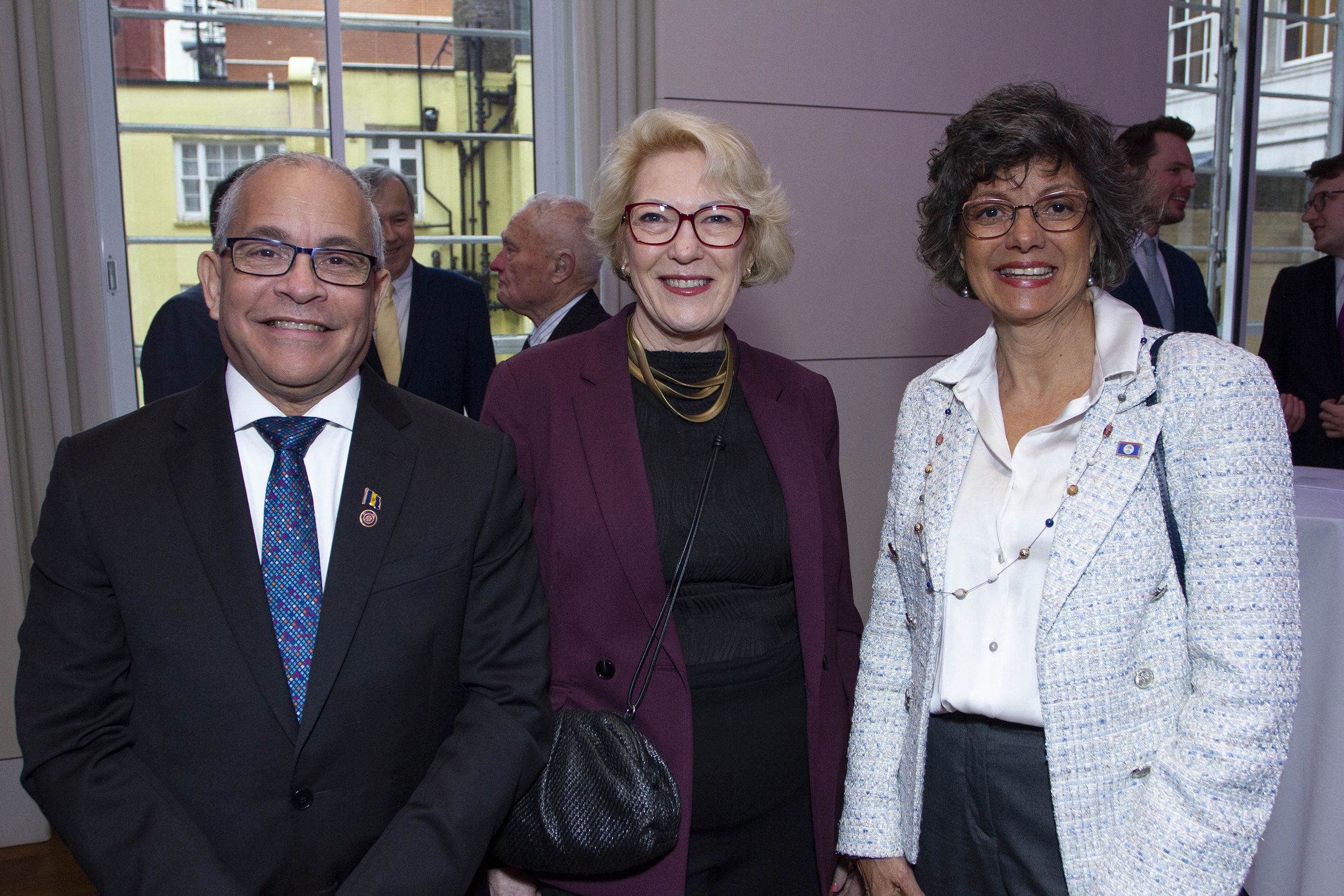 High Commissioner for Barbados Milton Innis, High Commissioner for Namibia Linda Scott and High Commissioner for Belize Therese Rath
High Commissioner for Barbados Milton Innis, High Commissioner for Namibia Linda Scott and High Commissioner for Belize Therese Rath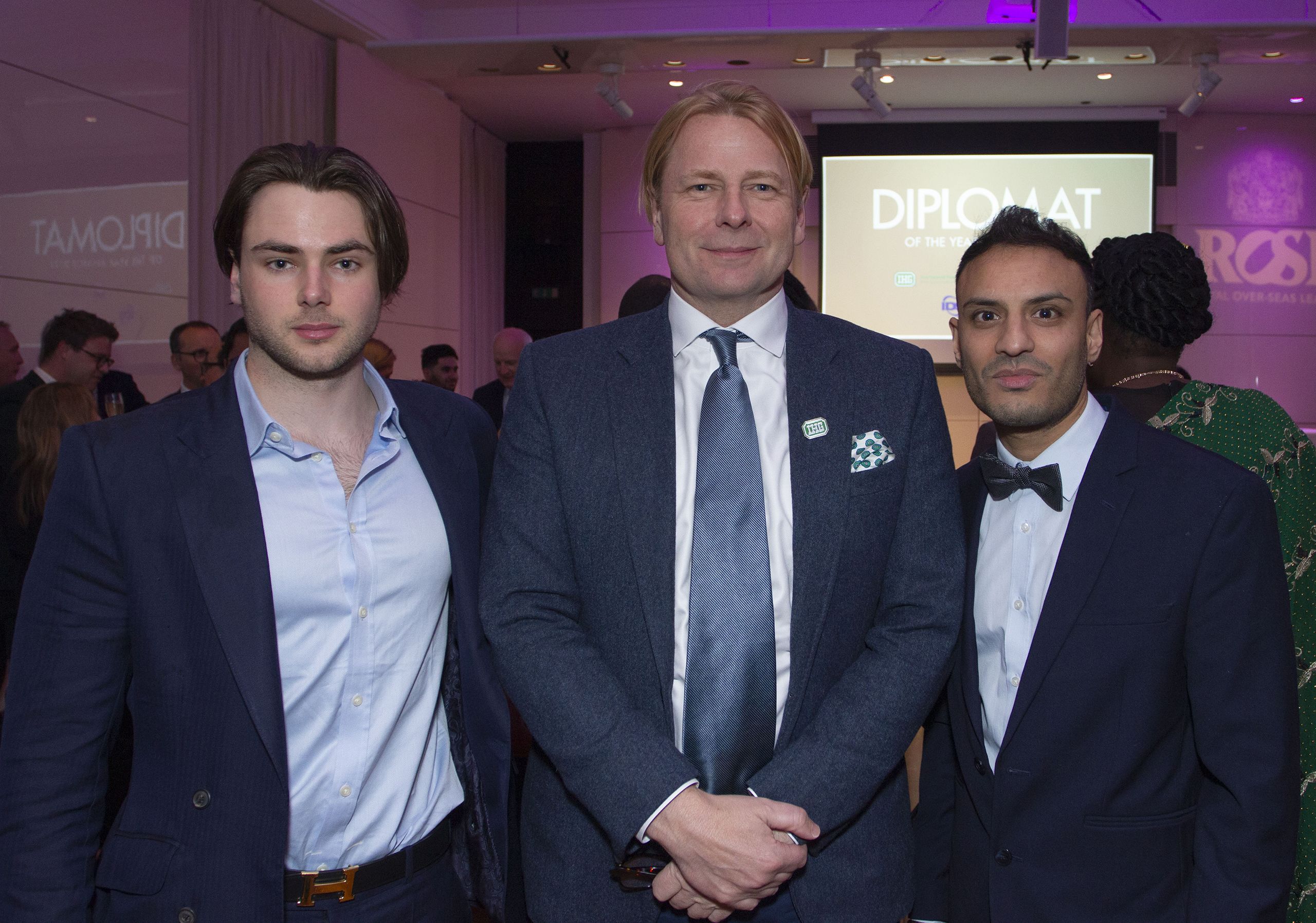 Latimer King (IHG), IHG CEO Chester King and Kash Siddiqi (Football for Peace)
Latimer King (IHG), IHG CEO Chester King and Kash Siddiqi (Football for Peace)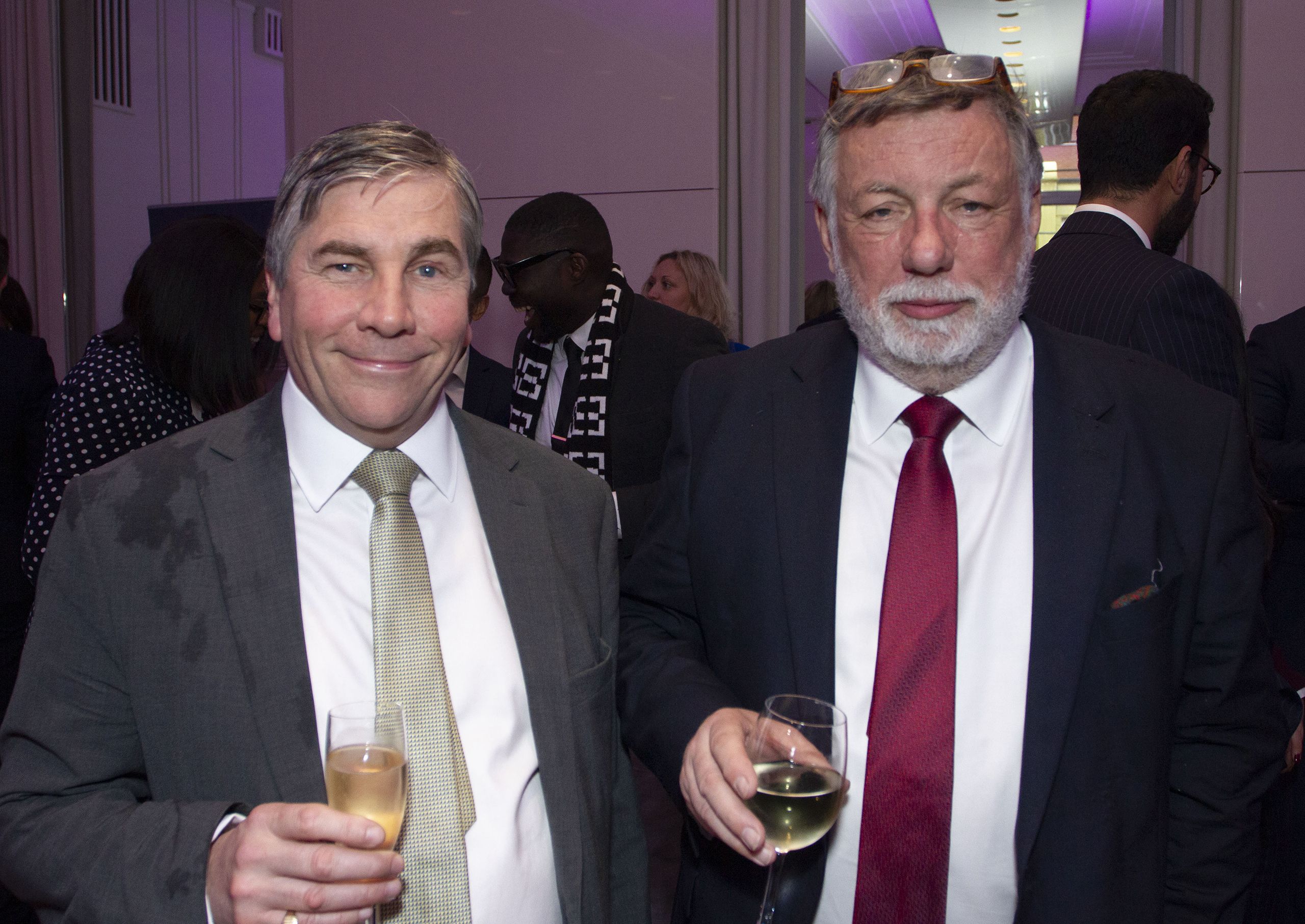 Stephen Connolly and Peter Scott (Cleave & Co)
Stephen Connolly and Peter Scott (Cleave & Co)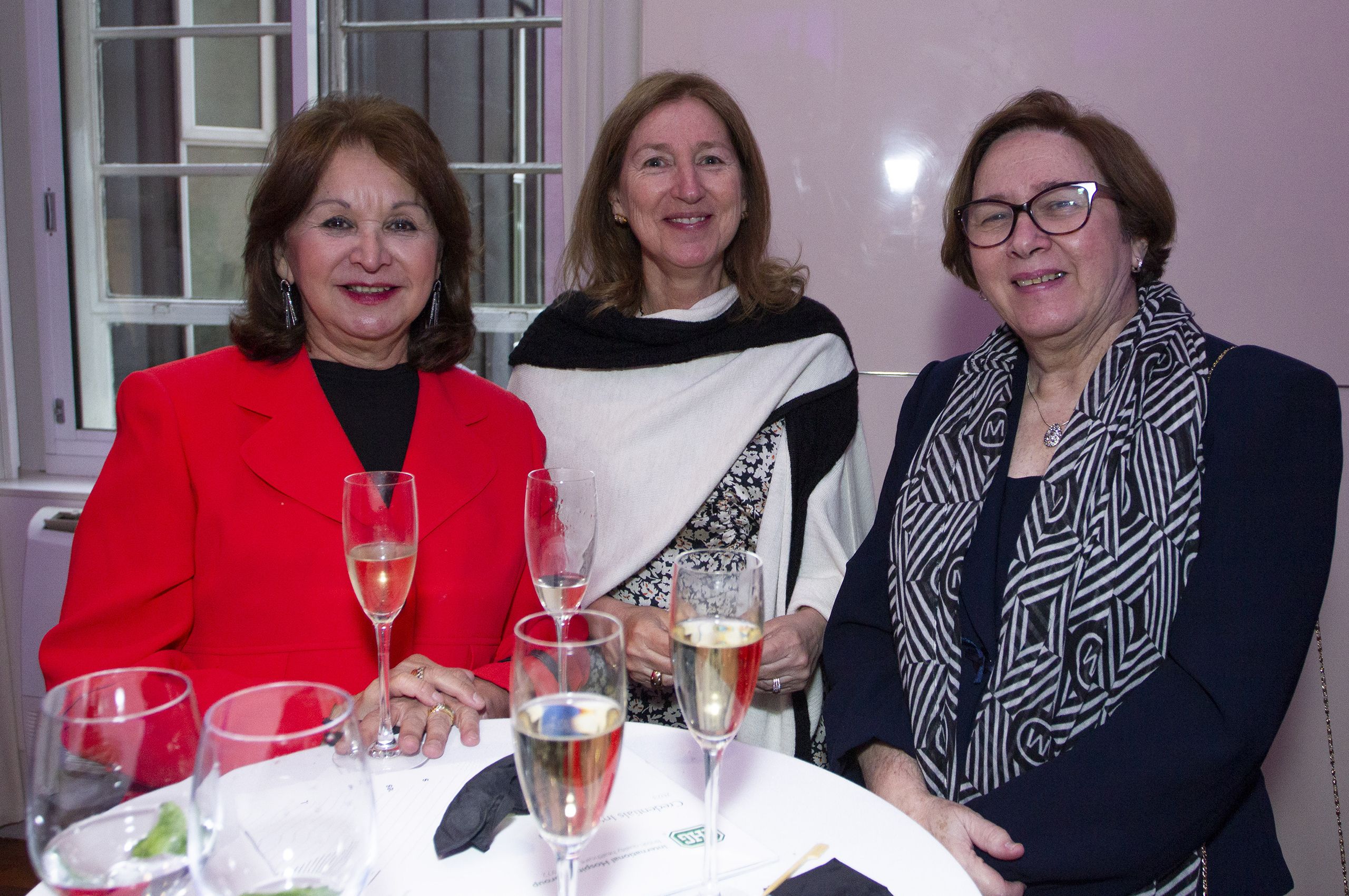 Mrs Mirian Nassser-Romero (Honduras), Mrs Désirée Prinzessin von Preussen (Peru) and Ambassador of Cuba Mrs Bárbara Elena Montalvo Alvarez
Mrs Mirian Nassser-Romero (Honduras), Mrs Désirée Prinzessin von Preussen (Peru) and Ambassador of Cuba Mrs Bárbara Elena Montalvo Alvarez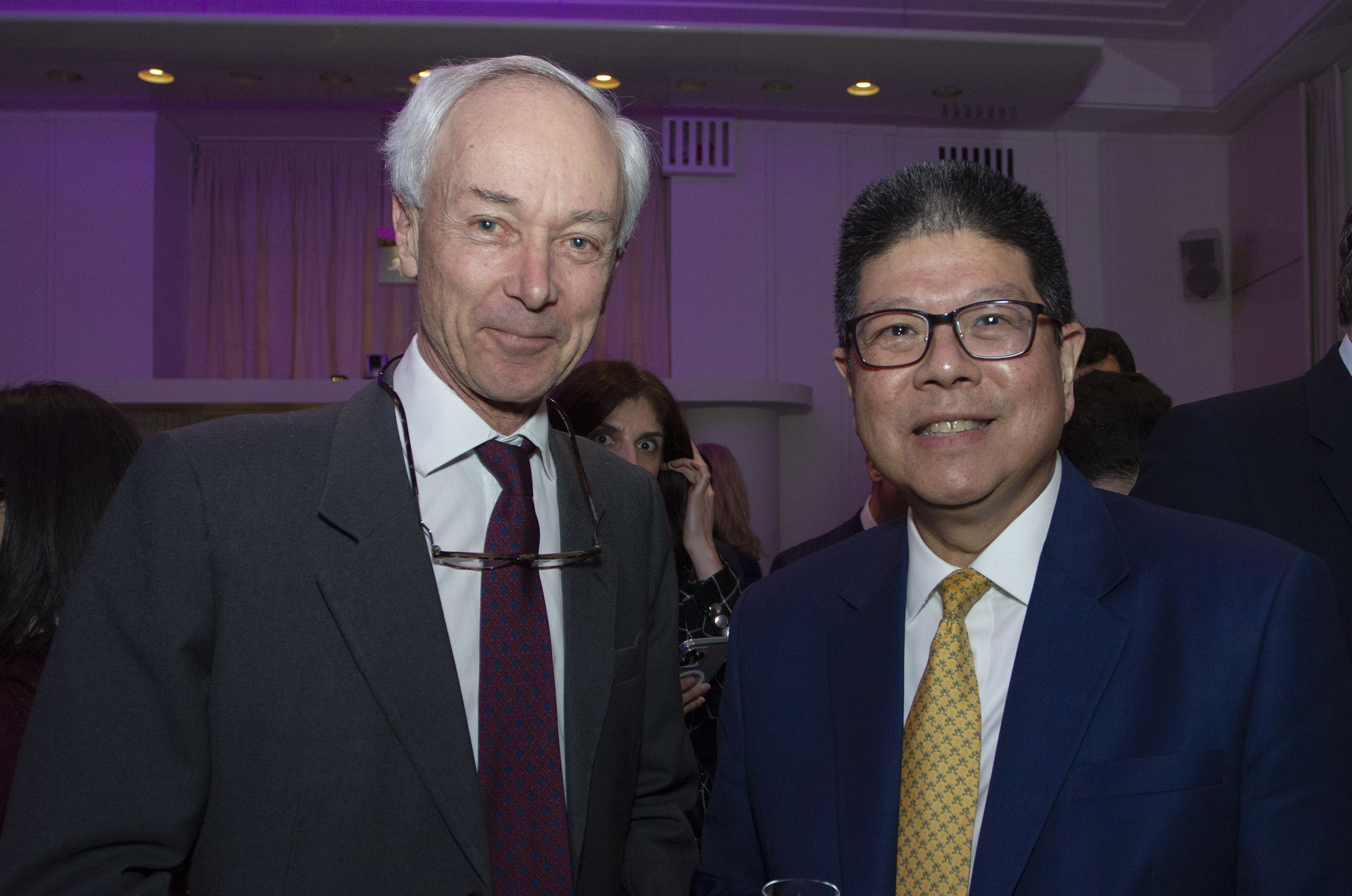 Christopher Goodwin (Ambassador Partnership) and Ambassador of Thailand Thani Thongphakdi
Christopher Goodwin (Ambassador Partnership) and Ambassador of Thailand Thani Thongphakdi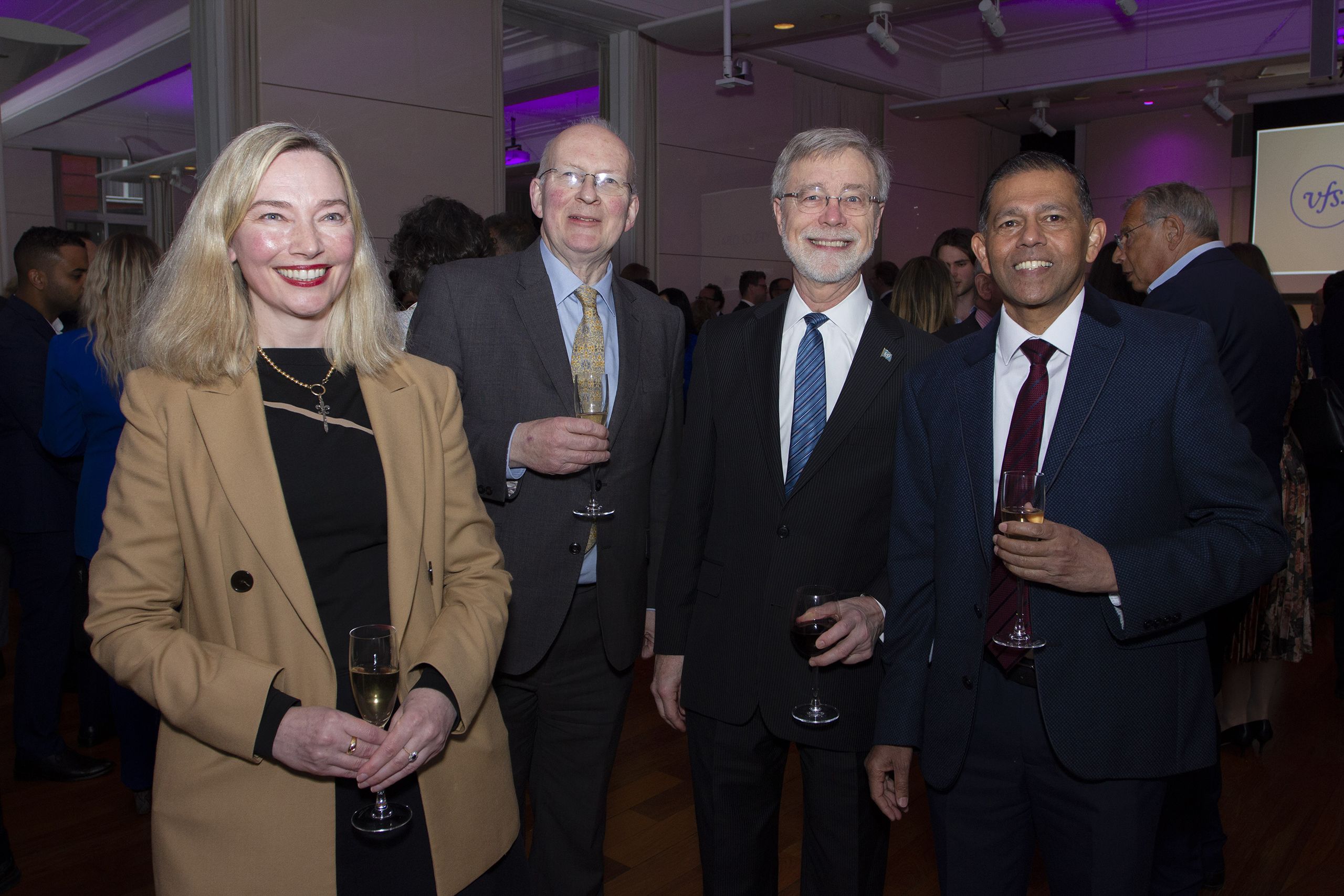 Director General of ROSL Dr Annette Prandzioch, Marshal of the Diplomatic Corps Alistair Harrison CMG CVO, Dr Michael Leary (Christian Embassy)and High Commissioner for Mauritius Girish Nunkoo
Director General of ROSL Dr Annette Prandzioch, Marshal of the Diplomatic Corps Alistair Harrison CMG CVO, Dr Michael Leary (Christian Embassy)and High Commissioner for Mauritius Girish Nunkoo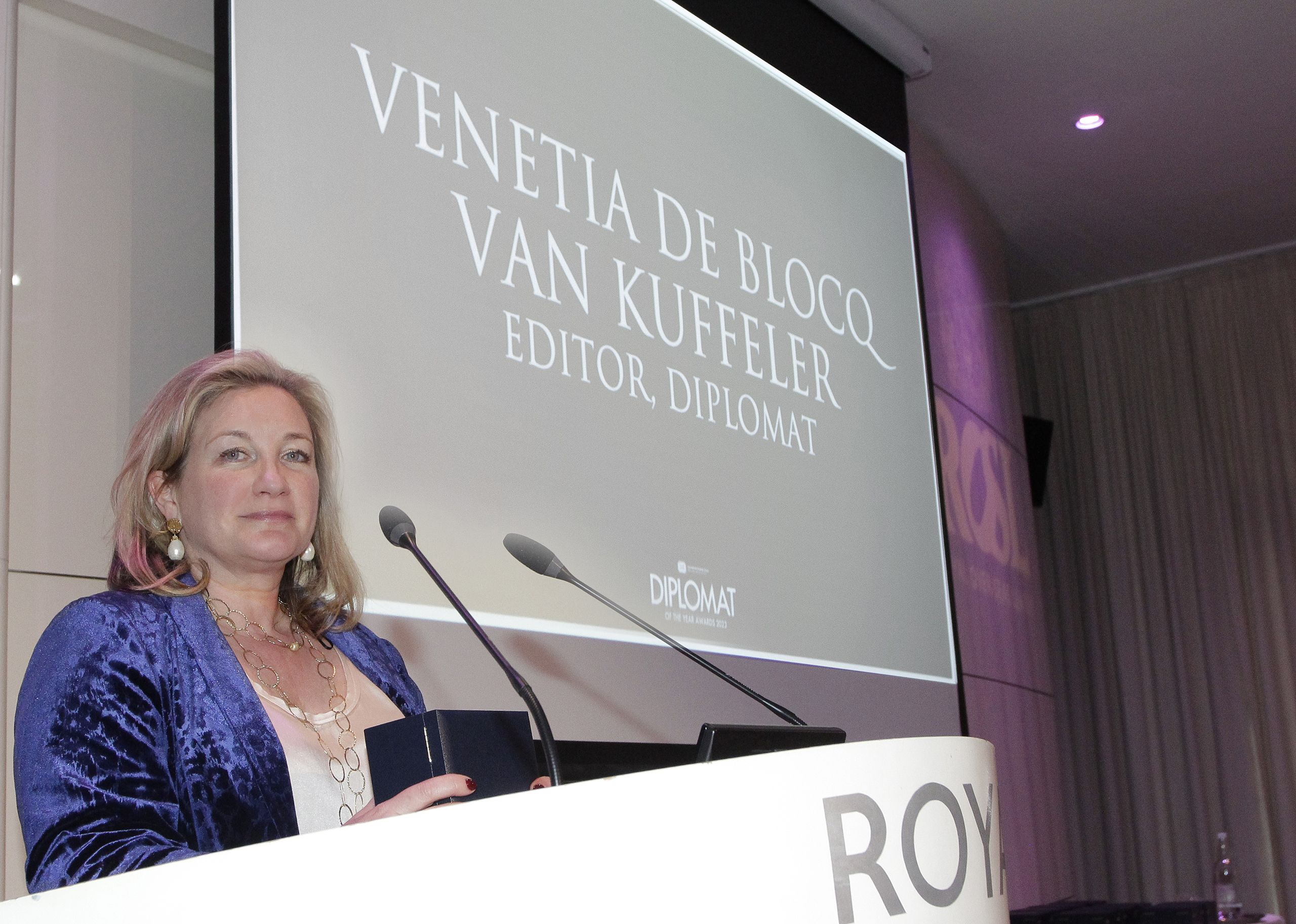 Editor of Diplomat magazine, Venetia van Kuffeler
Editor of Diplomat magazine, Venetia van Kuffeler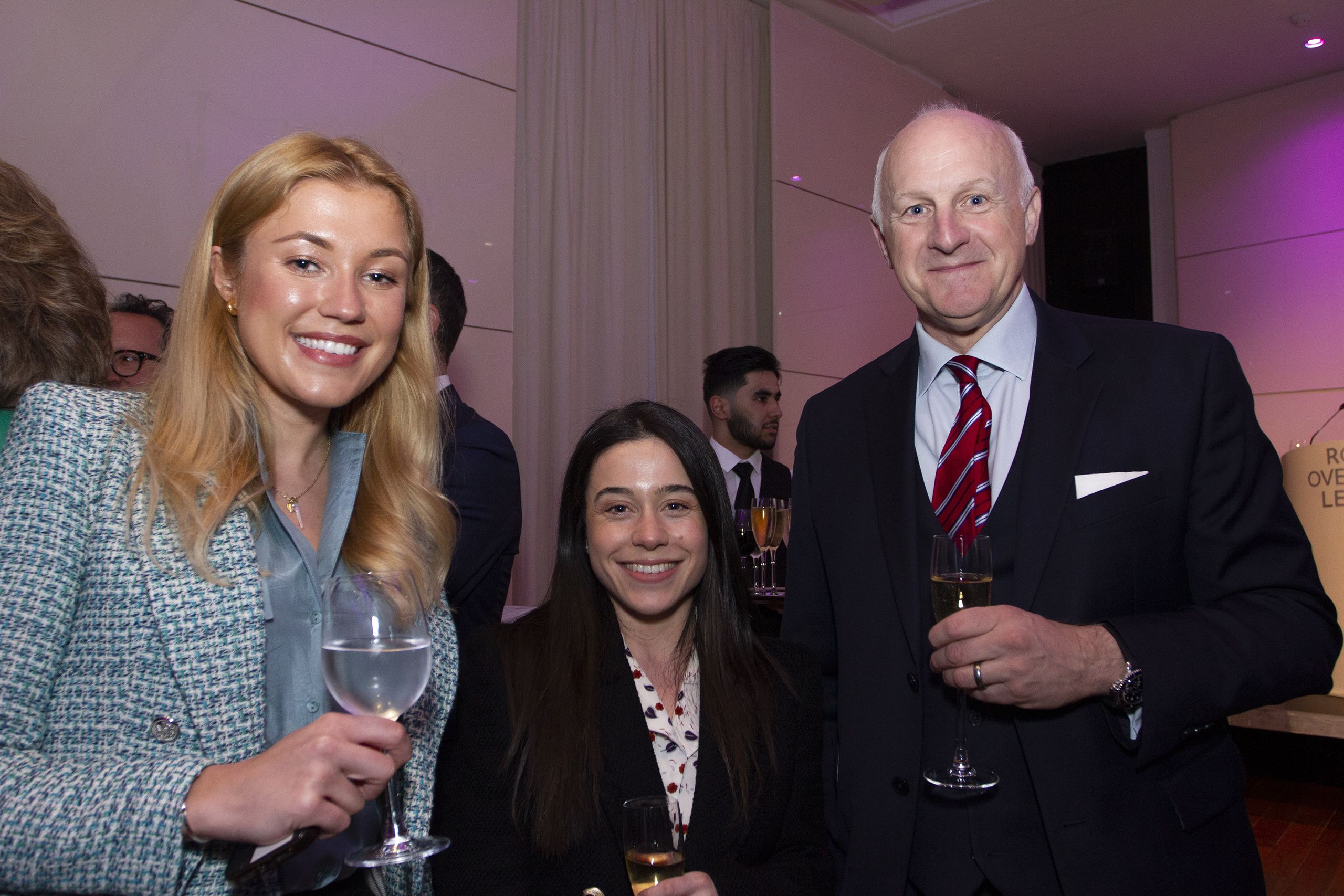 Gabriela Kucharska, Sara Carriles and Tom Lee (Cleave & Co)
Gabriela Kucharska, Sara Carriles and Tom Lee (Cleave & Co)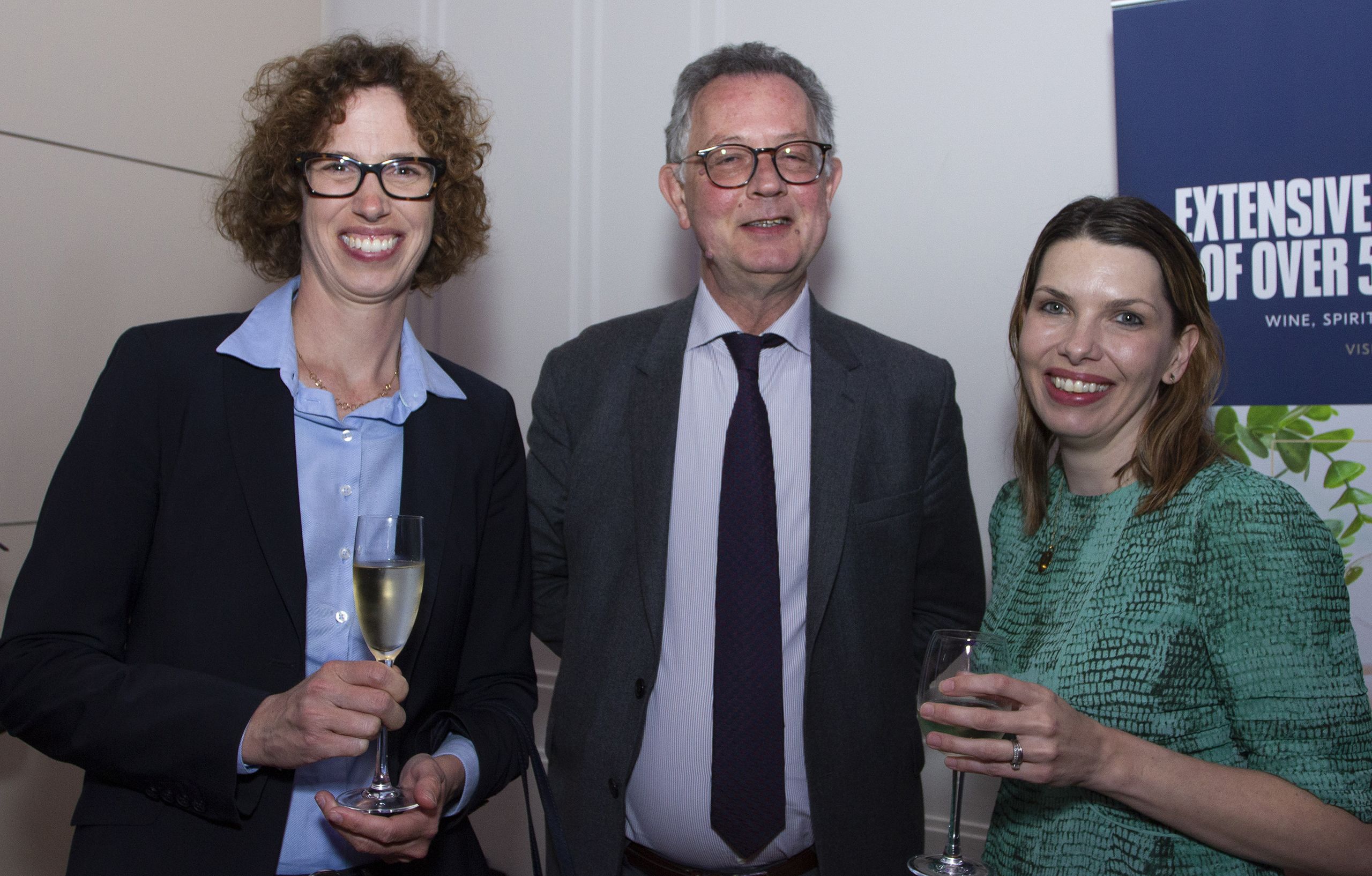 Deputy Head of Mission Chantal Moser (Switzerland), Deputy Head of Mission Gerrit Van Rossum (France) and FCDO Head of Protocol and Vice-Marshal of the Diplomatic Corps Victoria Busby
Deputy Head of Mission Chantal Moser (Switzerland), Deputy Head of Mission Gerrit Van Rossum (France) and FCDO Head of Protocol and Vice-Marshal of the Diplomatic Corps Victoria Busby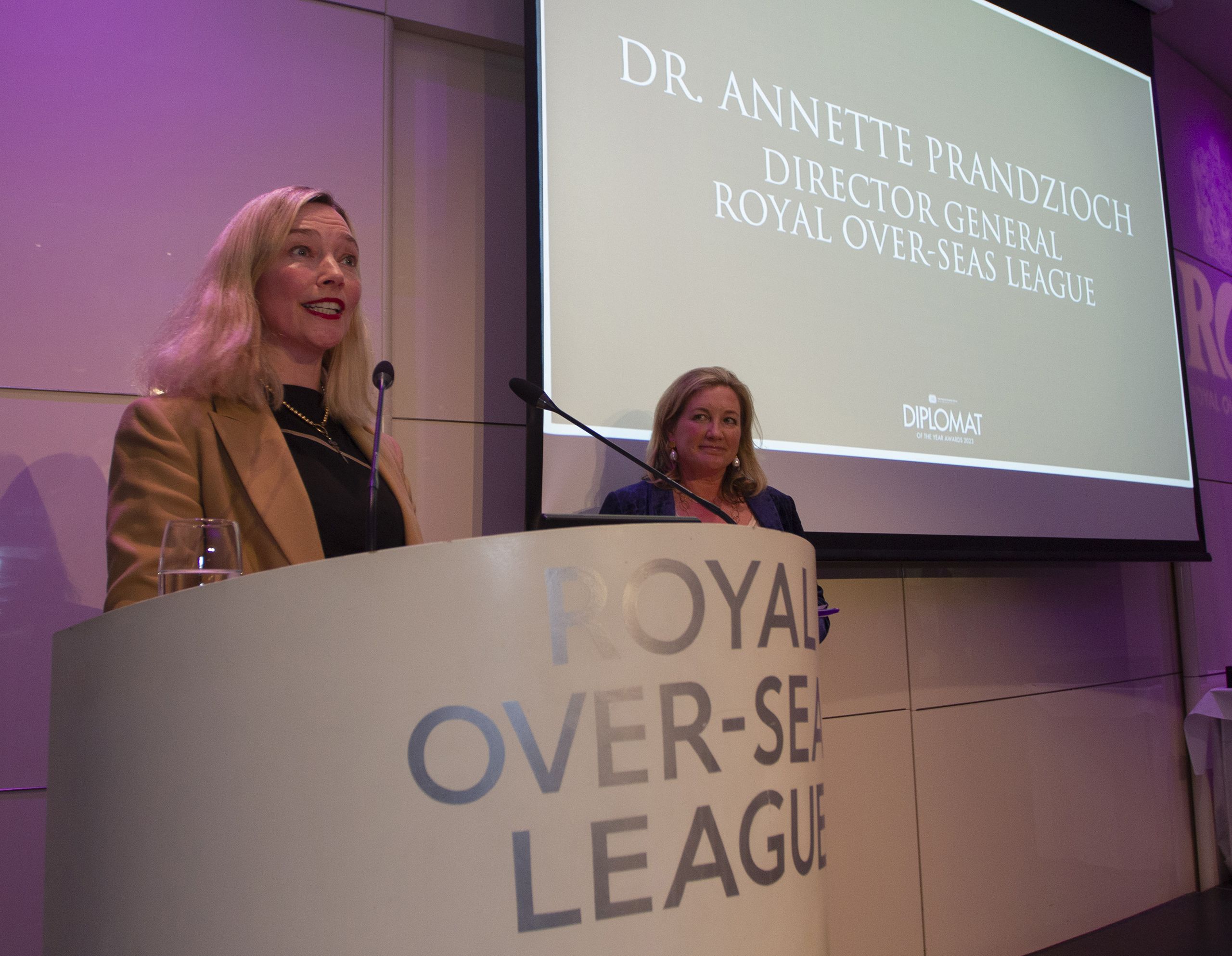 Director General of ROSL Dr Annette Prandzioch
Director General of ROSL Dr Annette Prandzioch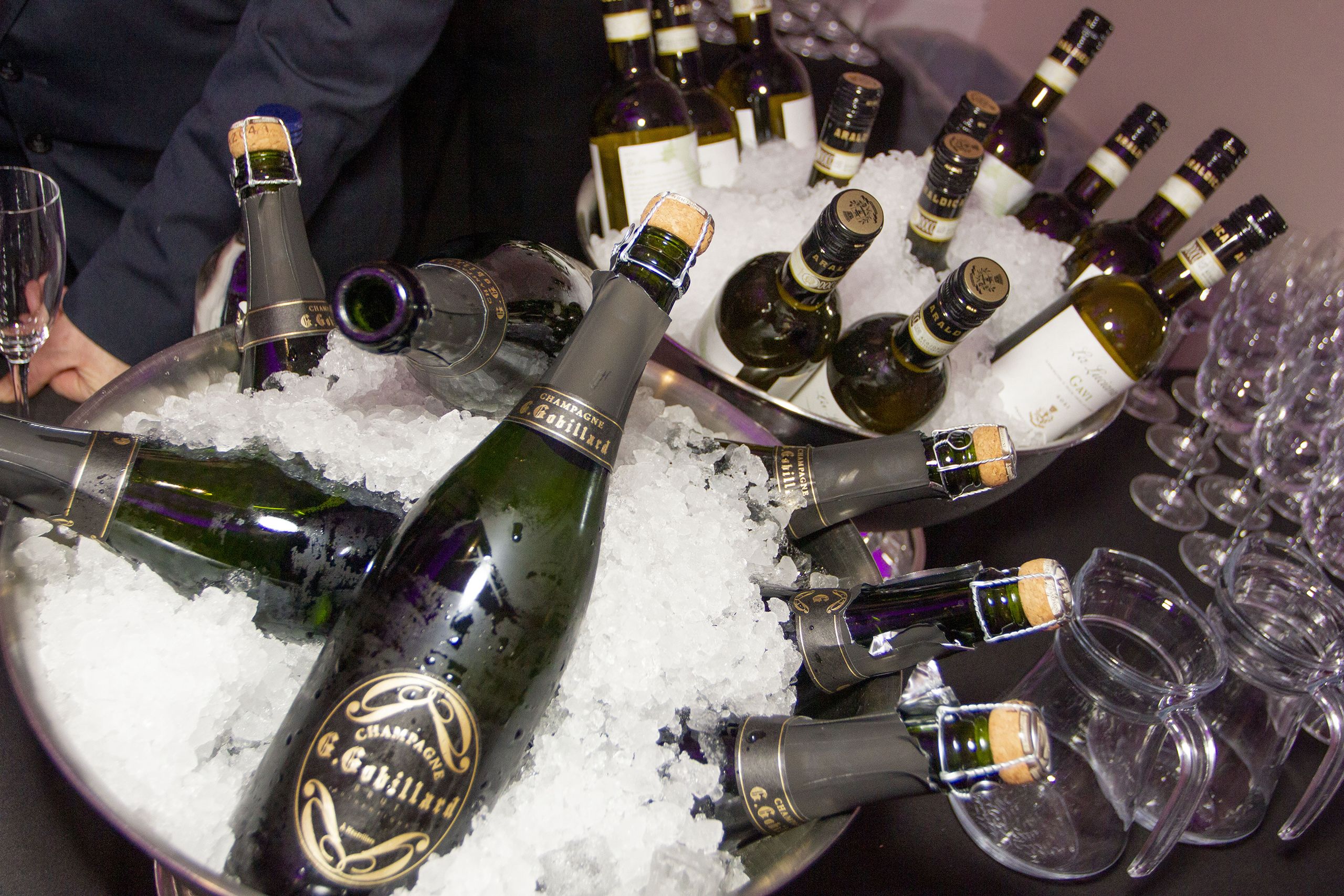 Champagne and wine provided by International Diplomatic Supplies
Champagne and wine provided by International Diplomatic Supplies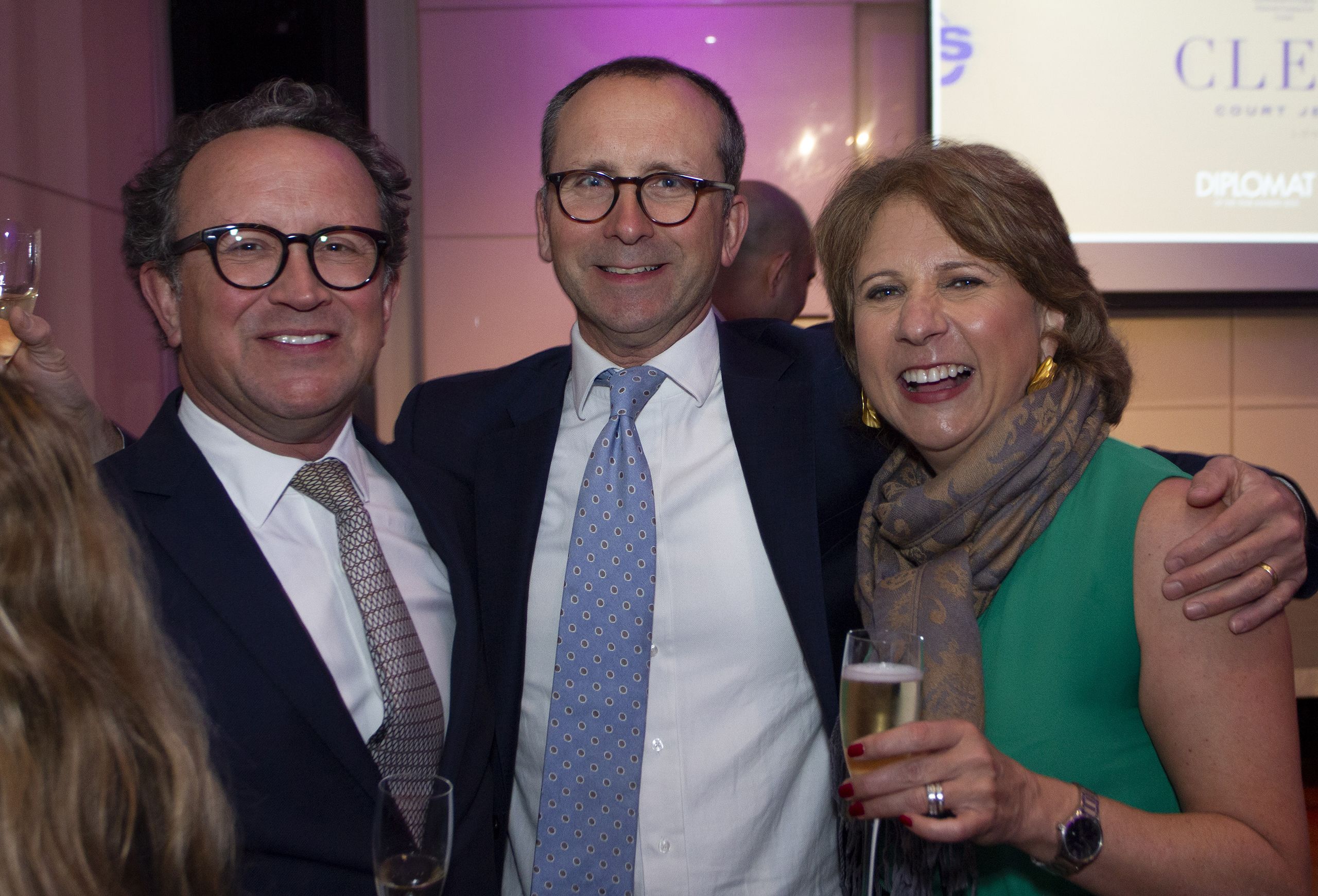 Gervase Milbourn (Diplomat magazine), Hugh Milbourn (BBC News) and BBC News presenter Jo Coburn
Gervase Milbourn (Diplomat magazine), Hugh Milbourn (BBC News) and BBC News presenter Jo Coburn
With over 180 diplomatic missions, a posting in London remains one of the highlights of any diplomat's career. DIPLOMAT's Editor, Venetia de Blocq van Kuffeler, said: "As the global centre for diplomacy, London has become more important than ever. This is an award ceremony for diplomats, with winners chosen by diplomats. This evening is about hard work and technique. It's about people and professionalism."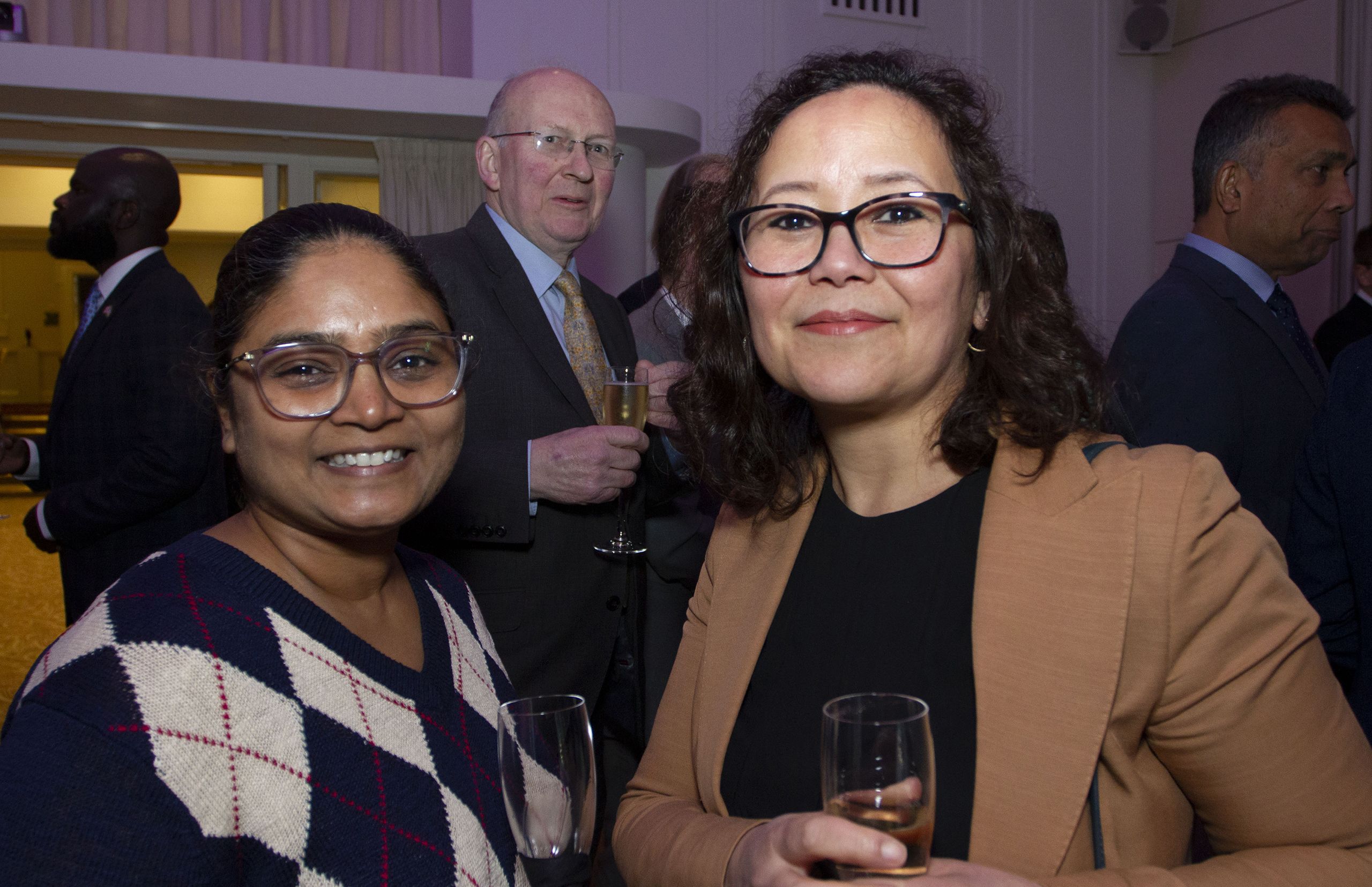 Elizabeth Samuel (VFS Global) and Yummi Talwar (VFS Global)
Elizabeth Samuel (VFS Global) and Yummi Talwar (VFS Global)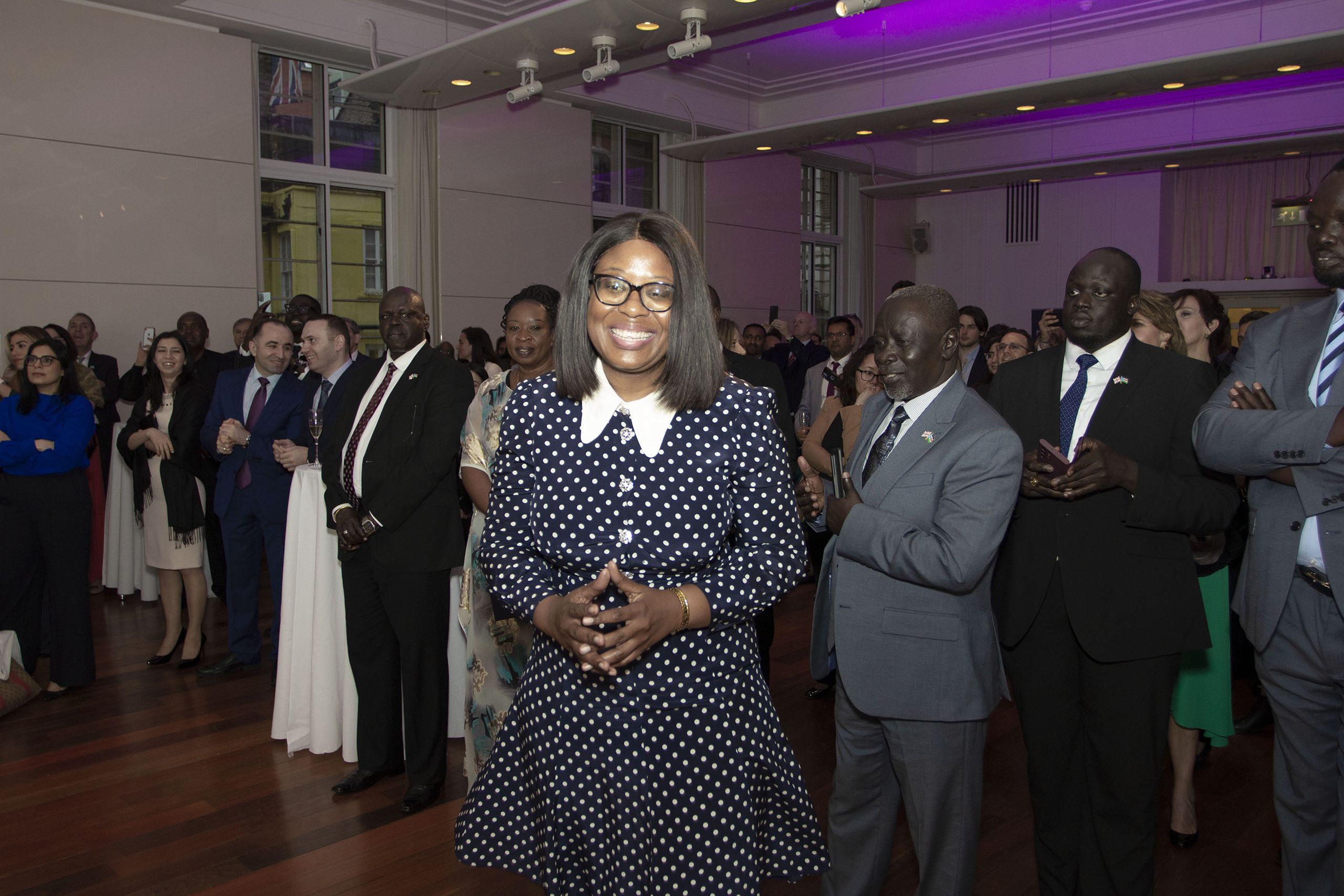 High Commissioner for Antigua and Barbuda Ms Karen-Mae Hill OBE
High Commissioner for Antigua and Barbuda Ms Karen-Mae Hill OBE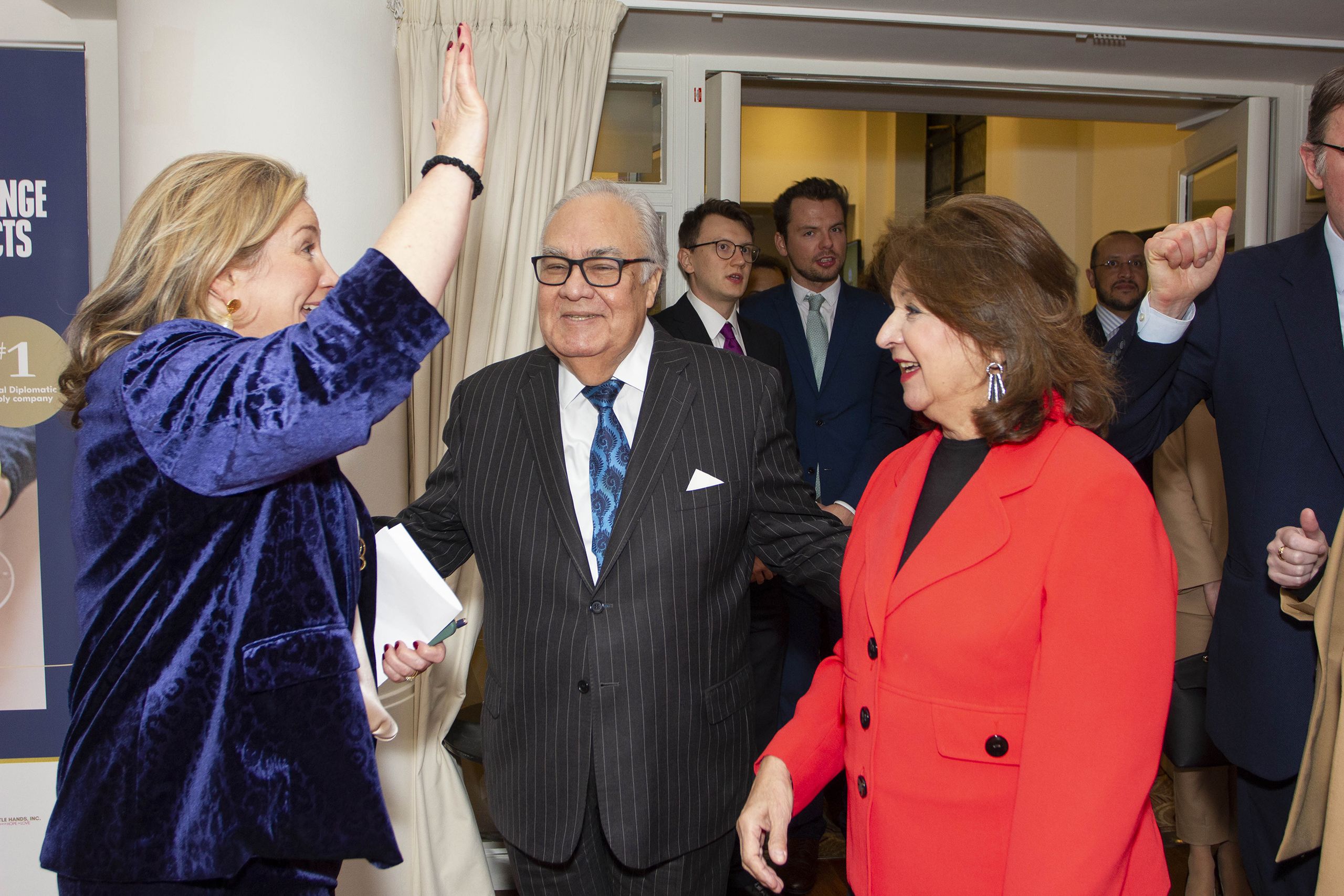 Venetia van Kuffeler greets Dean of the Diplomatic Corps Ambassador of Honduras Ivan Romero-Martinez and Mrs Mirian Nassser-Romero
Venetia van Kuffeler greets Dean of the Diplomatic Corps Ambassador of Honduras Ivan Romero-Martinez and Mrs Mirian Nassser-Romero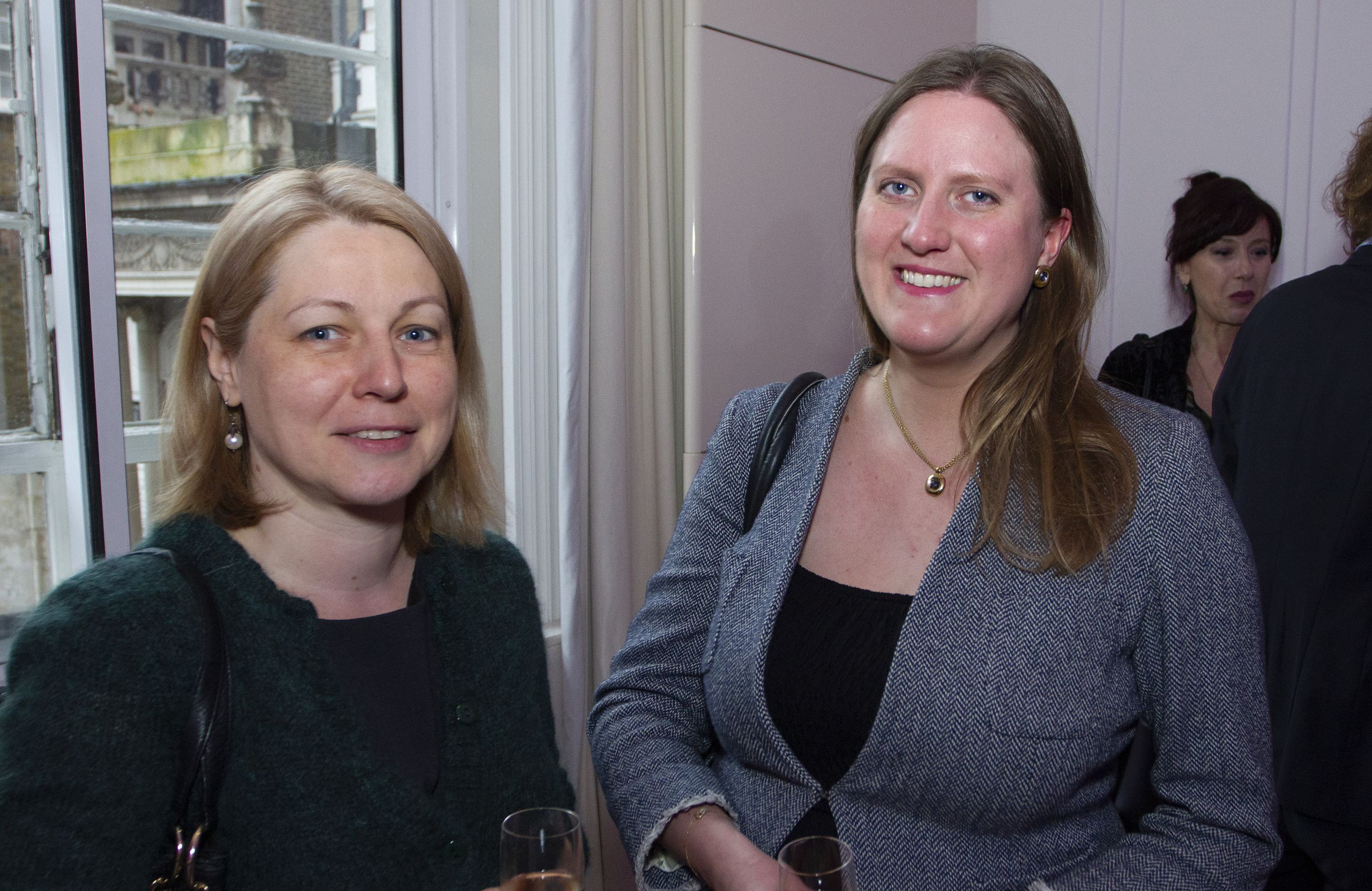 Ms Laura Stresina (Romania) with Chief Operating Officer at the Royal Commonwealth Society Elizabeth van der Valk
Ms Laura Stresina (Romania) with Chief Operating Officer at the Royal Commonwealth Society Elizabeth van der Valk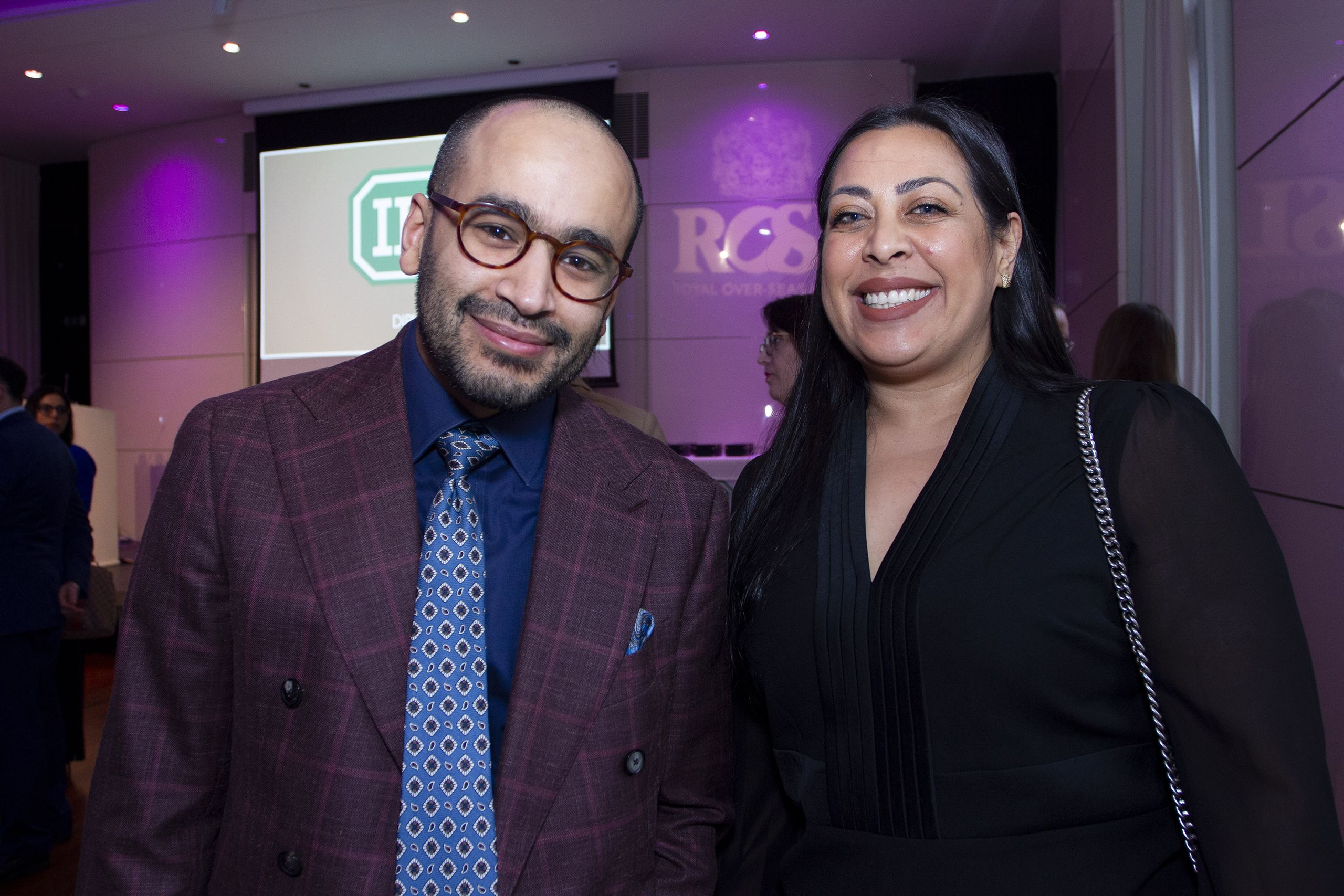 Mohammad AlDubayan (Saudi Arabia) and Corathon Ismaile (Cleveland Clinic)
Mohammad AlDubayan (Saudi Arabia) and Corathon Ismaile (Cleveland Clinic)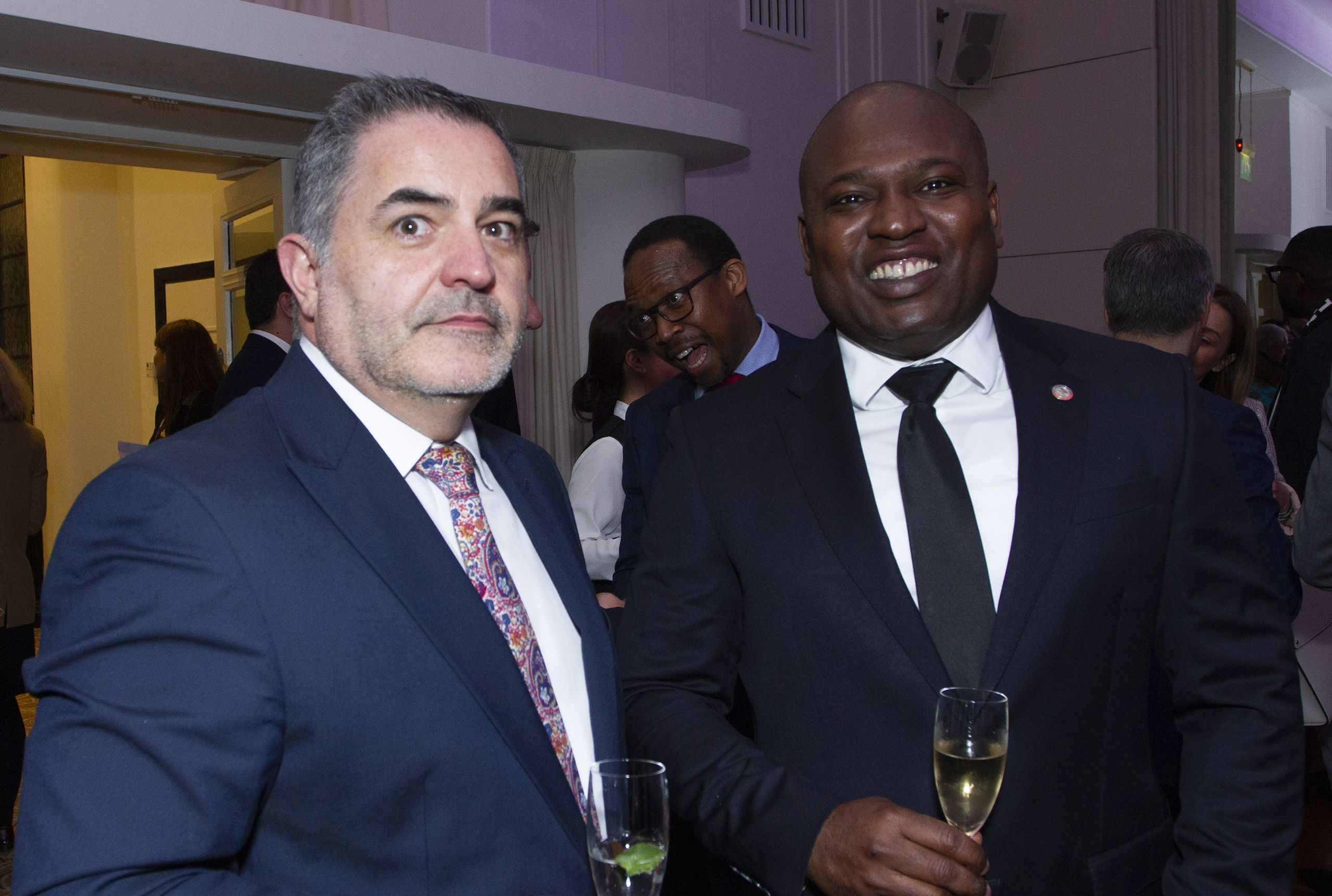 Ambassador of Guatemala Jose Alberto Briz Gutierrez and Ambassador of Haiti Euvrard Saint Amand
Ambassador of Guatemala Jose Alberto Briz Gutierrez and Ambassador of Haiti Euvrard Saint Amand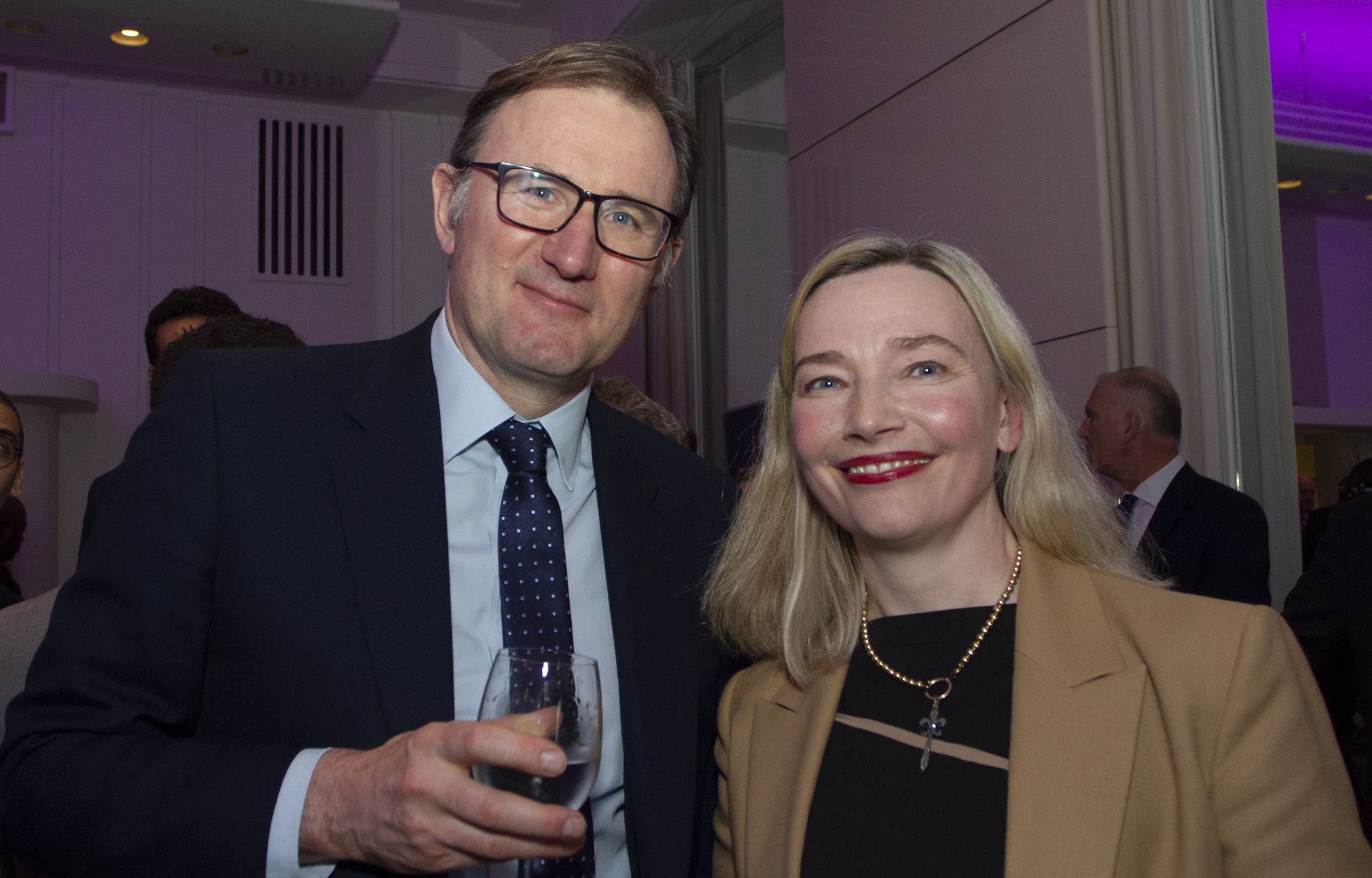 BBC Diplomatic Correspondent James Landale and ROSL Director General Dr Annette Prandzioch
BBC Diplomatic Correspondent James Landale and ROSL Director General Dr Annette Prandzioch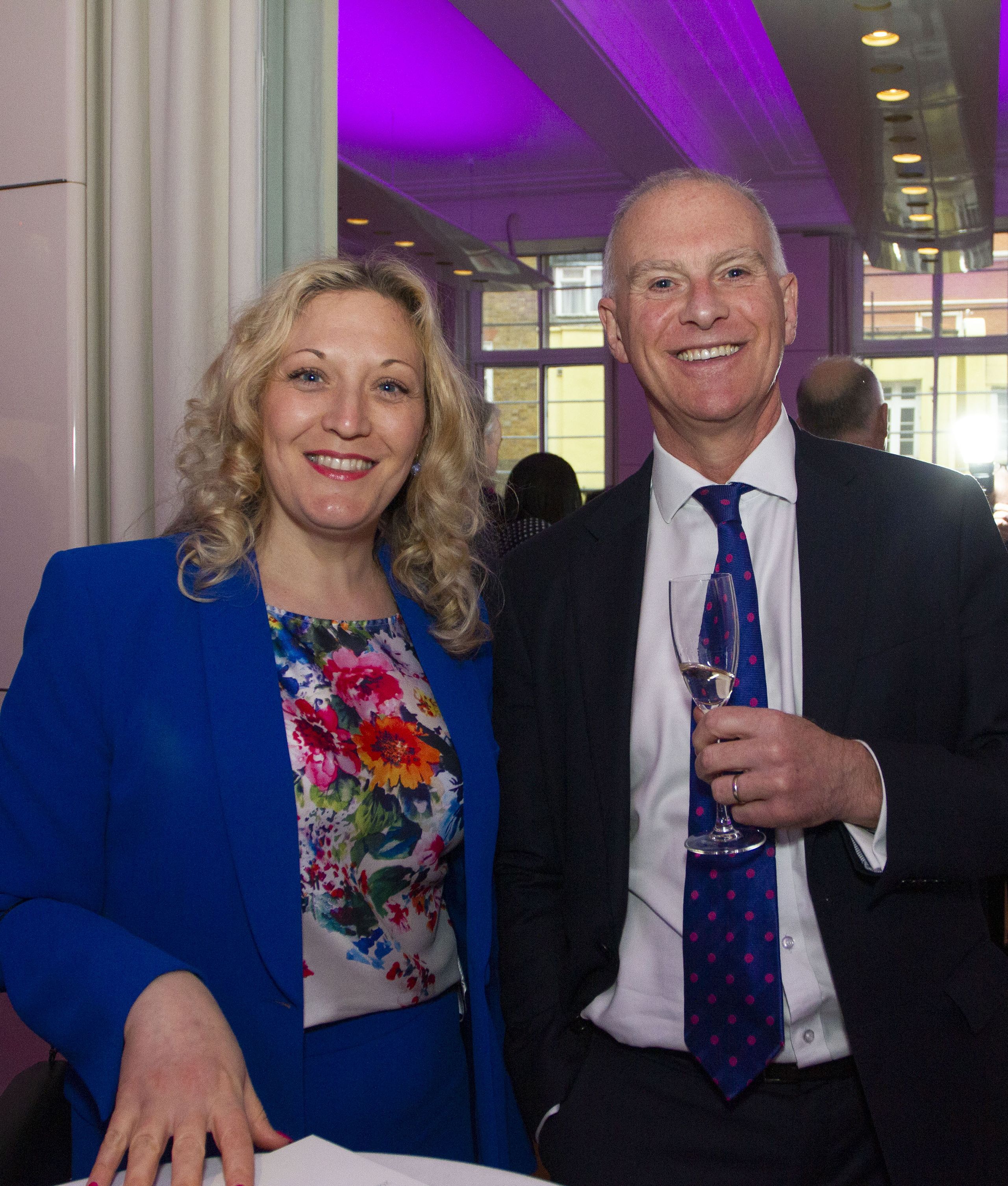 Evgeniya Shevchenko and Andrew Robertson (Moorfields Private Eye Hospital)
Evgeniya Shevchenko and Andrew Robertson (Moorfields Private Eye Hospital)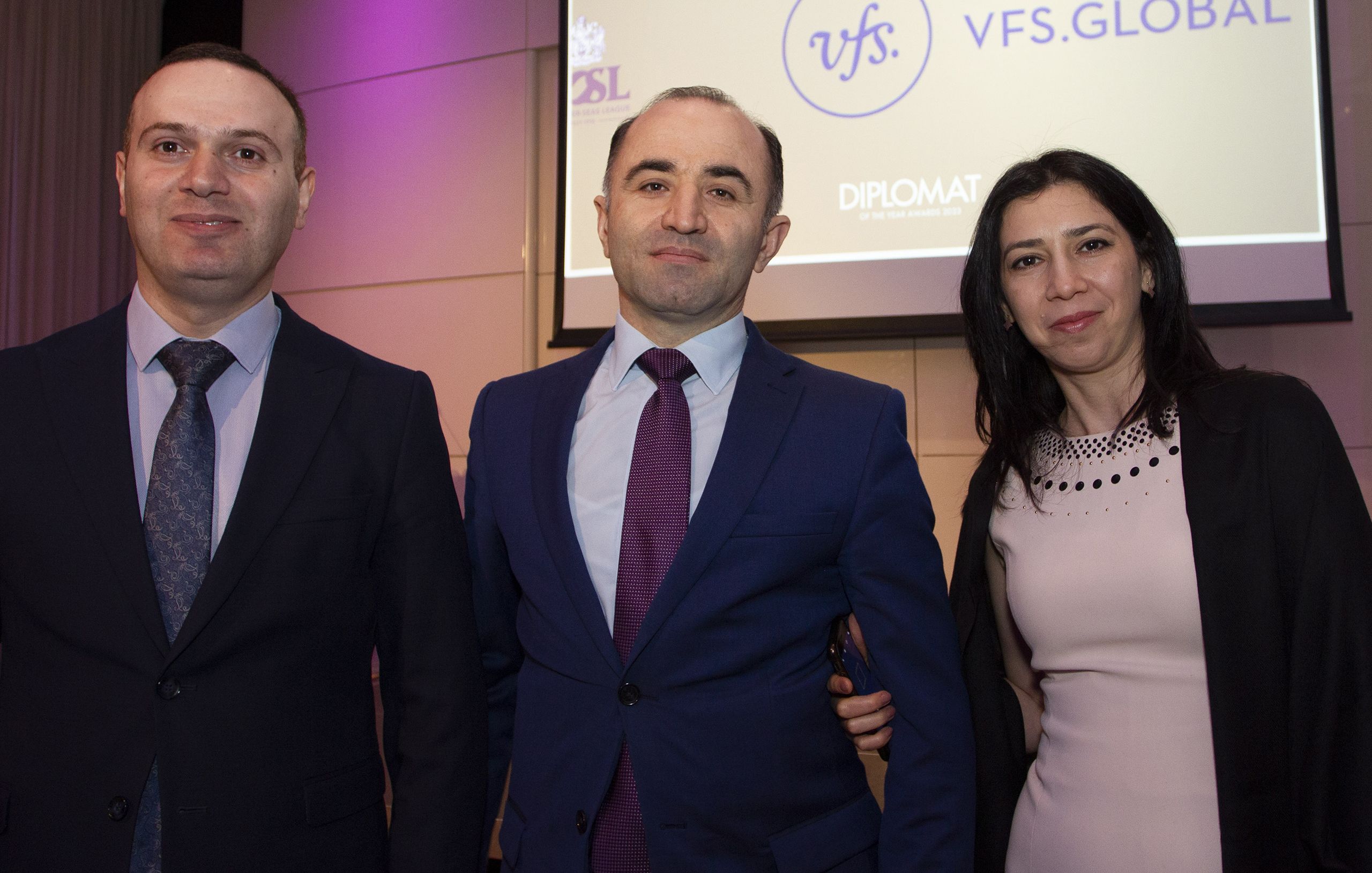 Rasim Mammadov, Polad Mammadov and Mrs Vusala Mammadova (Azerbaijan)
Rasim Mammadov, Polad Mammadov and Mrs Vusala Mammadova (Azerbaijan)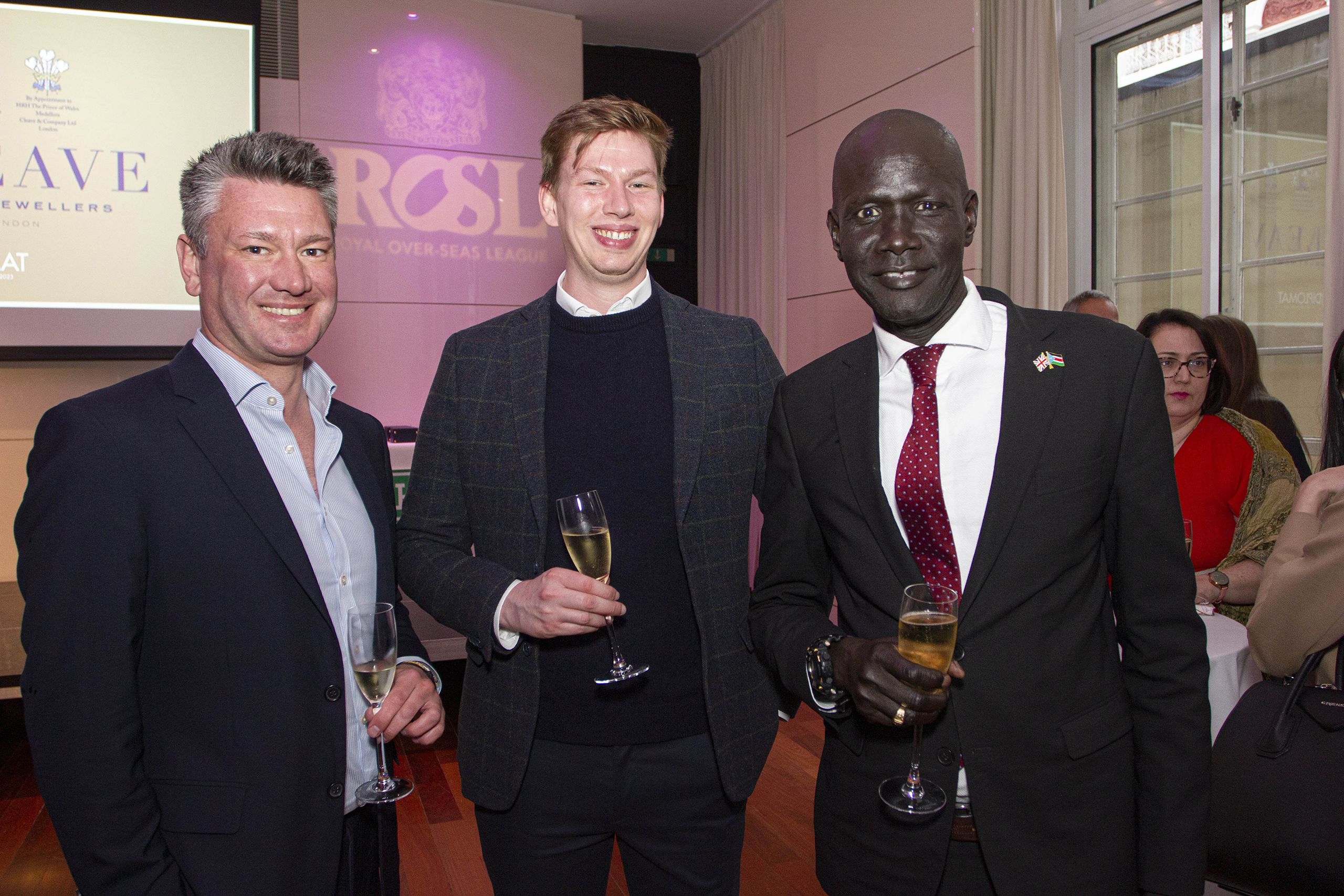 Managing Director of GK Strategy Scott Dodsworth, Joshua Stanley (FCDO) and Mayang Biem(South Sudan)
Managing Director of GK Strategy Scott Dodsworth, Joshua Stanley (FCDO) and Mayang Biem(South Sudan)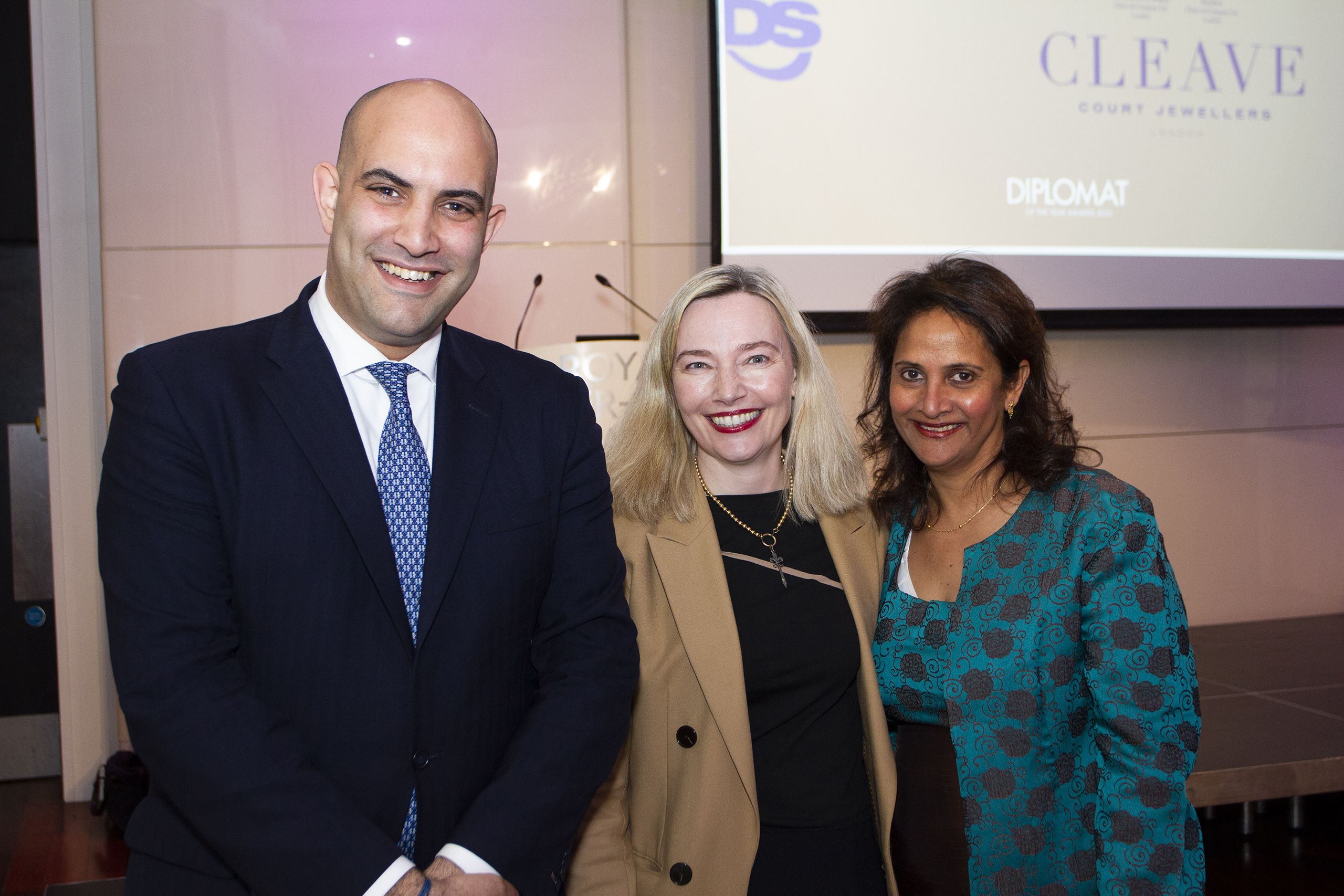 Karim Mostafa (The Peninsula London), Director General of ROSL Dr Annette Prandzioch and Mrs Bibi Qamarara Nunkoo (Mauritius)
Karim Mostafa (The Peninsula London), Director General of ROSL Dr Annette Prandzioch and Mrs Bibi Qamarara Nunkoo (Mauritius)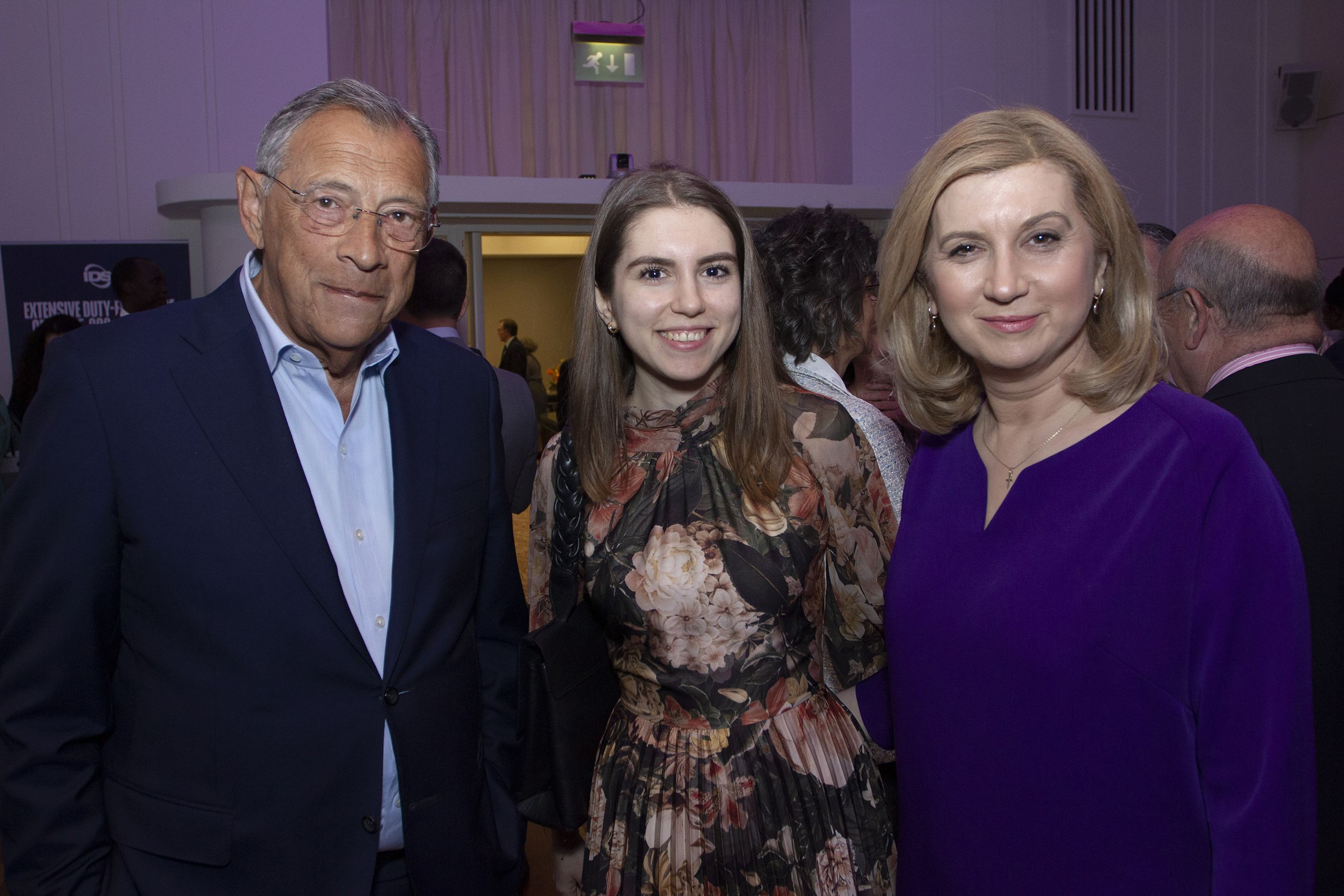 Chairman of the Canary Wharf Group Sir George Iacobescu CBE, Ms Octavia Popescu and Ambassador of Romania Laura Popescu
Chairman of the Canary Wharf Group Sir George Iacobescu CBE, Ms Octavia Popescu and Ambassador of Romania Laura Popescu
Item 1 of 12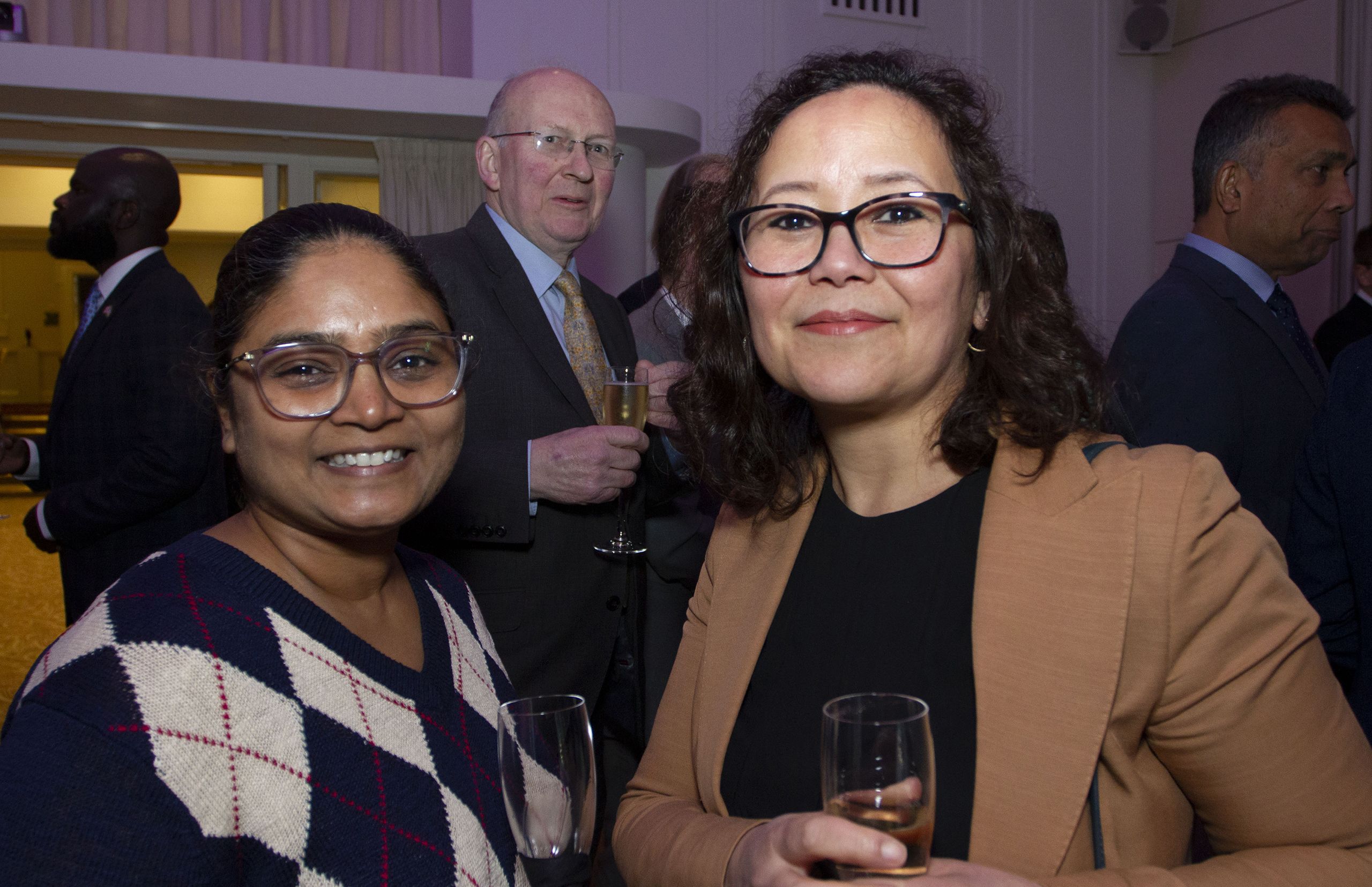 Elizabeth Samuel (VFS Global) and Yummi Talwar (VFS Global)
Elizabeth Samuel (VFS Global) and Yummi Talwar (VFS Global)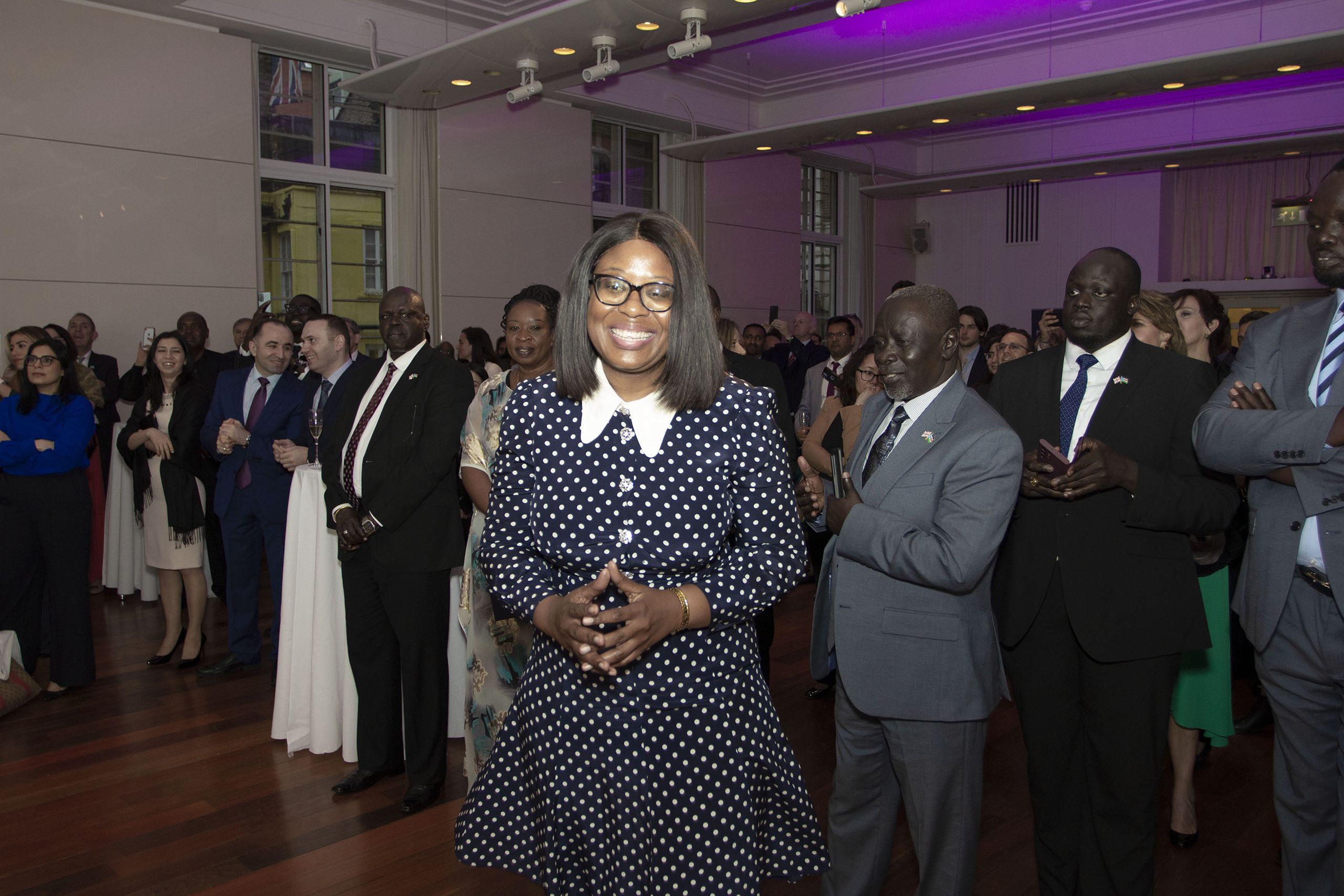 High Commissioner for Antigua and Barbuda Ms Karen-Mae Hill OBE
High Commissioner for Antigua and Barbuda Ms Karen-Mae Hill OBE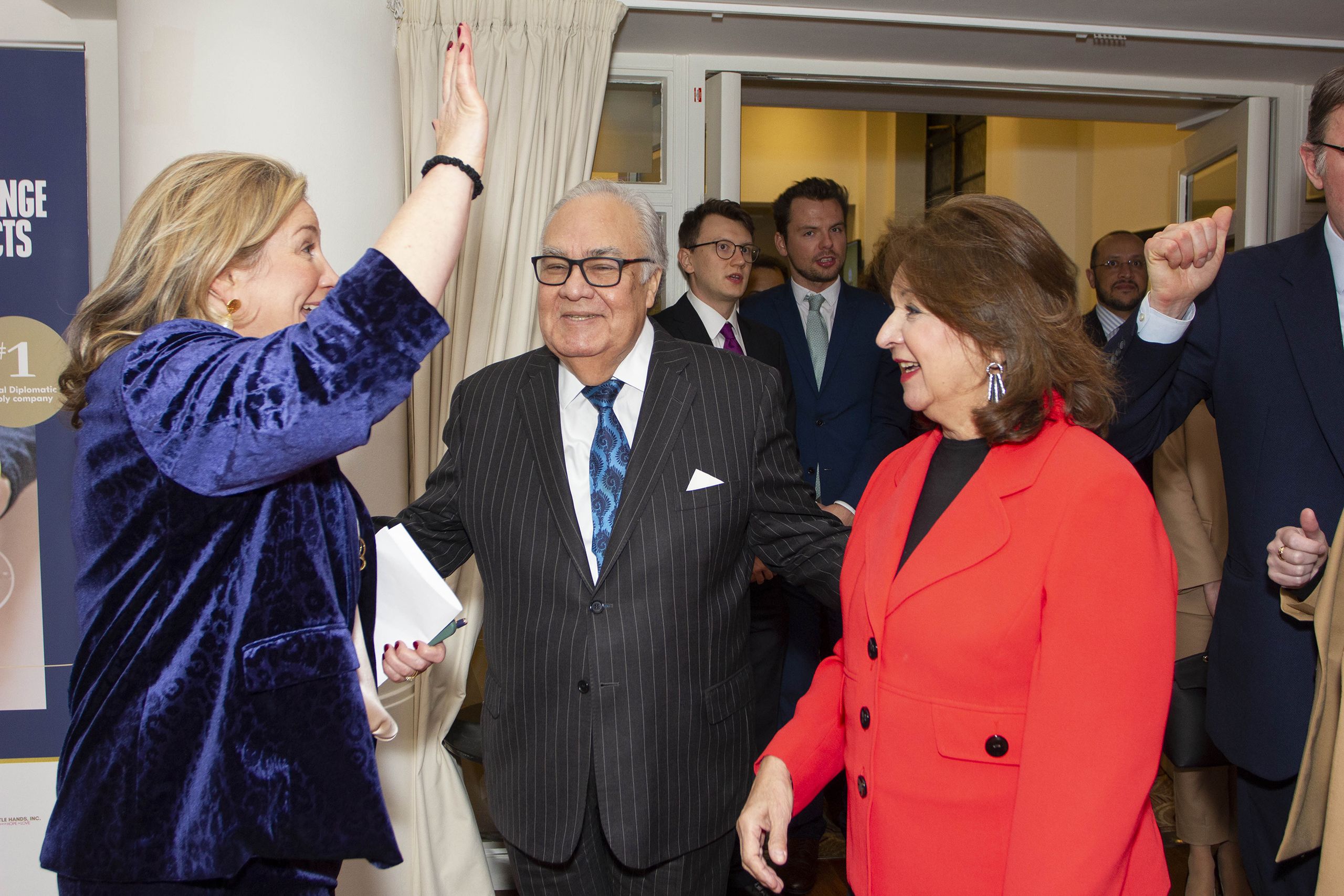 Venetia van Kuffeler greets Dean of the Diplomatic Corps Ambassador of Honduras Ivan Romero-Martinez and Mrs Mirian Nassser-Romero
Venetia van Kuffeler greets Dean of the Diplomatic Corps Ambassador of Honduras Ivan Romero-Martinez and Mrs Mirian Nassser-Romero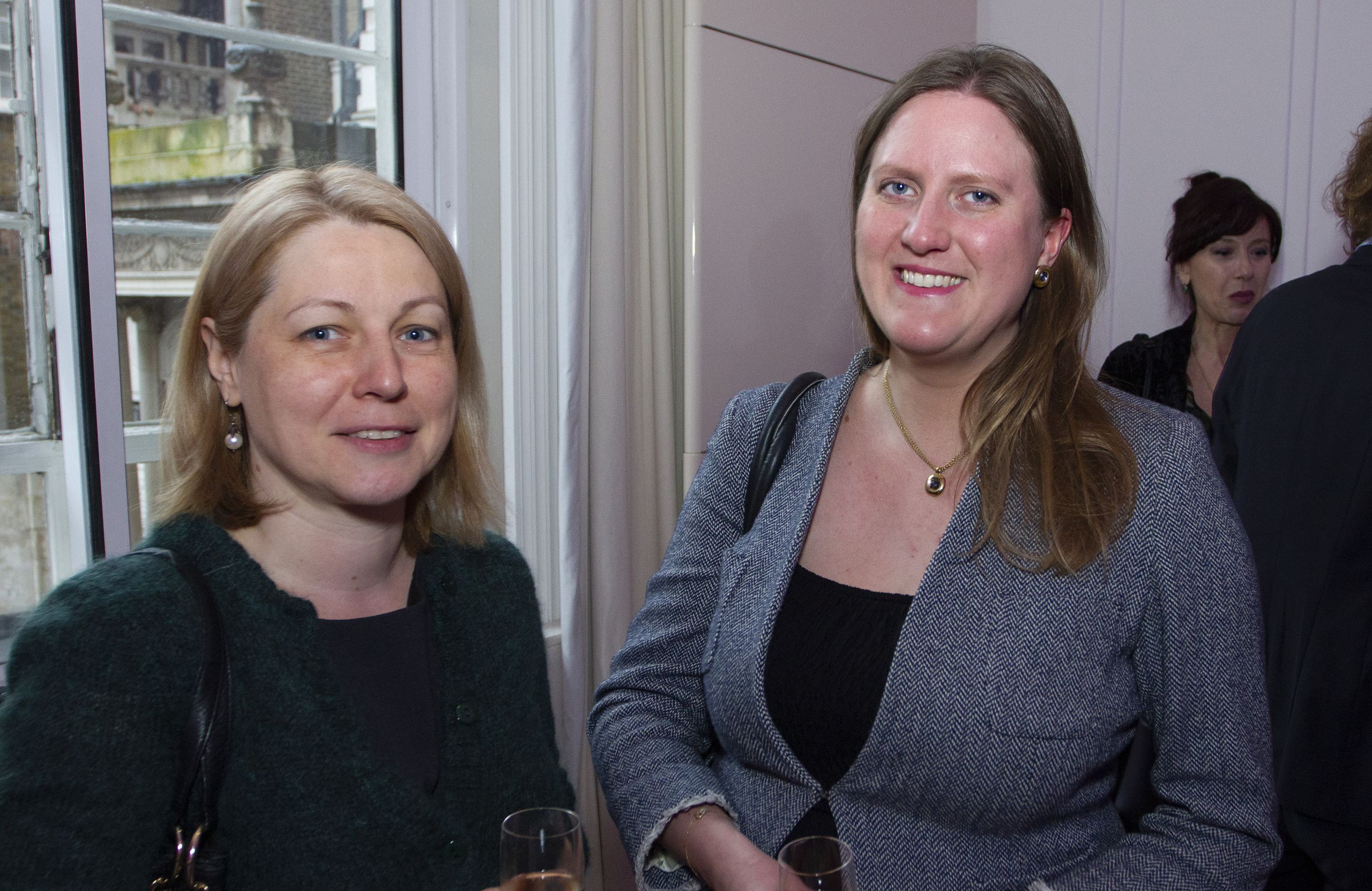 Ms Laura Stresina (Romania) with Chief Operating Officer at the Royal Commonwealth Society Elizabeth van der Valk
Ms Laura Stresina (Romania) with Chief Operating Officer at the Royal Commonwealth Society Elizabeth van der Valk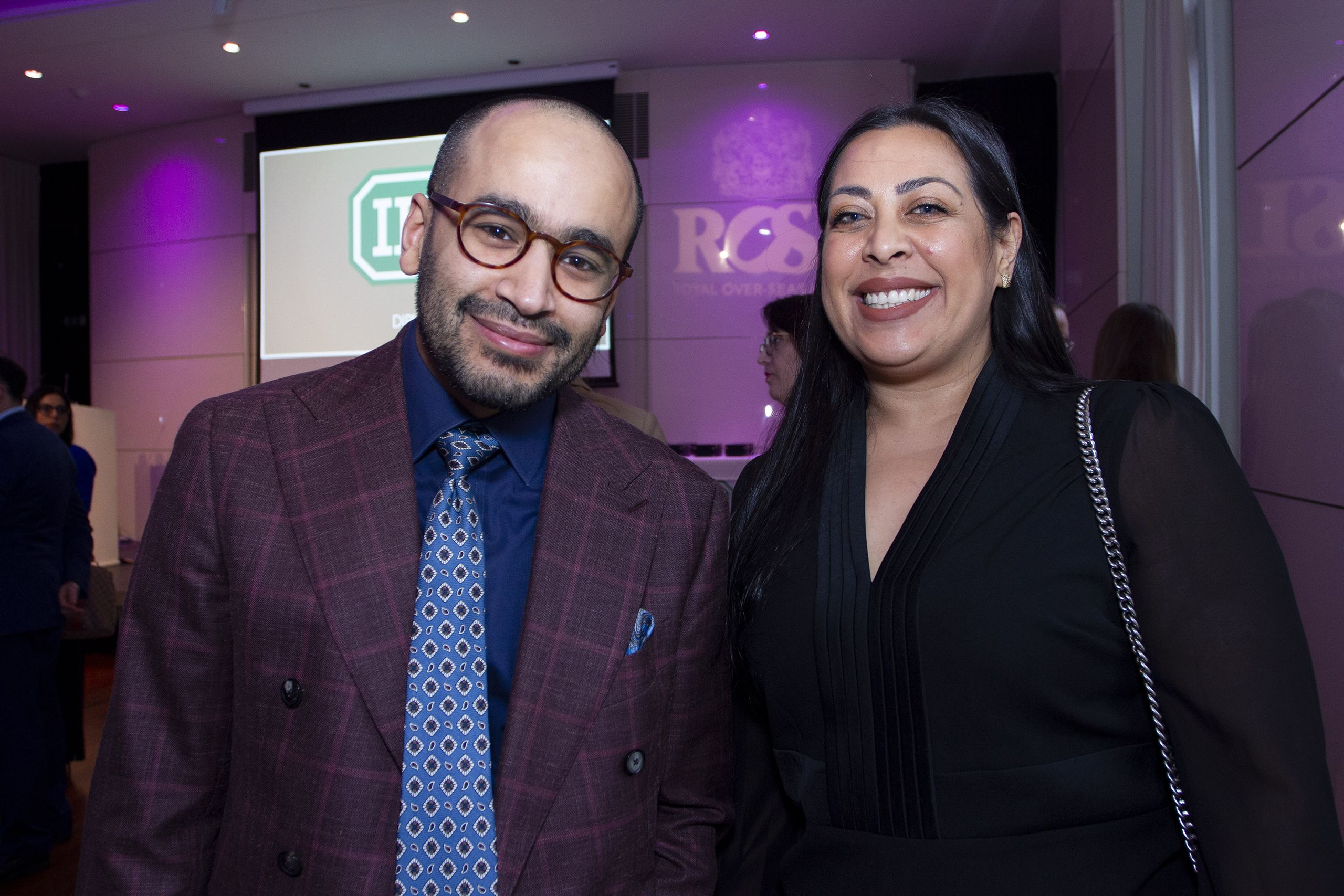 Mohammad AlDubayan (Saudi Arabia) and Corathon Ismaile (Cleveland Clinic)
Mohammad AlDubayan (Saudi Arabia) and Corathon Ismaile (Cleveland Clinic)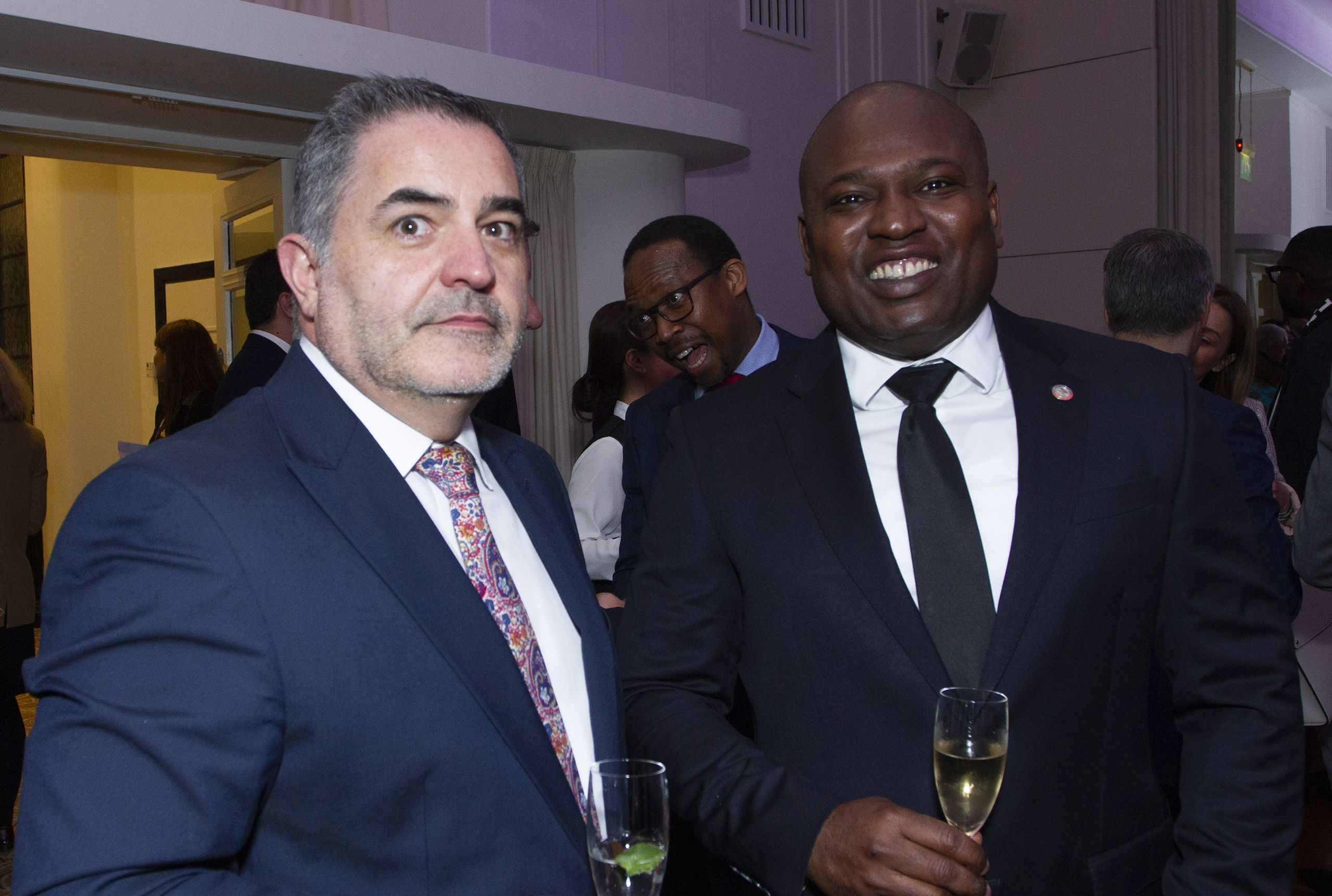 Ambassador of Guatemala Jose Alberto Briz Gutierrez and Ambassador of Haiti Euvrard Saint Amand
Ambassador of Guatemala Jose Alberto Briz Gutierrez and Ambassador of Haiti Euvrard Saint Amand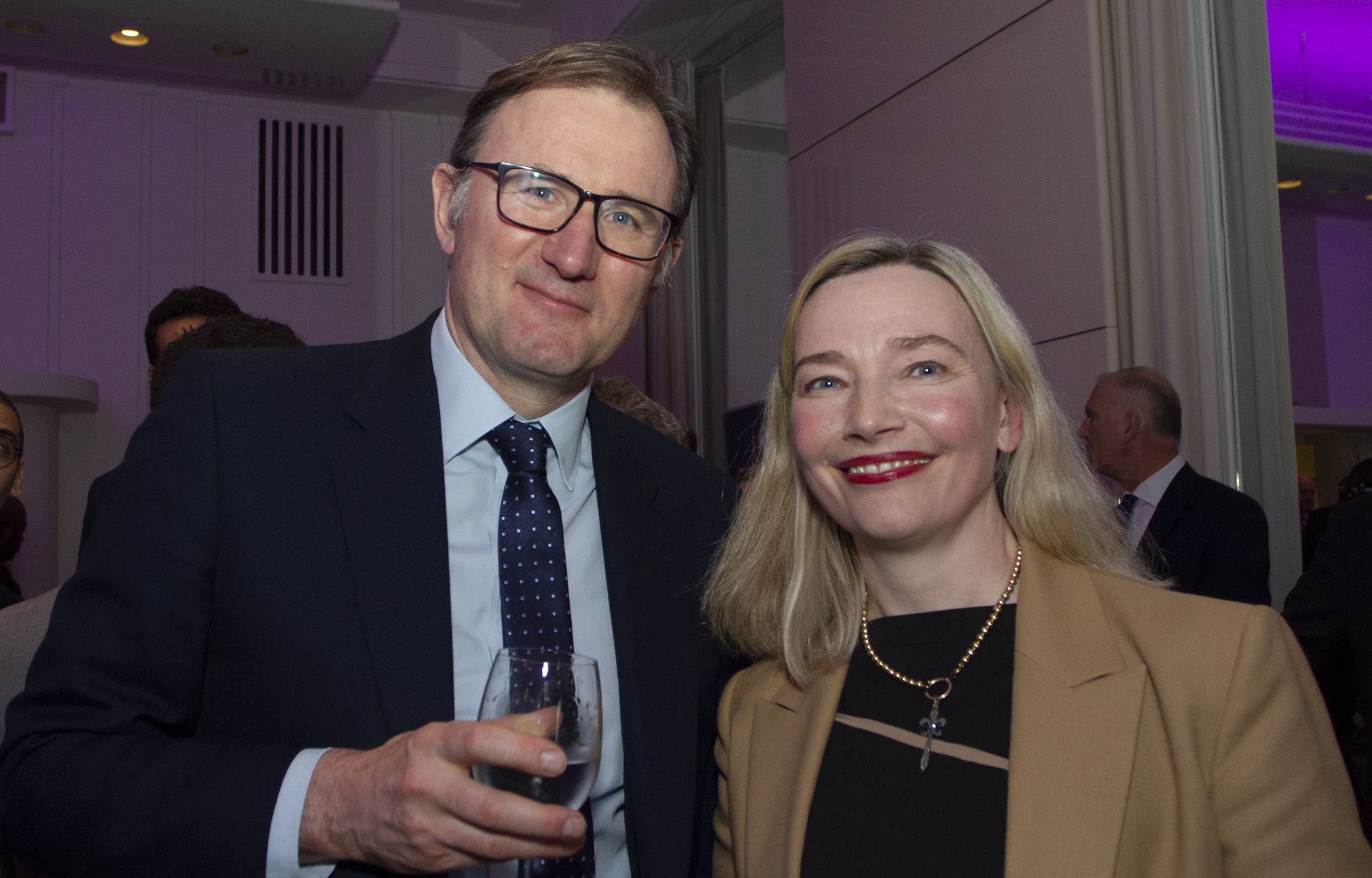 BBC Diplomatic Correspondent James Landale and ROSL Director General Dr Annette Prandzioch
BBC Diplomatic Correspondent James Landale and ROSL Director General Dr Annette Prandzioch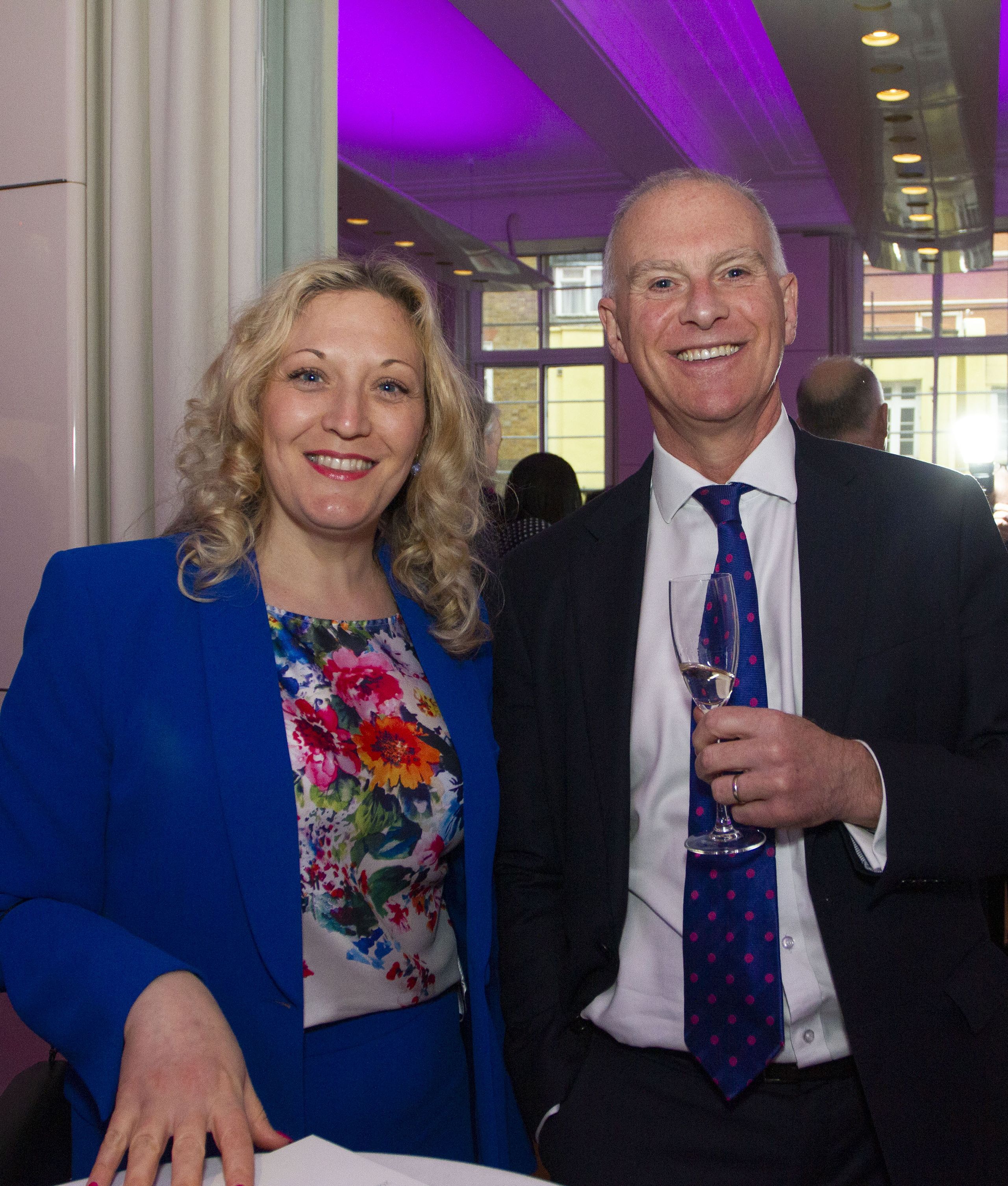 Evgeniya Shevchenko and Andrew Robertson (Moorfields Private Eye Hospital)
Evgeniya Shevchenko and Andrew Robertson (Moorfields Private Eye Hospital)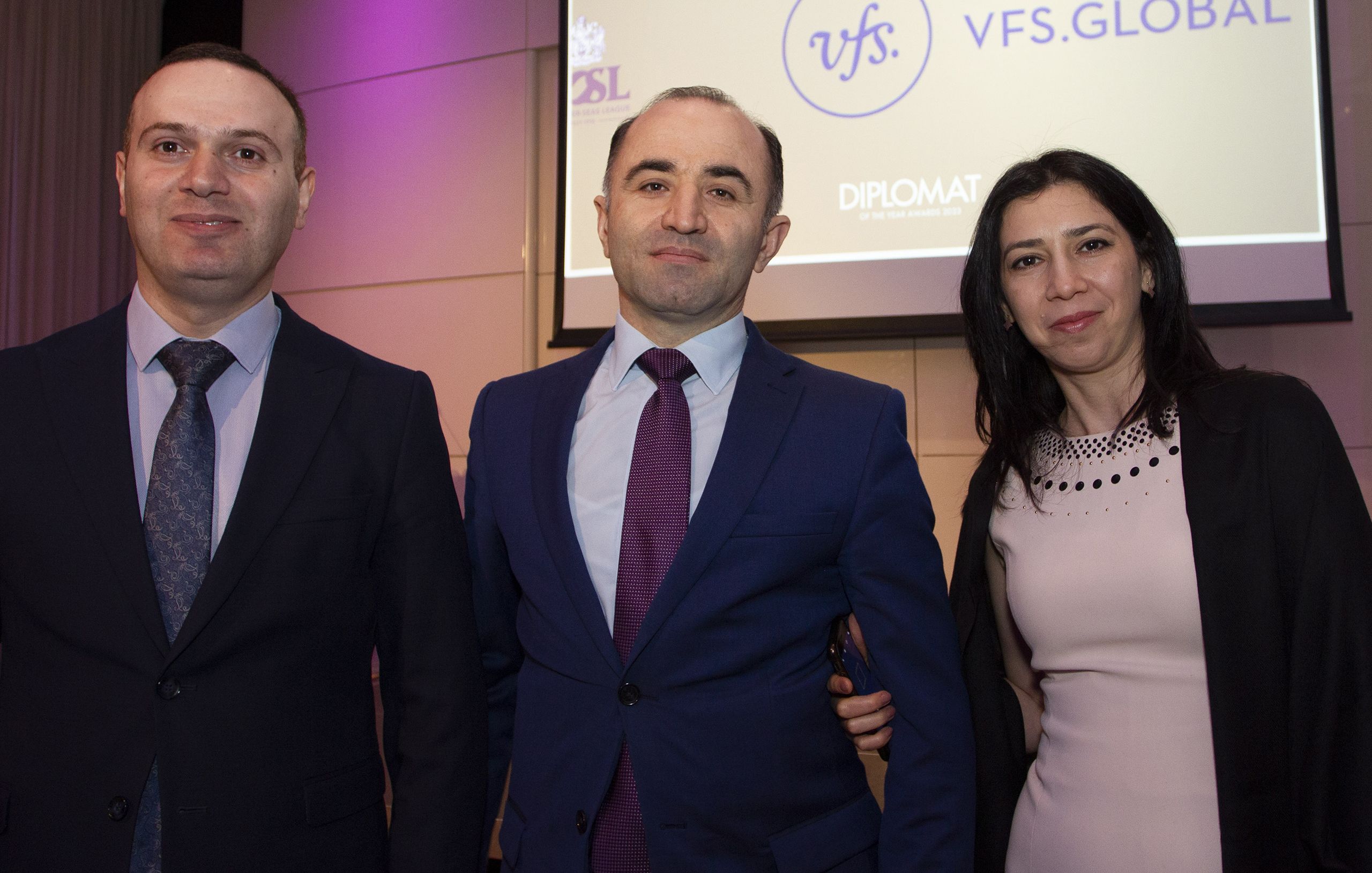 Rasim Mammadov, Polad Mammadov and Mrs Vusala Mammadova (Azerbaijan)
Rasim Mammadov, Polad Mammadov and Mrs Vusala Mammadova (Azerbaijan)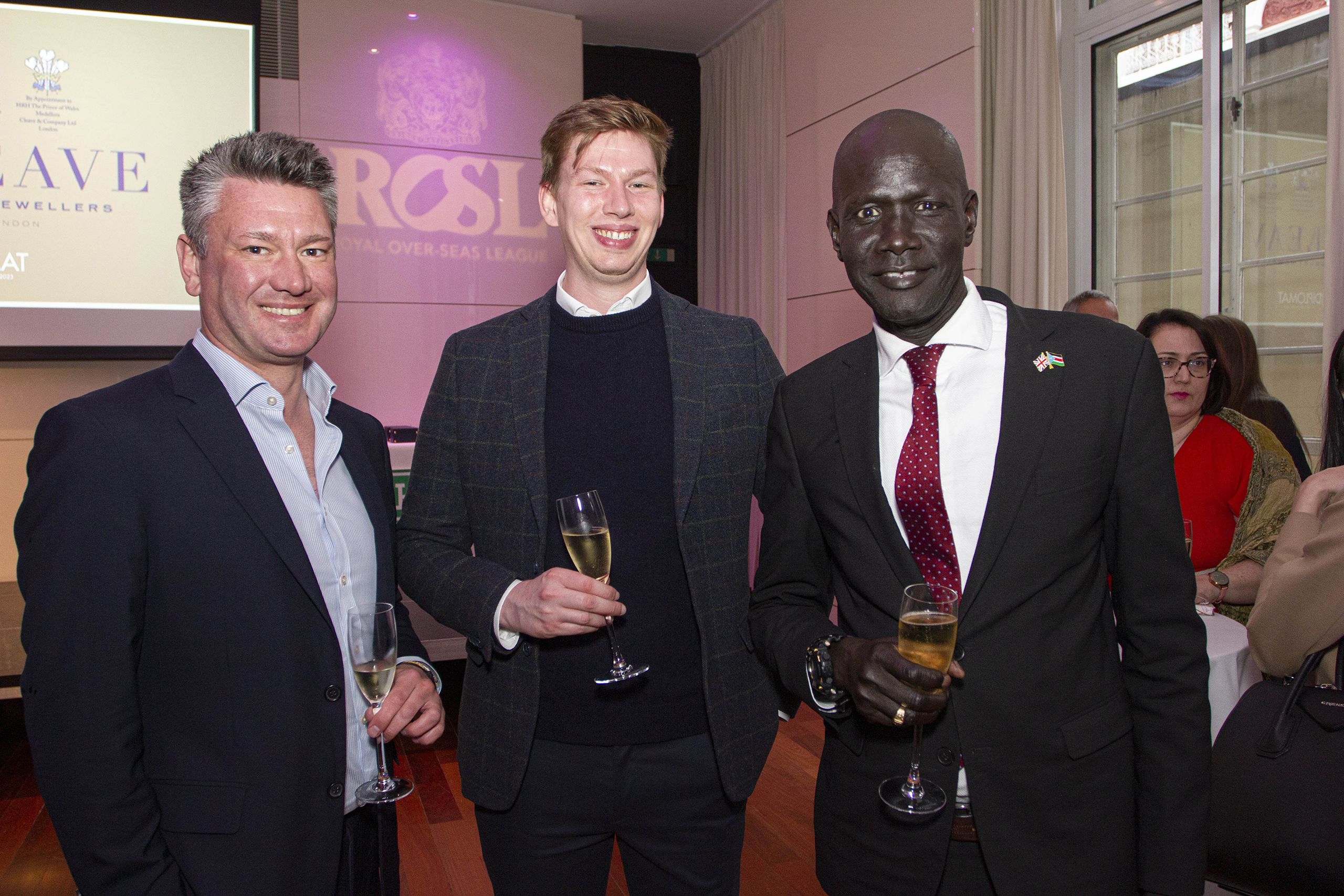 Managing Director of GK Strategy Scott Dodsworth, Joshua Stanley (FCDO) and Mayang Biem(South Sudan)
Managing Director of GK Strategy Scott Dodsworth, Joshua Stanley (FCDO) and Mayang Biem(South Sudan)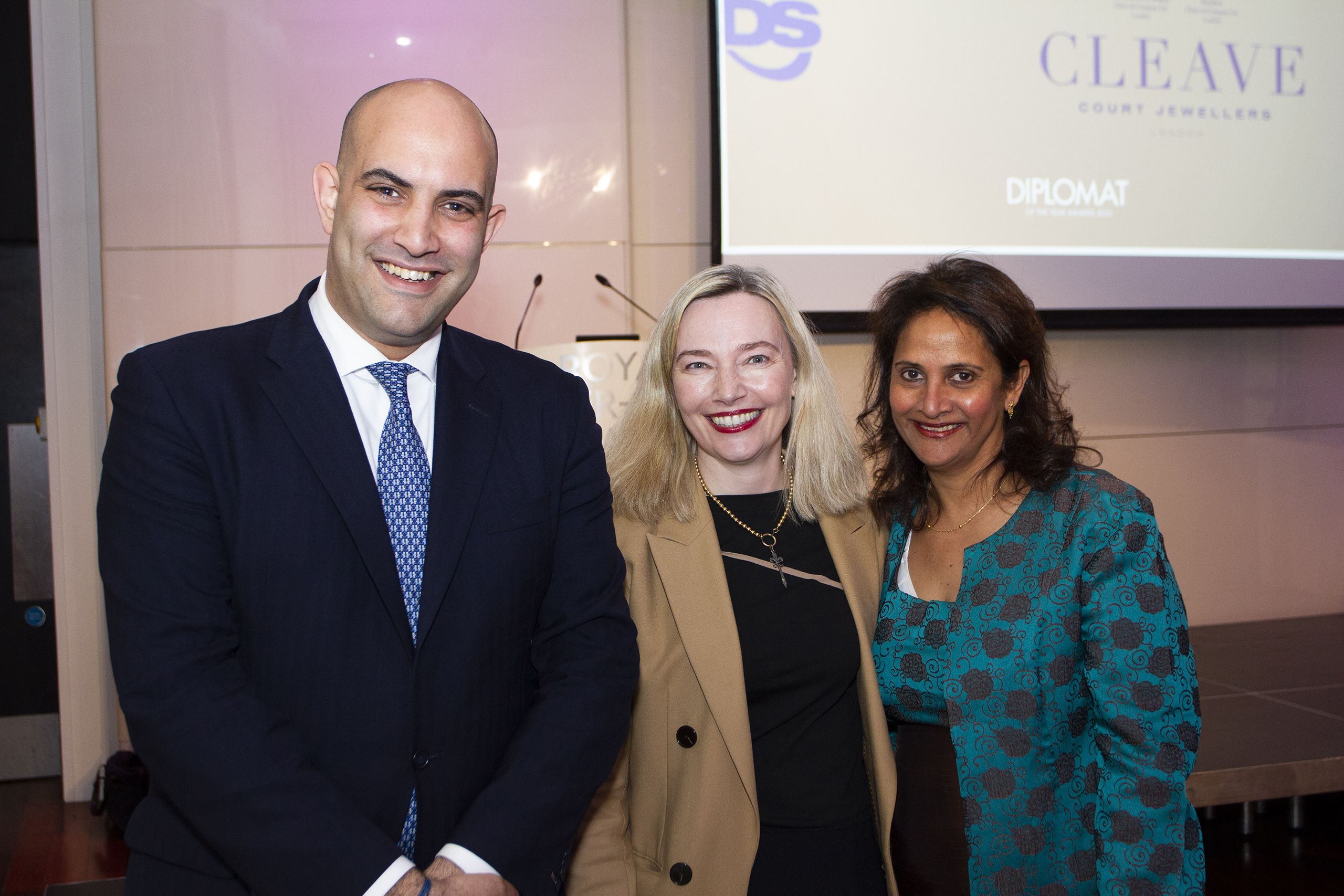 Karim Mostafa (The Peninsula London), Director General of ROSL Dr Annette Prandzioch and Mrs Bibi Qamarara Nunkoo (Mauritius)
Karim Mostafa (The Peninsula London), Director General of ROSL Dr Annette Prandzioch and Mrs Bibi Qamarara Nunkoo (Mauritius)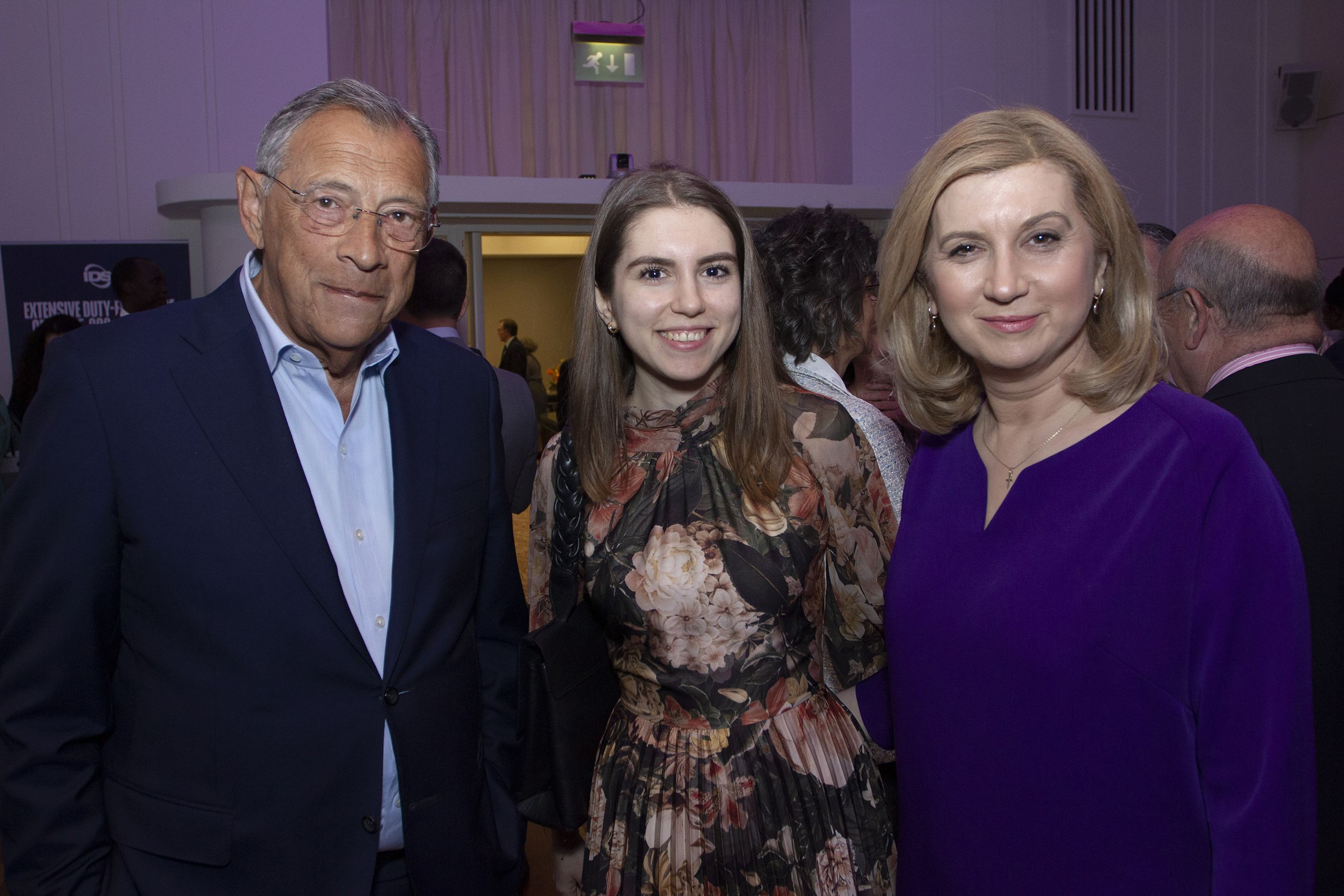 Chairman of the Canary Wharf Group Sir George Iacobescu CBE, Ms Octavia Popescu and Ambassador of Romania Laura Popescu
Chairman of the Canary Wharf Group Sir George Iacobescu CBE, Ms Octavia Popescu and Ambassador of Romania Laura Popescu
2023 DIPLOMAT OF THE YEAR AWARD WINNERS:
2023 Diplomat of the Year from the
Middle East & North Africa
His Excellency Mr Hakim Hajoui
Ambassador of the Kingdom of Morocco
2023 Diplomat of the Year from Europe
Her Excellency Mrs Laura Popescu
Ambassador of Romania
2023 Diplomat of the Year from Asia & Oceania
Her Excellency Mrs Saroja Sirisena
High Commissioner for Sri Lanka
2023 Diplomat of the Year from Africa
Her Excellency Ms Agnes Oswaha
Ambassador of the Republic of South Sudan
2023 Diplomat of the Year from Eurasia
& the Western Balkans
Her Excellency Ms Sophie Katsarava MBE
Ambassador of Georgia
2023 Diplomat of the Year from North America & the Caribbean
Her Excellency Ms Karen-Mae Hill OBE
High Commissioner for Antigua and Barbuda
2023 Diplomat of the Year from Central
& South America
His Excellency Mr Juan Carlos Gamarra Skeels
Ambassador of Peru
2023 Deputy Head of Mission of the Year
Mr Polad Mammadov
Deputy Head of Mission & Counsellor
(Political Affairs)
Embassy of Azerbaijan
2023 Young Diplomat of the Year
Ms Rawan Al-Faqir
First Secretary, Embassy of Jordan
& YDL President
2023 Outstanding Contribution to Diplomacy in London
His Excellency Mr Vadym Prystaiko
Ambassador of Ukraine
PHOTOGRAPHER: DAVID BEAN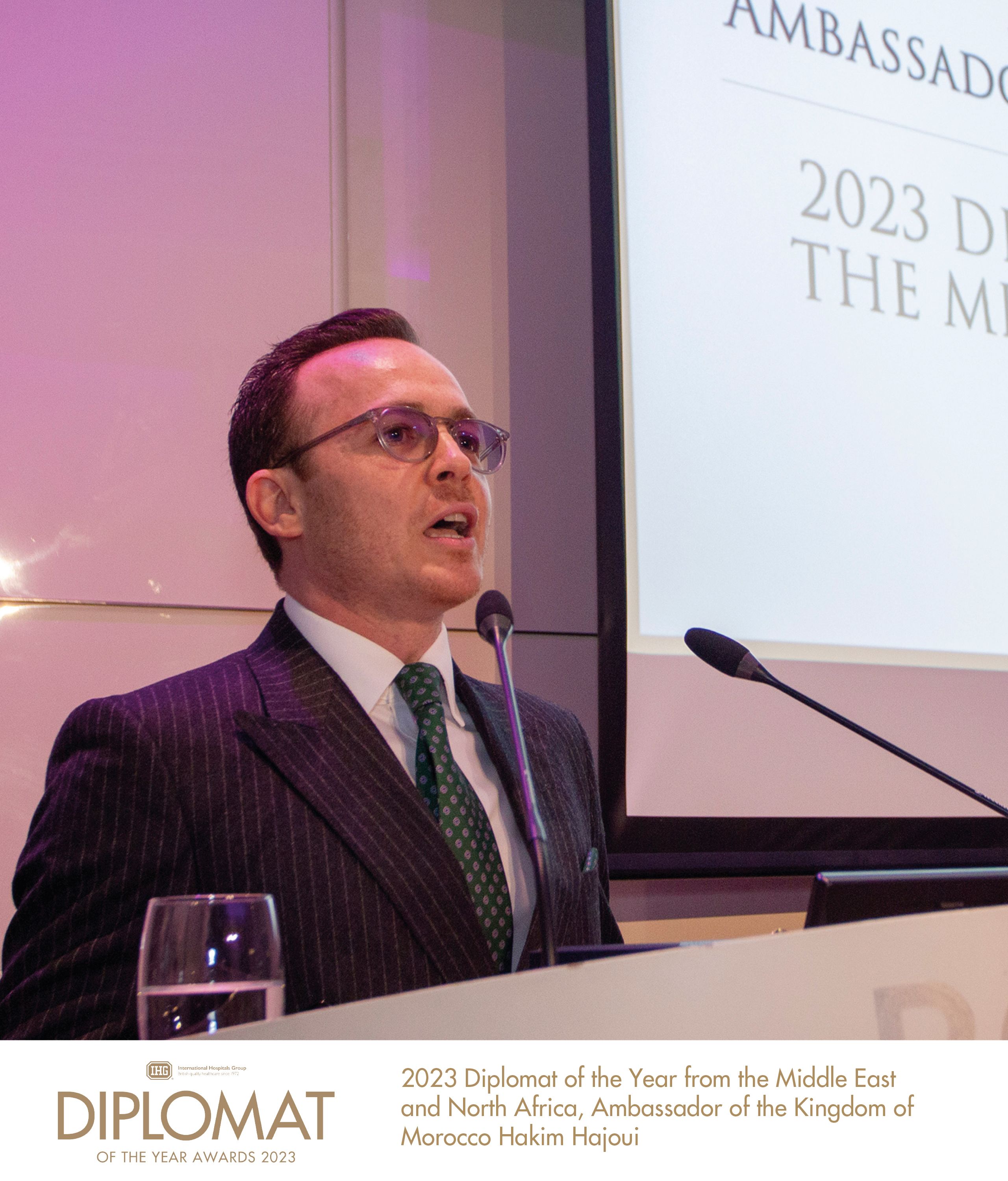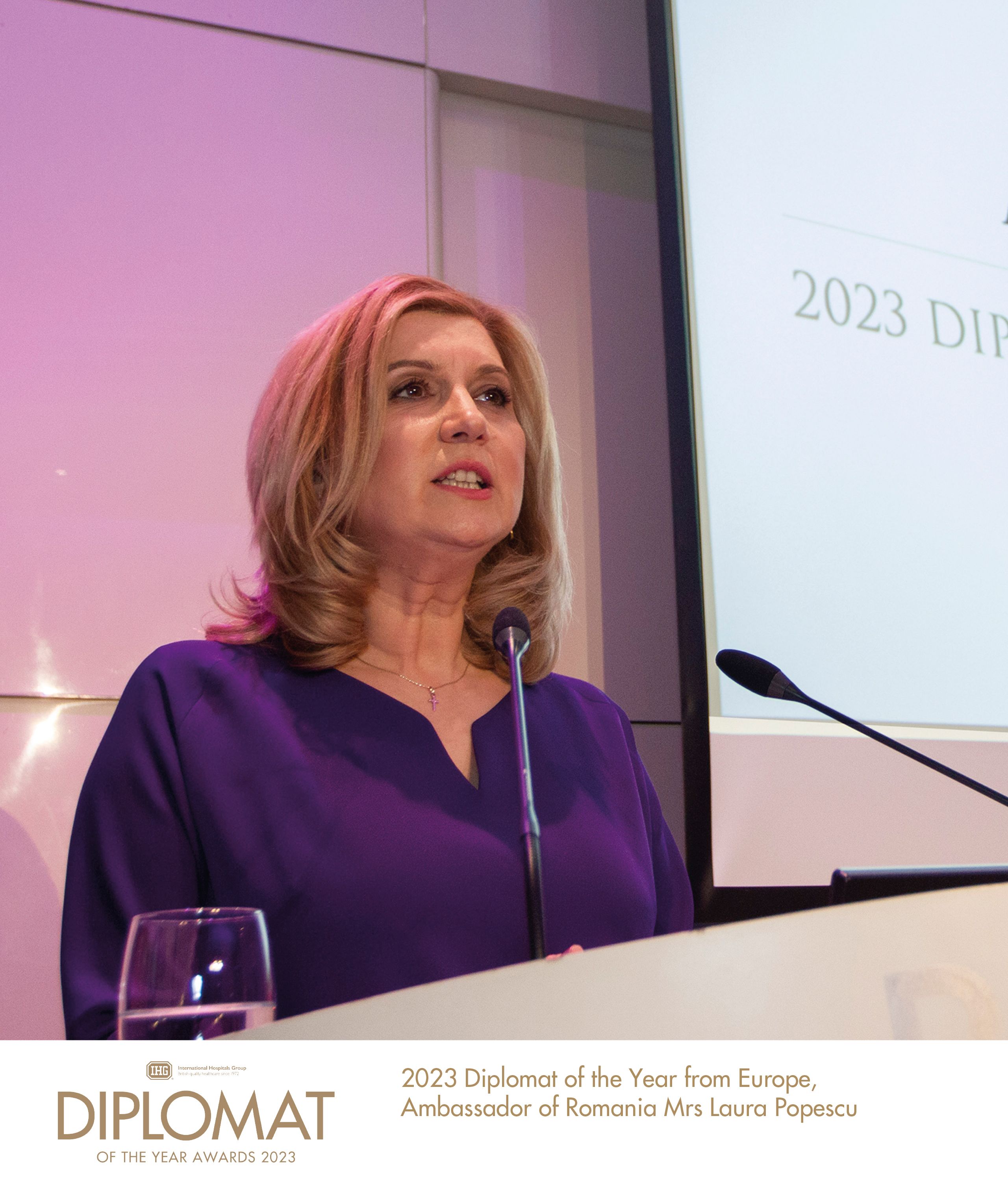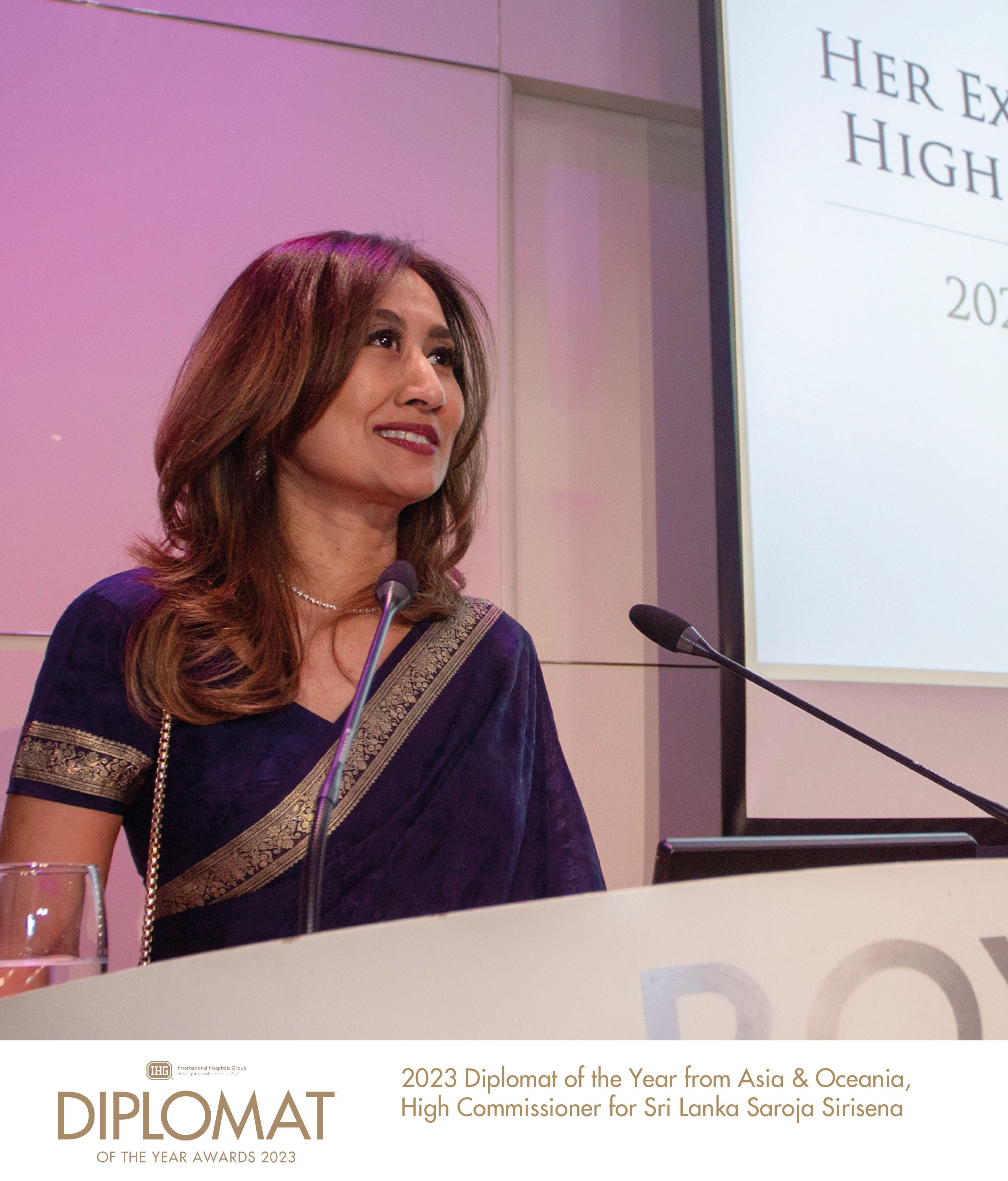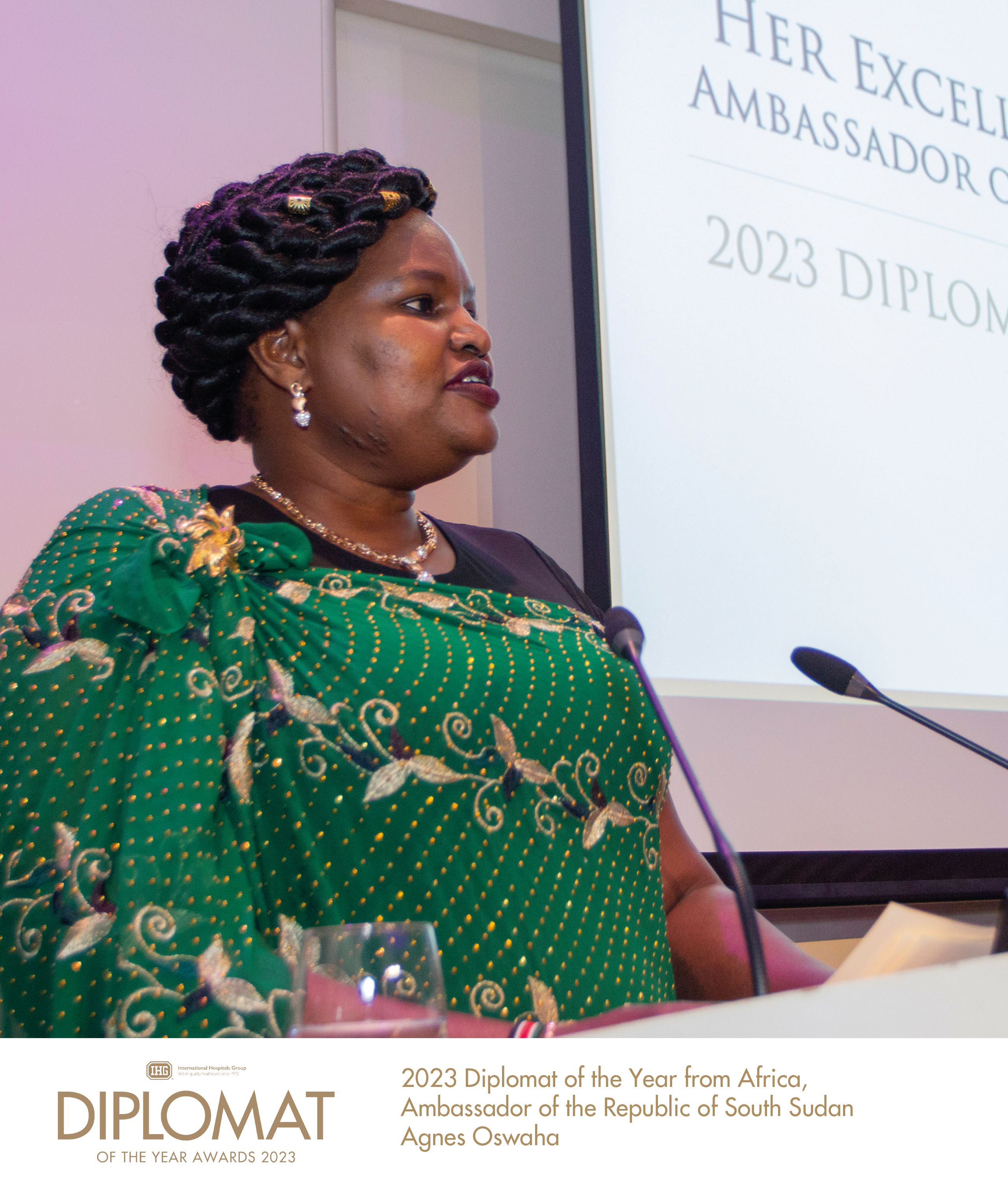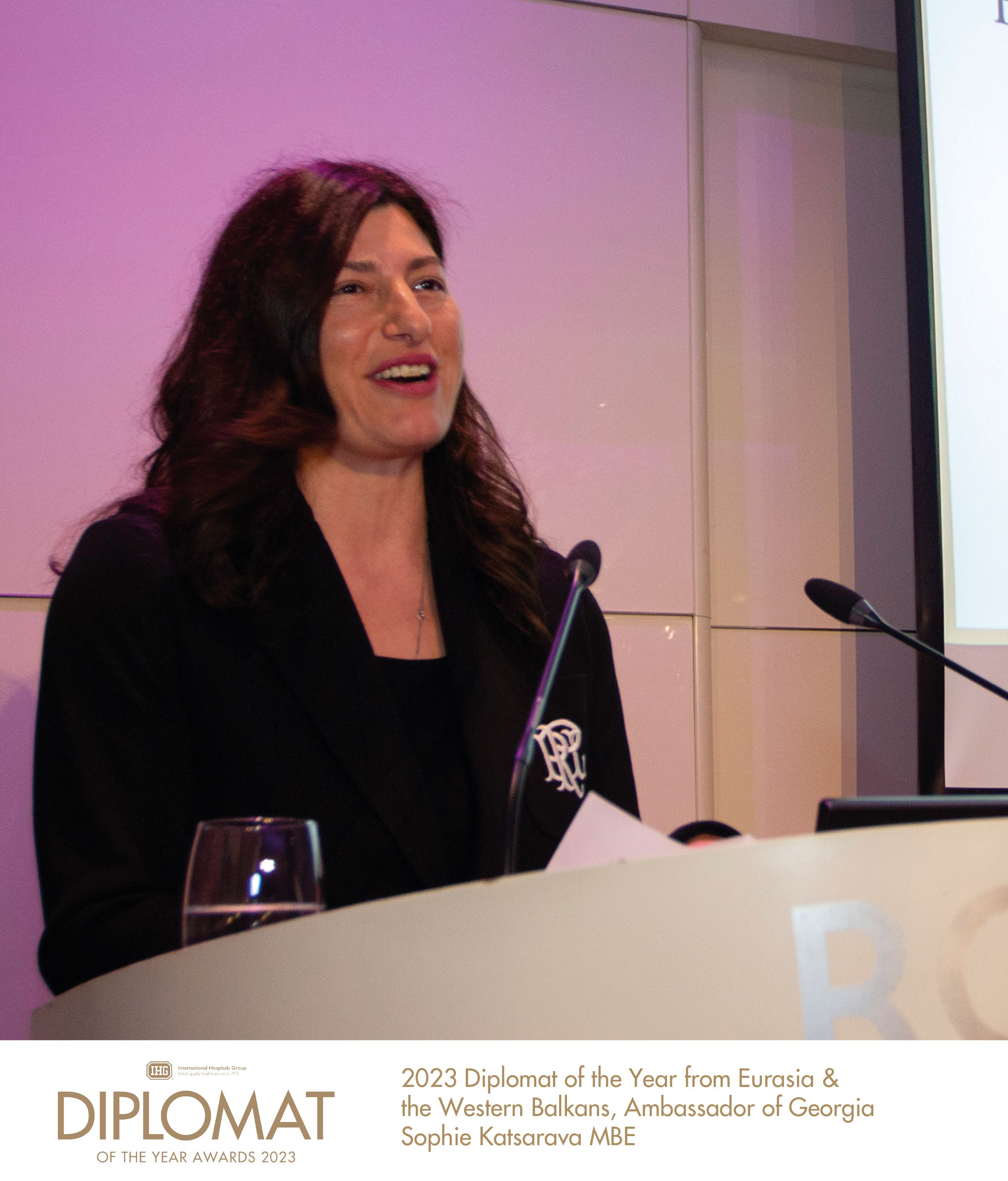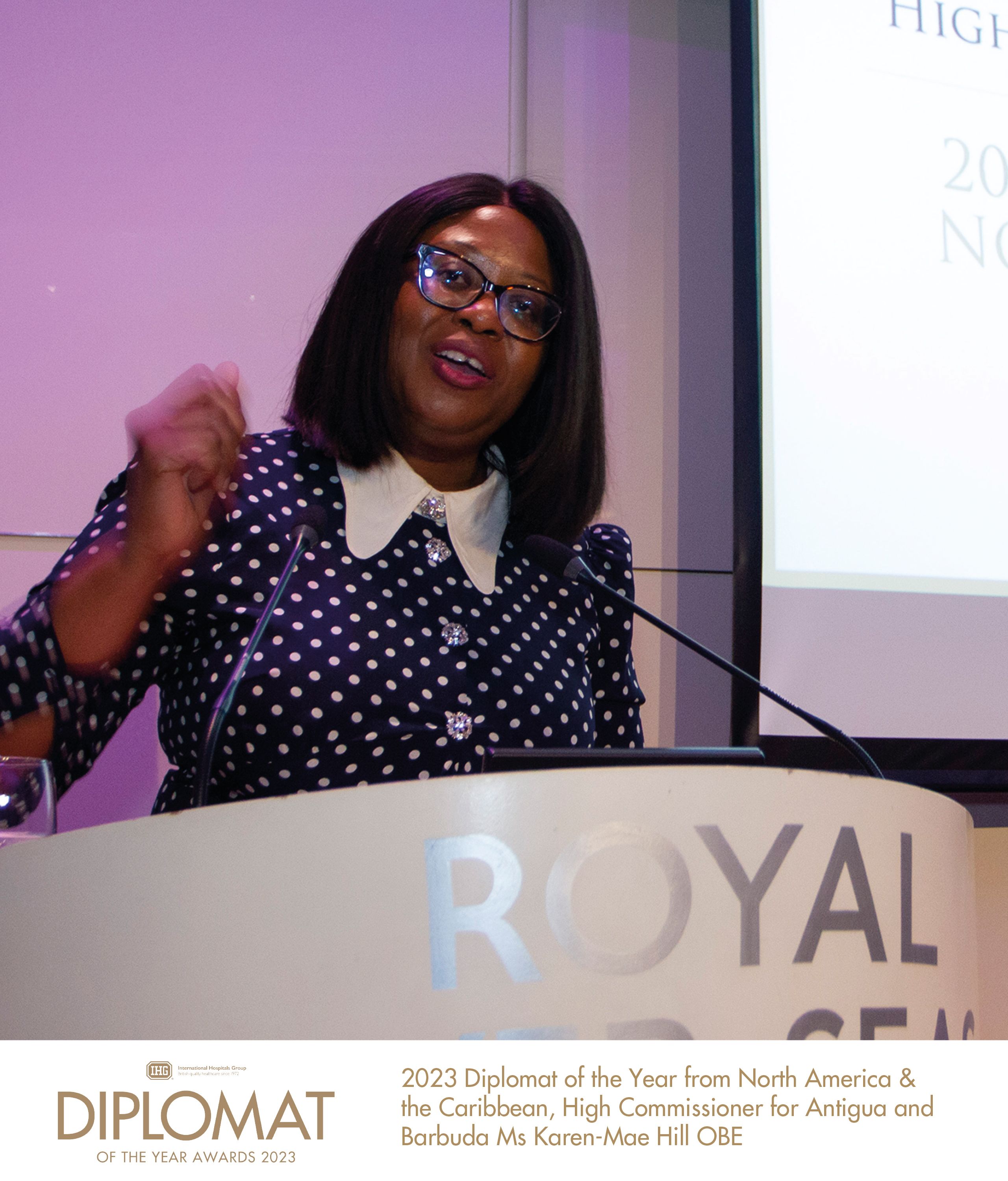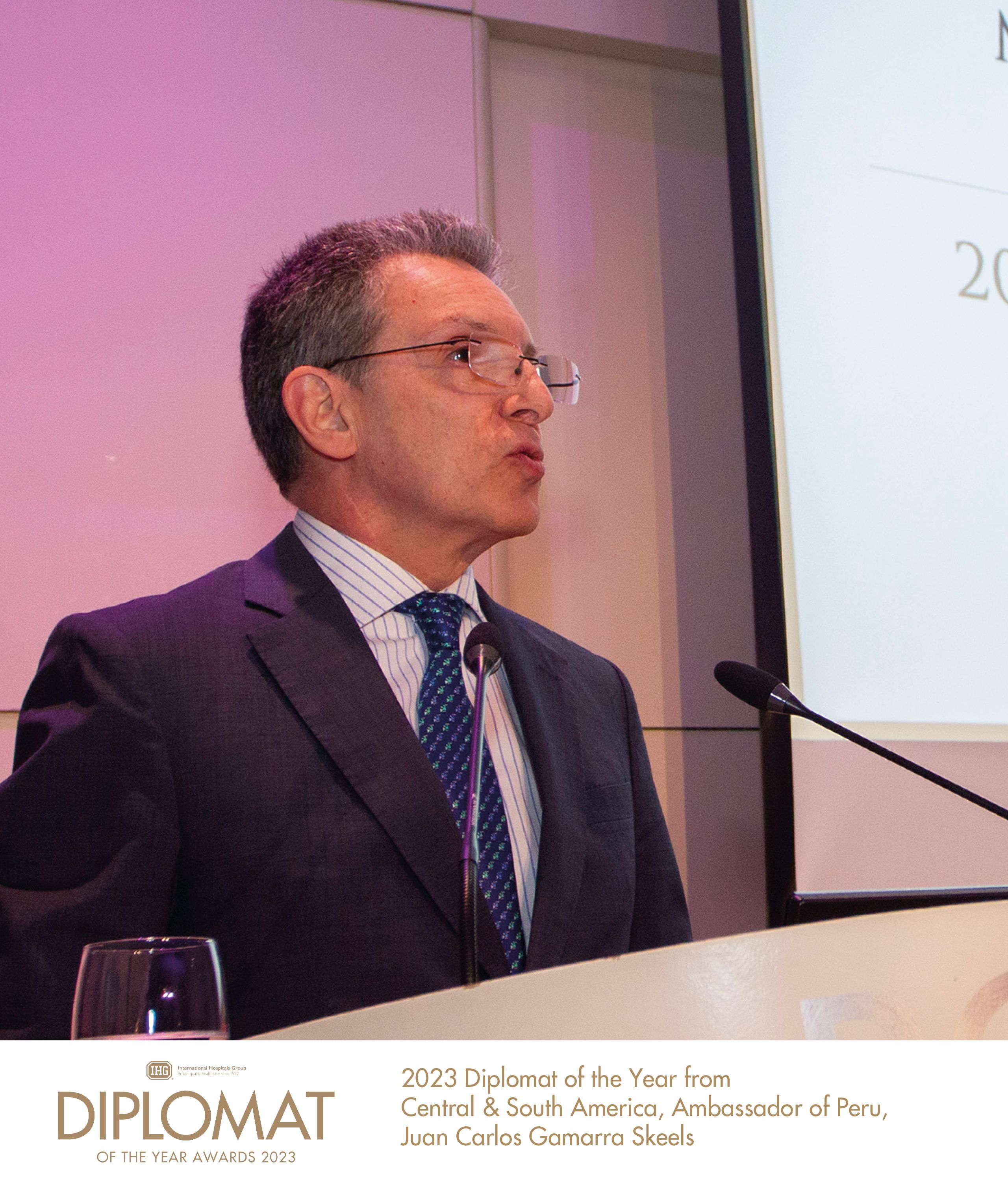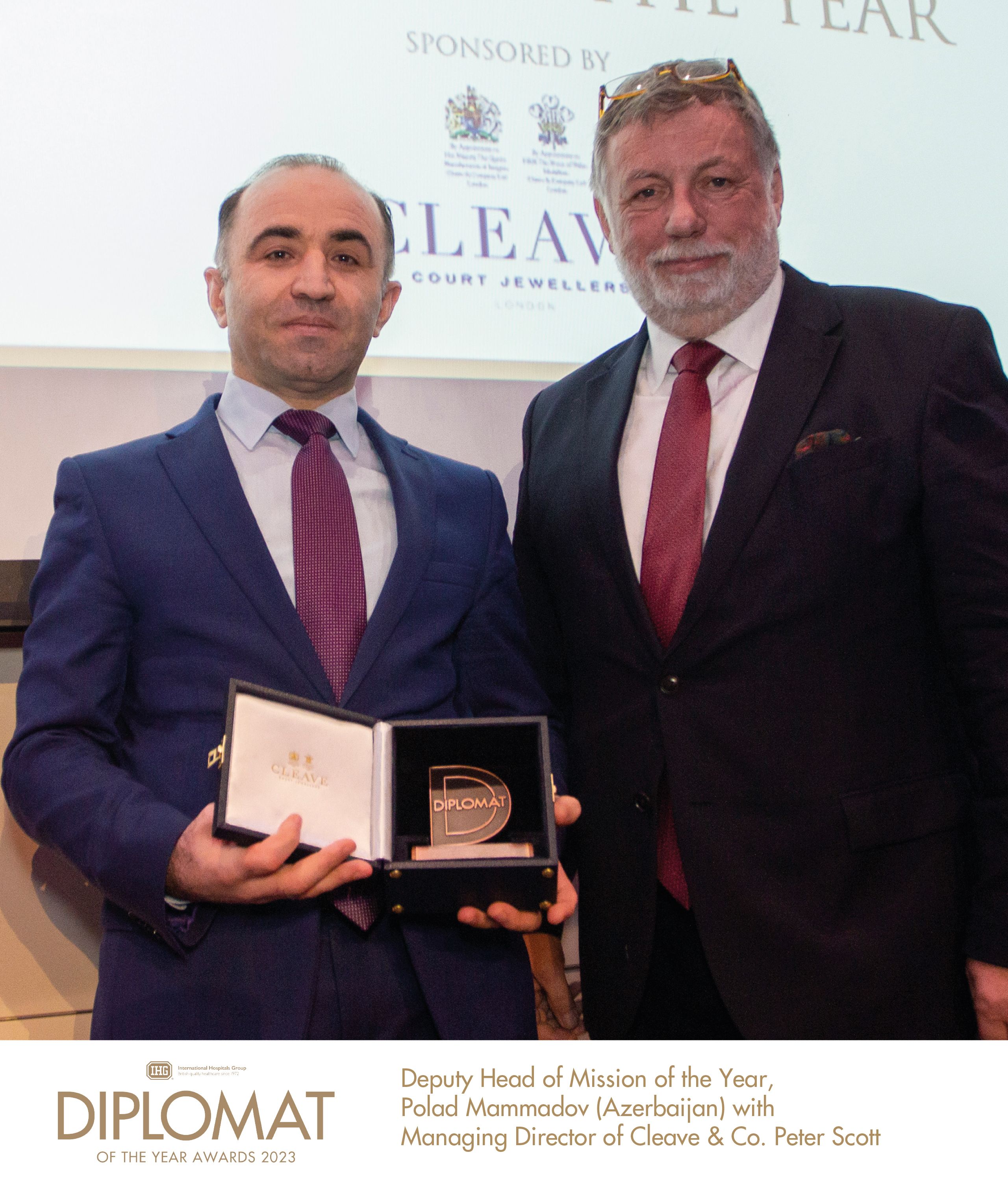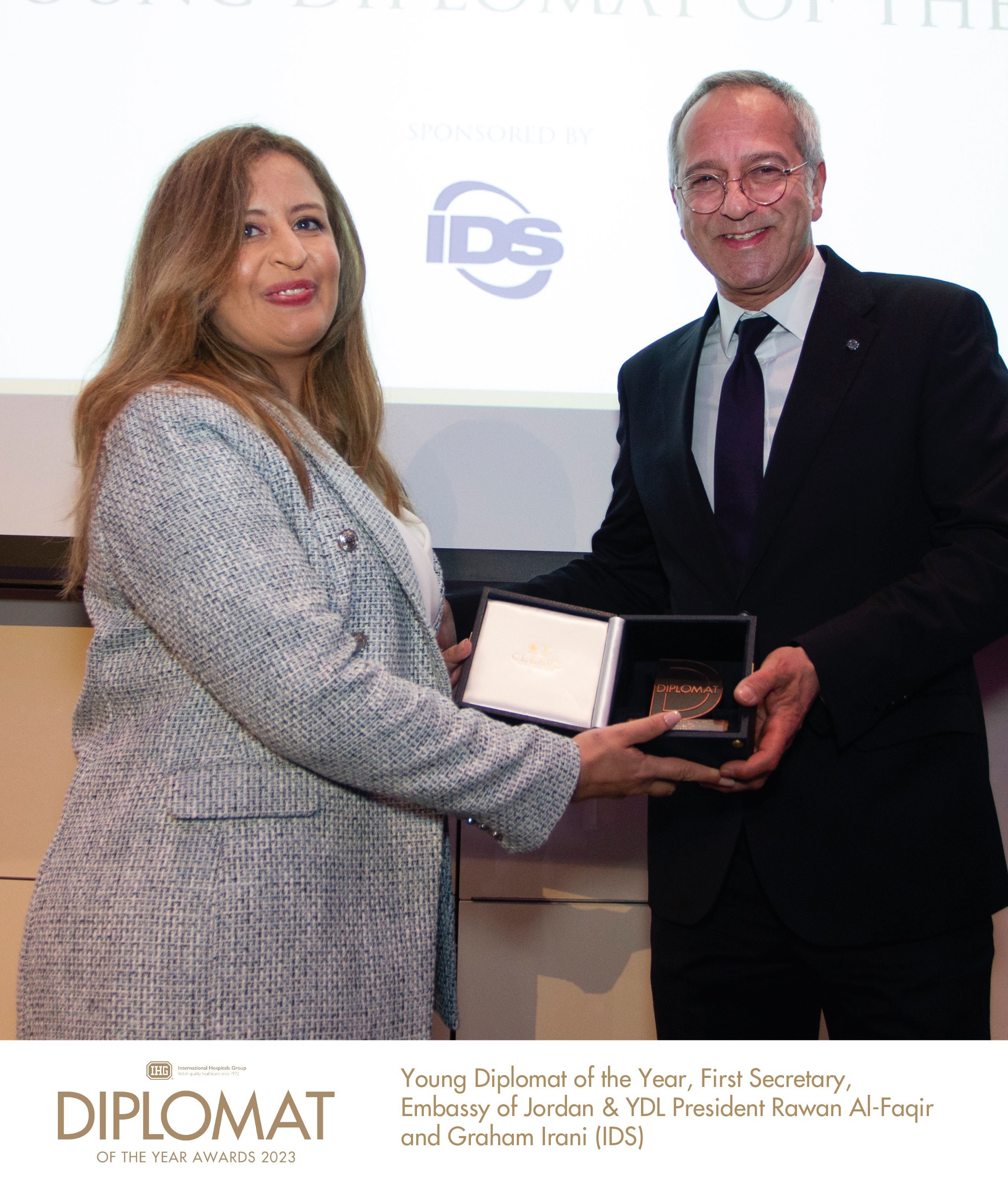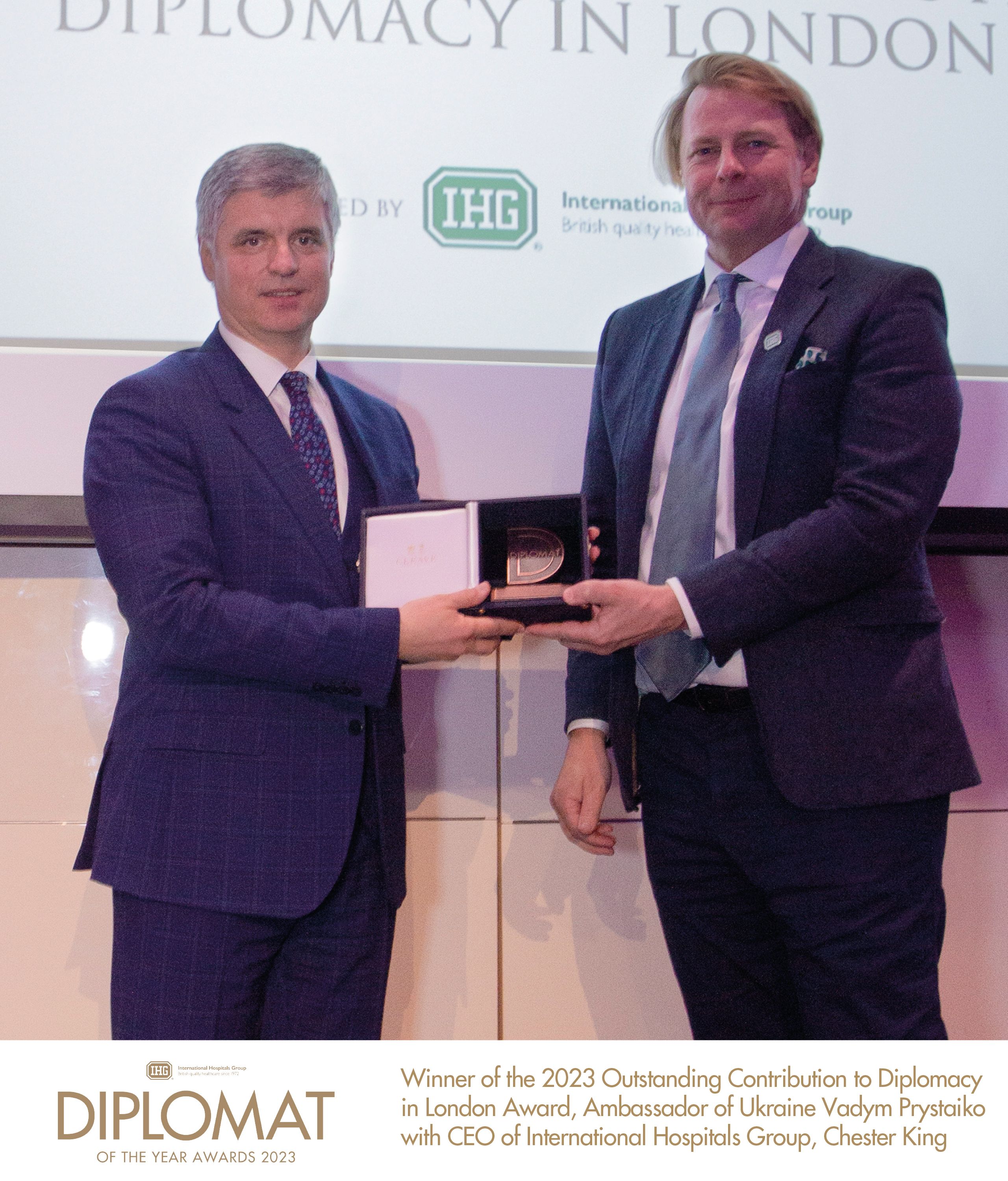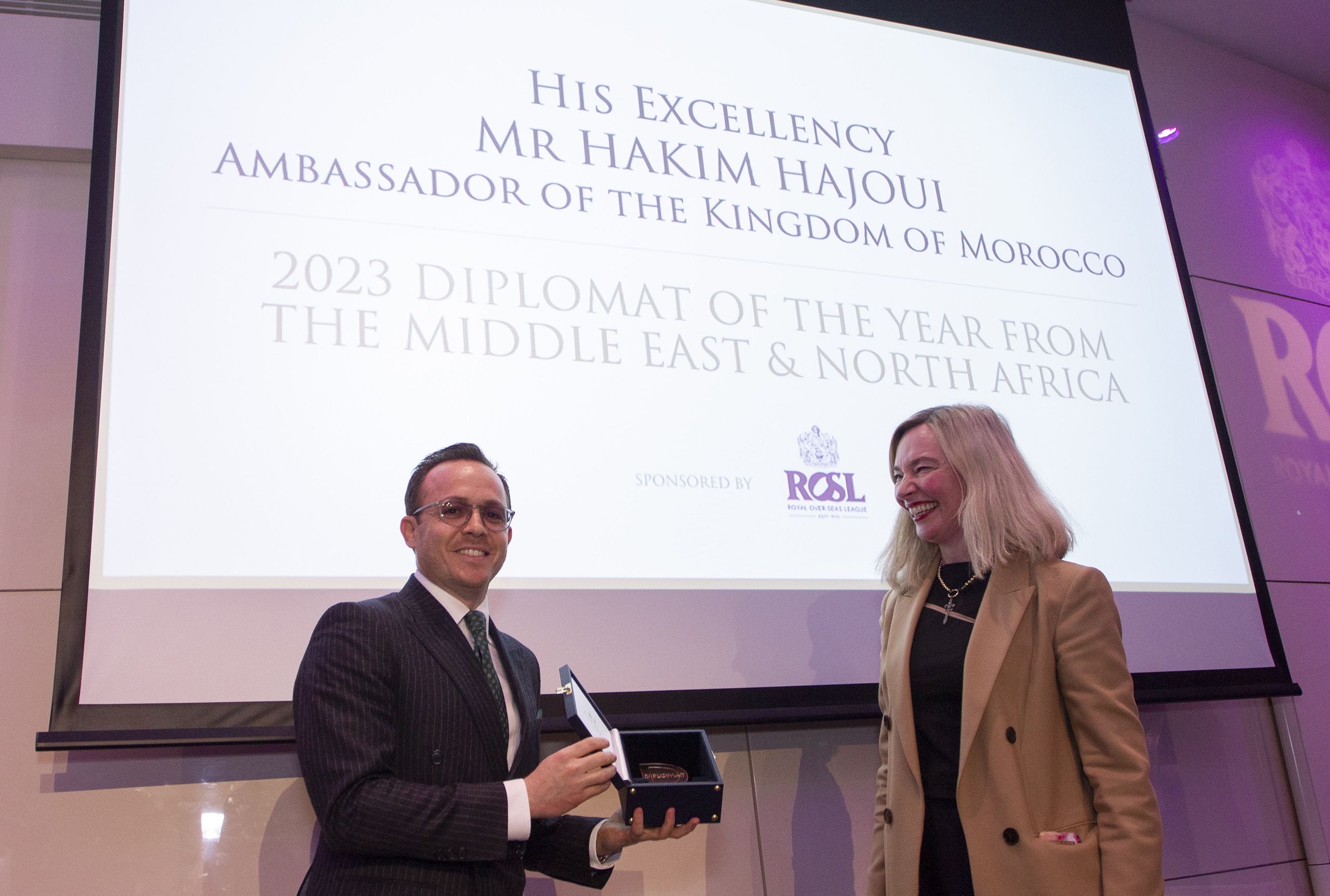 2023 Diplomat of the Year from the Middle East and North Africa, Ambassador of the Kingdom of Morocco Hakim Hajoui with Director General of the Royal Over-Seas League Dr Annette Prandzioch
2023 Diplomat of the Year from the Middle East and North Africa, Ambassador of the Kingdom of Morocco Hakim Hajoui with Director General of the Royal Over-Seas League Dr Annette Prandzioch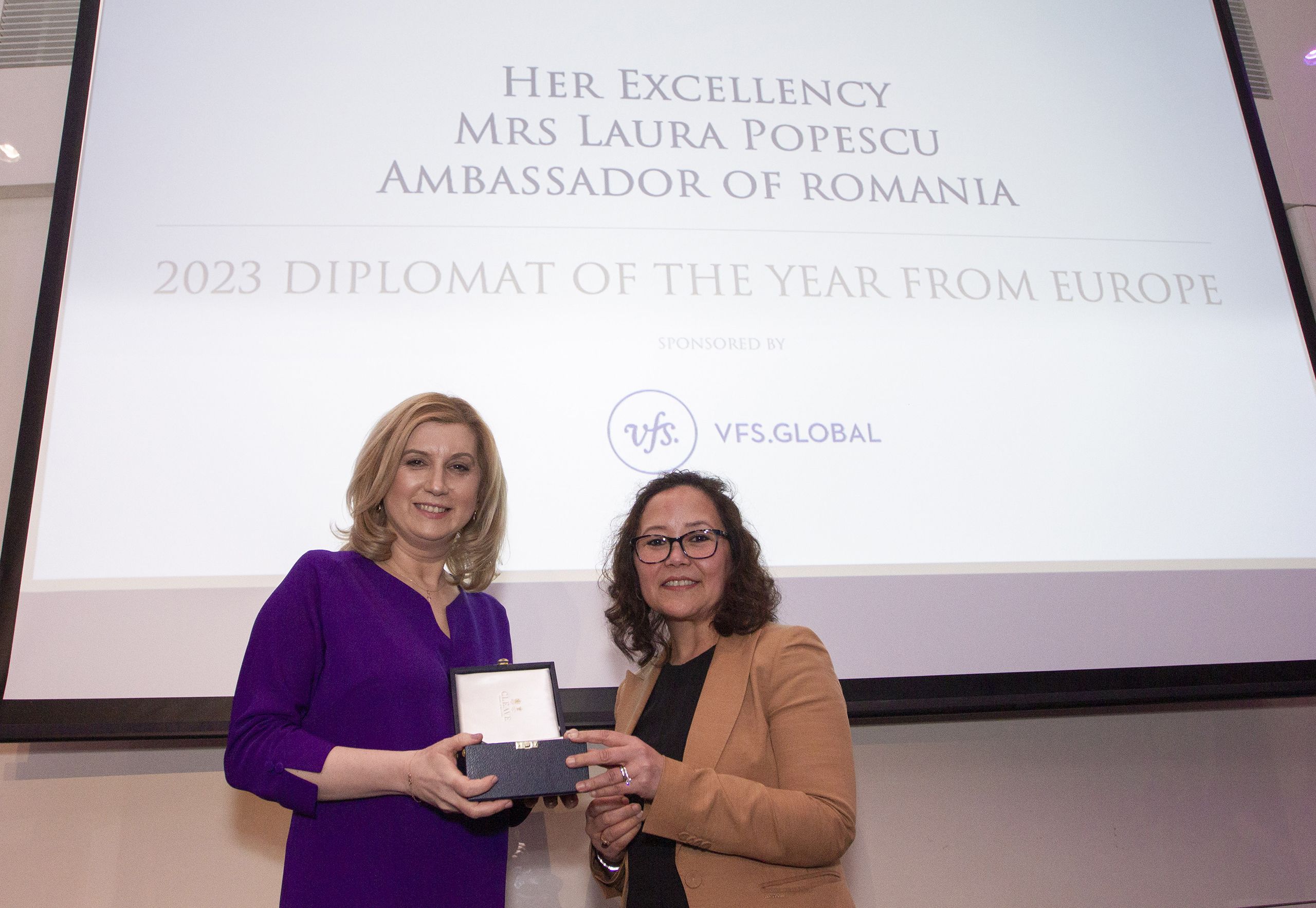 Diplomat of the Year from Europe, Ambassador of Romania Mrs Laura Popescu with Chief Operating Officer for Europe and CIS region at VFS Global Yummi Talwar
Diplomat of the Year from Europe, Ambassador of Romania Mrs Laura Popescu with Chief Operating Officer for Europe and CIS region at VFS Global Yummi Talwar